Review: Husqvarna delivers with entry level Svartpilen and Vitpilen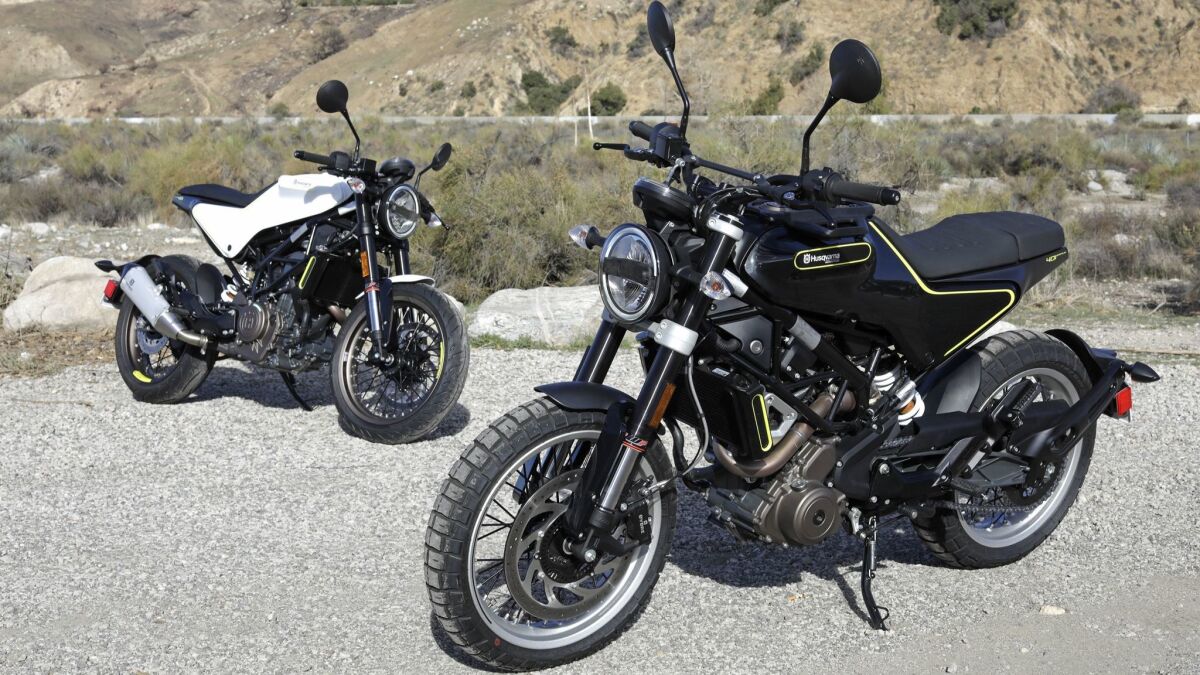 Husqvarna has finally come to market with its Vitpilen 401 and Svartpilen 401 motorcycles.
The two midsize, entry-level bikes are aggressively designed and highly styled, and they present quite different riding experiences — either of which could deliver pleasure and value for a certain kind of rider.
Husky's been teasing the motorcycle world with the Pilen bikes since first unveiling concept versions in 2015 at the huge International Bicycle and Motorcycle Exposition of Milan, or EICMA by its Italian initials.
The two bikes, plus their yet-to-come 701 older siblings, are a return to history for the Husky brand, which produced Silverpilen bikes as far back as the 1950s. They are also a refreshed commitment from Husqvarna, which has been celebrated for dirt bikes that excel in motocross and enduro racing, to return to the road.
The Svartpilen and Vitpilen 401s — the handles mean Black Arrow and White Arrow, respectively — are powered by a new four-stroke, single cylinder, liquid cooled engine. With a displacement of 375cc, these thumpers are said to produce 43 horsepower and 27 pound feet of torque.
That's not superbike territory, but these unadorned motorcycles weigh 330 pounds, unfueled, and are very user-friendly. The power comes on manageably, accelerates smoothly through the tidy six-speed gearbox, and is capably controlled by WP suspension and sturdy, ABS-deployed disc brakes. The slipper clutch has a nice, gentle feel on both bikes, and on both the final drive is via chain.
Despite their shared powerplant and trellis chassis, the two bikes are almost as different as, well, black and white.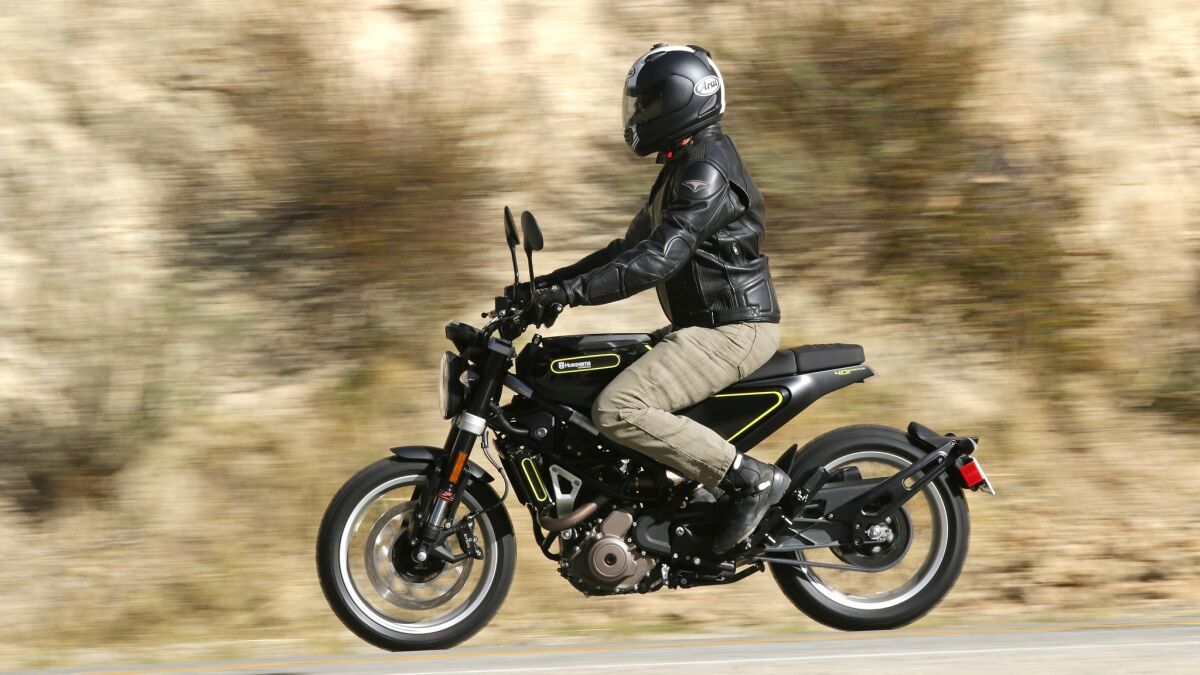 The Svartpilen is the more upright oriented of the two. With raised handlebars coming off a traditional triple clamp, spoked wheels, skid plate and semi-knobby Pirelli Scorpion Rally tires, the Svartpilen has more of the look and feel of the scramblers and dirt bikes that built the Husky legacy.
The Vitpilen is the road racer. Featuring clip-on handlebars, still wearing the spoked wheels but shod with Metzler M5 road tires, this bike invites a leaned forward, head down riding posture.
During a chilly weekday morning ride up and down Big Tujunga Canyon and a stretch of Angeles Forest Highway, I couldn't decide which one I preferred.
Given my age, riding history and off-road preferences, I liked the Svartpilen's upright stance. But the demands of Big Tujunga's high-speed sweeper turns favored the Vitpilen's sport-bike style.
Either the Svart or Vit would be a smart choice for an adult beginning biker, or a rider stepping up from a starter 250cc. It could also be a smaller-size ride for those who want a lighter weight option for riding canyons or running around town.
With their 32.9-inch seat height and at 330 pounds, these bikes aren't kid stuff. But they both present an attractive alternative to bigger or more powerful offerings like the Triumph Bonneville, Ducati Scrambler, BMW rNineT, Indian Scout or Harley-Davidson Sportster. They are also outlier options to the less exotic Honda CB500, say, or the Yamaha Bolt.
They're priced competitively with their European counterparts. Husqvarna has set the MSRP for the two 401s at $6,299. The Svartpilen 701 will be $11,999.
For those who feel these entry-level machines are too small, the Svartpilen and Vitplen 401s could be gateway bikes for the larger 701s.
Those two bigger models are both driven by a beefier engine that makes 75 horsepower and 51 pound feet of torque. Husky says the Vitpilen version will be launched in North America this summer.
The 401s arrive as Husqvarna is celebrating record sales. The storied company, which has its roots as an arms manufacturer to the Swedish crown, prior to its Austrian ownership, sold 36,883 motorcycles in 2017 — a third of them in North America. That number represented a 25% rise over 2016, Husqvarna said.
---