Harley, Indian go head-to-head at Sturgis rally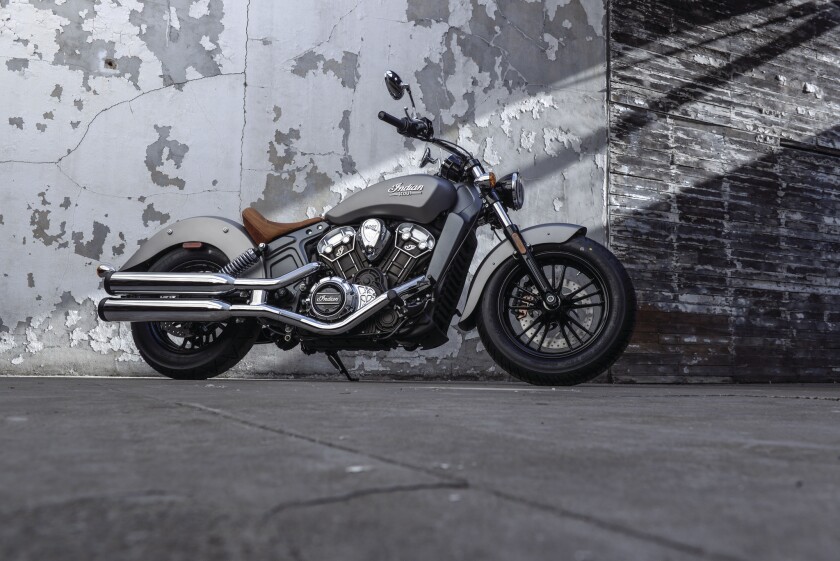 The battle for the American highway heated up late last week as road king Harley-Davidson and challenger Indian Motorcycles used the annual Sturgis Motorcycle Rally to reveal smart-looking new motorcycles.
Indian fired the first round. On the run-up to the 74th annual South Dakota motorcycle gathering, which yearly attracts nearly 500,000 to the tiny Black Hills town, the company unveiled its new Roadmaster supercruiser.
The new version of the historic touring bike, a dominant machine during its 1947-53 production era, is the fourth motorcycle the company has put on the road since it was re-invented by its parent company, Polaris Industries.
A superheavyweight "luxury touring model," the Roadmaster is designed to pose a direct challenge to Harley-Davidson's successful Road King, Street Glide and Electra Glide motorcycles.
A week later, Harley-Davidson announced its own reboot, a 2015 version of the Road Glide highway hog. The beautifully reconfigured motorcycle, which makes its return after a year out of circulation, features more power, improved ergonomics and better suspension than its predecessor.
True to form, Harley unwrapped its package with a bang, releasing well-crafted videos as part of a massive media campaign.
But a day later, at a lavish nighttime Sturgis event, Indian captured media attention for the reveal of its new Indian Scout.
Also a return to former glory -- the company sold multitudes of Scouts from 1920-49, and tried to revive the nameplate under a previous regime from 2001 to 2003 -- the 2015 model is a smaller bike than the company's Roadmaster, Chief Vintage, Chief Classic and Chieftain. It's designed to attract smaller riders, female riders, or first-time riders who might be intimidated by a full-size Indian or Harley.
In other words, it's a challenge to segment leader Harley-Davidson and its Sportster and new Street 500 and Street 750 bikes.
"This is our answer to the Sportster," said Steve Menetto, Polaris' vice president of motorcycles.
The challenge caught the attention of industry analysts.
"The Scout is a midweight bike, lighter and at a lower price point than Indian's other superheavyweight models," UBS Investment Research analyst Robin Farley wrote in a post-Scout report. "This bike shows that [Polaris] is going to challenge Harley in more than just the superheavyweight category ... This bike seems targeted at Harley's Sportster family."
The 2014 Indians were well-received by the motorcycle press, which has not had a chance yet to review the 2015 Indians or the 2015 Road Glide.
But the motorcycles' prices may help buyers make a choice when all three new models are in showrooms within the next couple of months.
The new Indian Scout has an MSRP of $10,999 -- almost half the cost of a Chief Classic, but more than the lowest-cost Harley Sportster or either of its two Streets.
The MSRP for the Harley Road Glide starts at $20,899 and goes up as high as $23,199 for some Road Glide Specials.
And the new Indian Roadmaster will have a retail floor of $26,999 -- making it the most expensive of the modern Indians, at $4,000 more than the Chieftain, but still well below the cost of a top-of-the-line Harley.
There may be more to come. As analyst Farley noted, the new Scout is built around an entirely new motor, and motorcycle companies don't build new motors for single-motorcycle use. Expect more smaller-bore Indians, Farley said, in the year to come.
Follow me on Twitter: @misterfleming
---
Your guide to our new economic reality.
Get our free business newsletter for insights and tips for getting by.
You may occasionally receive promotional content from the Los Angeles Times.