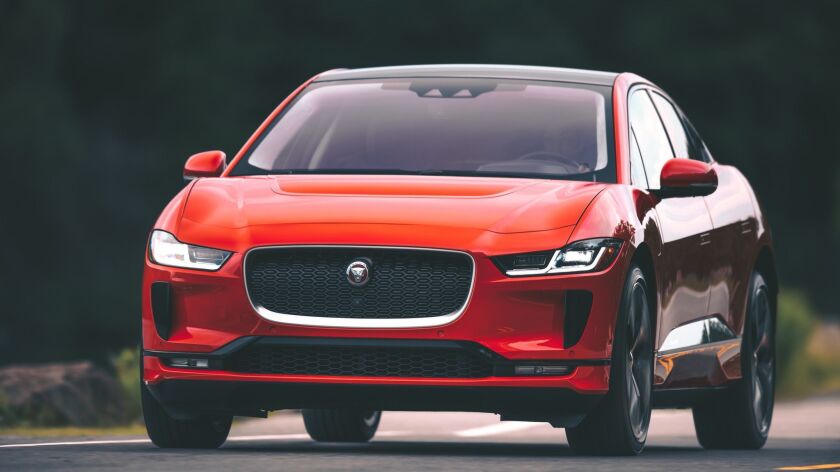 Reporting from San Francisco —
Do people buy a Tesla because they want a Tesla and no other brand will do? Or do they buy one because they want an attention-getting, high-performance, premium, all-electric car and Tesla is the only game in town?
We'll find out soon, because the all-electric Jaguar I-Pace hits U.S. dealer showrooms in October, to be followed by all-electrics from Audi, Porsche, Mercedes-Benz and more in coming months.
A drive in an I-Pace from Mountain View to Monterey proved, to this writer at least, that Tesla now faces legitimate competition.
Other all-electric cars out there — the Nissan Leaf, the Chevy Bolt EV, the tiny Fiat — are more utilitarian and far less expensive than the I-Pace. But at a base price of $70,000 before government incentives, with options packages that can push the car far higher, the Jaguar is aimed at the same economic stratum as Tesla's three vehicles.
The I-Pace is equipped with a 90-kilowatt-hour battery, with an estimated range of 240 miles per full charge. Designed as a crossover, the I-Pace is every bit as fun to drive as a Tesla Model S, Model X or Model 3 — but in a tighter, better constructed, (almost) rattle-free package that benefits from the legendary automaker's many decades of design and manufacturing experience.
The I-Pace eschews the "Futurama" cool of Tesla's giant dashboard screens, with their video-game-style Easter egg surprises hidden under layers of digital menus. But at least some electric-car buyers will prefer the tactile, easy-to-access (and safer to use) buttons and switches on the Jaguar's more traditional dash.
Like the Teslas, the I-Pace provides a unique kind of kick that internal combustion vehicles, for all their fiery virtues, cannot deliver. The instant torque rockets the car forward like a "Star Trek" spaceship in warp drive. Two electric motors, one on each axle, deliver 394 horsepower and 512 pound-feet of torque.
"This is sick," my driving companion, Mark Maynard of the San Diego Union-Tribune, shouted as he propelled the I-Pace, foot to the floor, past blurred oak trees on a straightaway section of an otherwise twisty two-lane road in rural Santa Clara County. ("Rural" in this case means the vast acreage surrounding gargantuan mansions made possible by Silicon Valley digital wealth. These twisty roads are well maintained.)
The I-Pace negotiated those curves with pleasing aplomb. Or, as Maynard put it during his turn in the passenger seat, "Usually this makes me want to heave." Did he want me to slow it down? "No, no, my stomach's fine. This is impressive," he said.
The batteries in electric cars shift the center of gravity closer to the ground, improving stability. That's one reason Tesla cars are so agile. The agility of the I-Pace possesses a different character — not better than Tesla's, not worse, just different.
The I-Pace was designed fresh from the ground up. Ian Callum, Jaguar's design director, said the carmaker's engineering team was committed to preserving the brand's taut suspension and tight steering characteristics. Anyone who's driven Jaguar's F-Pace internal combustion SUV or its XF Sportbrake internal combustion station wagon will feel at home in an I-Pace.
But there's one key difference: Batteries are heavy, and the I-Pace comes in at around two tons. Full throttle blastoff feels more like a slot-rocket than an airship about to take flight. The car moves through curves flat, with little body roll, even at speeds faster than people should be driving on public roads.
With that much weight and power, excellent brakes are essential. Statistics on braking distance are pending, but the I-Pace's brakes felt strong and sure. Electric cars are usually built with regenerative systems that gently apply the brakes when the driver's foot lifts off the accelerator. The main purpose is redirecting energy back into the batteries, but the automatic and immediate light braking provides an extra margin of safety.
Cars often betray a compromise between handling and comfort, as designers and engineers balance one against the other. On this count, the I-Pace is uncompromised. The car is comfortable whether it's being driven aggressively or traveling at normal cruising speed — as it will be, for most people, most of the time.
The seats are perfect, with just the right amount of side bolstering and a bottom that's solid and supportive without being hard. They look nice, too — our car, body in white, came with a black dash and red seats in a fabric that feels like soft leather.
With no need to make space for a big gasoline or diesel engine, an electric-car cabin can be moved forward and stretched, creating plenty of legroom, front and back.
Absent the roar of an internal combustion engine, electric cars run quiet. That's soothing for the occupants, but puts more pressure on car builders to fit car parts together tight. Squeaks and rattles seem a lot louder without engine noise to disguise them.
Jaguar did a top-notch job on fit and finish, inside and out. Wind noise was nearly nonexistent. The predominant sound was the insulated hum of the tires on the road. One exception: About halfway through the trip, the front console cup holder began making a soft rattle. It was especially annoying because everything else was so quiet.
"You know who wants those cupholders," said Callum, a Scotsman. He didn't have to speak the word, his face said it: Americans. The cupholder rattle will be addressed as production ramps up, he said.
The only fundamental complaint I had with the I-Pace, based on this three-hour journey, is back-end visibility. Callum said rollover safety regulations in the U.S. force roof pillars to be thicker and bulkier than a designer would like. To me, the rectangular glass on the car's backside is less like a window and more like a slit that allows light through. It's a constraint common to crossovers, not just Jaguar's problem.
The user interface on the small dashboard touch screen is as good or as bad as those offered by most other carmakers, which is to say, bleh. Each is terrible in its own way. Automakers might take a close look at the user interface in the new Porsche Panamera Hybrid Sport Turismo, which combines haptic buttons in front of the shifter with touch-screen controls for the best approach I've seen yet.
Bottom line, the I-Pace is a wonderful machine bound to give electric cars another image boost. The coming competition adds to the risks facing Elon Musk as the electric car visionary struggles to get his act together at Tesla.
Twitter: @russ1mitchell
---