The art of lowriding, born in L.A.'s Eastside, gets supercharged
The art of lowriding, born on L.A.'s Eastside, gets supercharged
At one end of the parking lot, Anthony Johnson was using a remote control to bounce an apple-green 1963 Chevrolet Impala, its nose eight feet in the air.
At the other, Greg Dixon was lofting a silver 2001 Lincoln Town Car sideways, raising the driver's side front wheel off the ground as he screeched around a corner.
The cars wore emblems, and the drivers hoodies or T-shirts, marking them as members of the Ultimate Riders Car Club, an Inland Empire-based group of lowriders holding their monthly meeting at Riverside's Fairmount Park.
On the outside, the vintage cars seemed identical to lowriders that cruised Whittier Boulevard in the 1960s and Van Nuys Boulevard during the 1970s, when rolling examples of Southern California's homegrown road art met for weekly exhibitions.
But under the hoods of the pinstriped, chromed-out cruisers was something unusual. These lowriders all sported massive motors, late-model Detroit-built V-8s capable of two to three times the horsepower of the engines originally installed in the vintage cars.
What used to be a world of "low, slow and show" has turned into "low, show and go."
For decades, the Los Angeles cruising scene was all about the look. Custom builders chopped the bodies on their classic American cars, then altered the suspension to bring them as close as possible to the pavement. They decorated the vehicles with outrageous paint, pinstripes and chrome, and paraded them slowly down boulevards and in front of car show judges.
The showy automobiles were a point of ethnic pride and cultural heritage, and the lowrider car clubs offered a sense of community. Kids who grew up watching fathers, uncles and cousins cruising dreamed of owning their own "shorts" one day.
The cruising scene helped spawn the "brown-eyed soul" music born in East Los Angeles in the 1960s. Later, the lowrider cars, including some of the ones on display recently at Fairmount Park, became fixtures in movies and pop and rap music videos, such as "Straight Outta Compton," Gwen Stefani's "Hollaback Girl" and the Game's "My Life," featuring Lil Wayne.
They took top prizes at car shows, winning points for most creative paint job, most complex pinstriping or most extravagant chrome.
Then, having reached a pinnacle of artfulness, lowrider builders like Ultimate Riders co-founder Vernon Maxwell started pumping up the power, bringing bigger engines and more ingenuity to an area that had been mostly ignored.
Maxwell and other builders started adding $25,000 motors to cars whose owners already had spent $40,000 to $60,000 restoring and customizing their vintage '60s cruisers.
"We used to be low and slow, but under the hood, we weren't doing that much," said Lowrider Magazine editor Joe Ray. "Then we started investing in performance."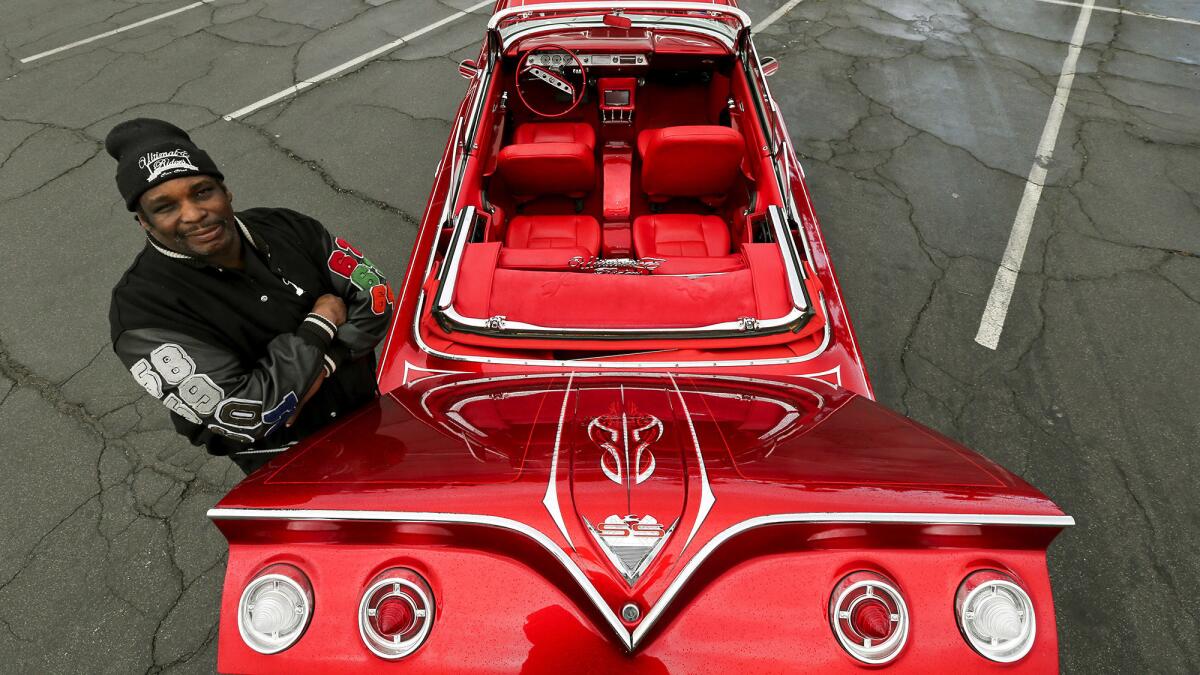 Over the last couple of years, lowriders competing in car shows started winning prizes for their "low, show and go" cars, as judges who study creativity in body design, paint jobs, pinstriping and hydraulic lift systems began awarding extra points for drivetrains.
The message spread through the lowrider community: "If you have the ultimate paint job, you better have the ultimate engine," said Ray, who often is called upon to judge lowriders at car shows.
Growing up in South Central L.A., Maxwell would sneak out while his mother worked nights so he could watch lowrider clubs gather at a nearby Church's Chicken. As a teenager, he started borrowing lowrider cars owned by uncles who "got into trouble and had to go away for a while."
In 1998, after working for several years building storage tanks for oil refineries, he turned his talent for welding and metalwork into a successful business making hydraulic lift systems for lowriders who wanted their cars to rise up and bounce.
About five years ago, he started installing big engines, ditching the vintage 1960s V-8s in favor of the LS motors found in late-model Chevrolet Corvettes. Today, he is one of Southern California's most respected lowrider builders and a major proponent of the big-motor movement.
His 1958 Impala convertible sports a supercharged 6.2-liter engine, built for a Cadillac, that makes 550 horsepower. The higher-performance 6.2-liter engine in the 1961 Impala that his wife, Tanya, drives — borrowed from a Corvette — beats that, at almost 650 horsepower.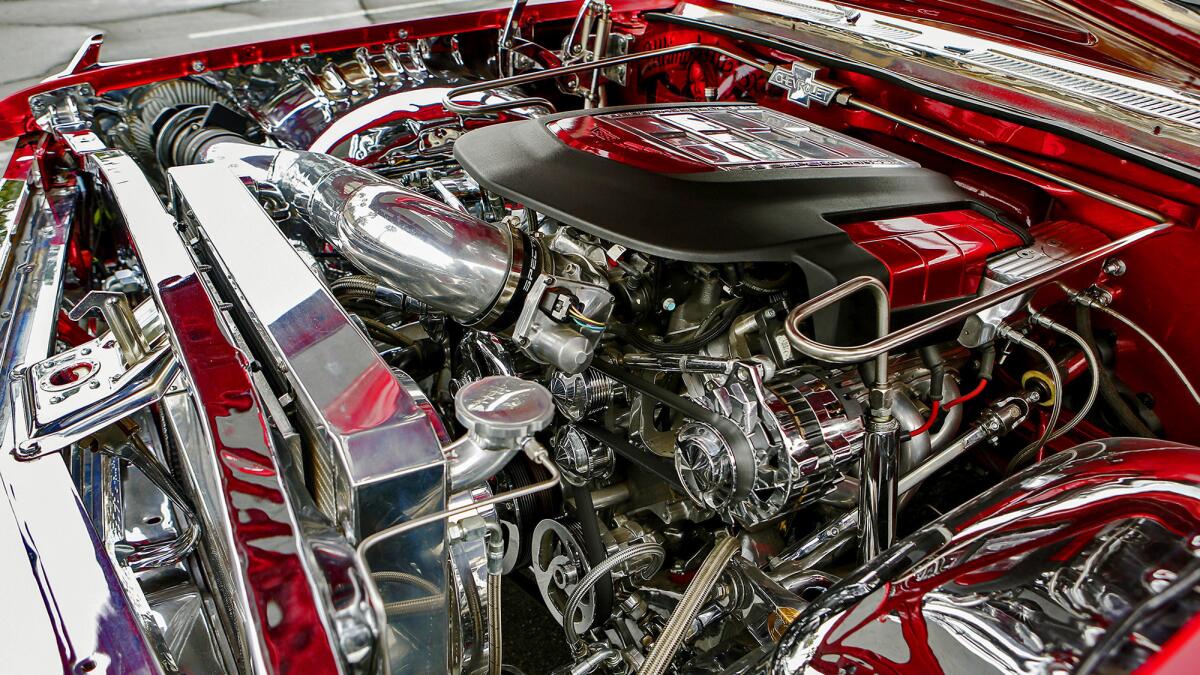 Going big under the hood has made Maxwell, known in the lowrider community by the nickname "VMax," a prizewinner. One corner of his Ultimate Hydraulics showroom in Riverside is filled with brightly colored "Best in Show" trophies.
The motor builds have been good business for Maxwell, who has sold lowriders to celebrities he's too discreet to name.
A ground-up restoration on a classic 1964 Impala — which is to lowriding what the 1932 Ford "Deuce Coupe" is to hot rods — can run up to $40,000.
A top paint job, from a master like Riverside painter/pinstriper Mike Lamberson, can add $10,000 to $20,000. Engraving on the motor can cost several thousand more.
An LS7 Corvette engine will cost $18,000 to $20,000 to buy, and $15,000 more to install, accessorize and customize.
That could bring the total price to well over $75,000, Maxwell said, for one of his customized Impalas.
Despite the extra beef in the engine compartment, Vernon's vehicles and the like don't have race car suspension or use high-performance tires. So, Lowrider Magazine general manager Rudy Rivas and others said, owners of cars with huge horsepower haven't started drag racing.
"We're still doing traditional lowriding, going low and slow," Rivas said. "But we're getting more respect from the hot rod and performance guys."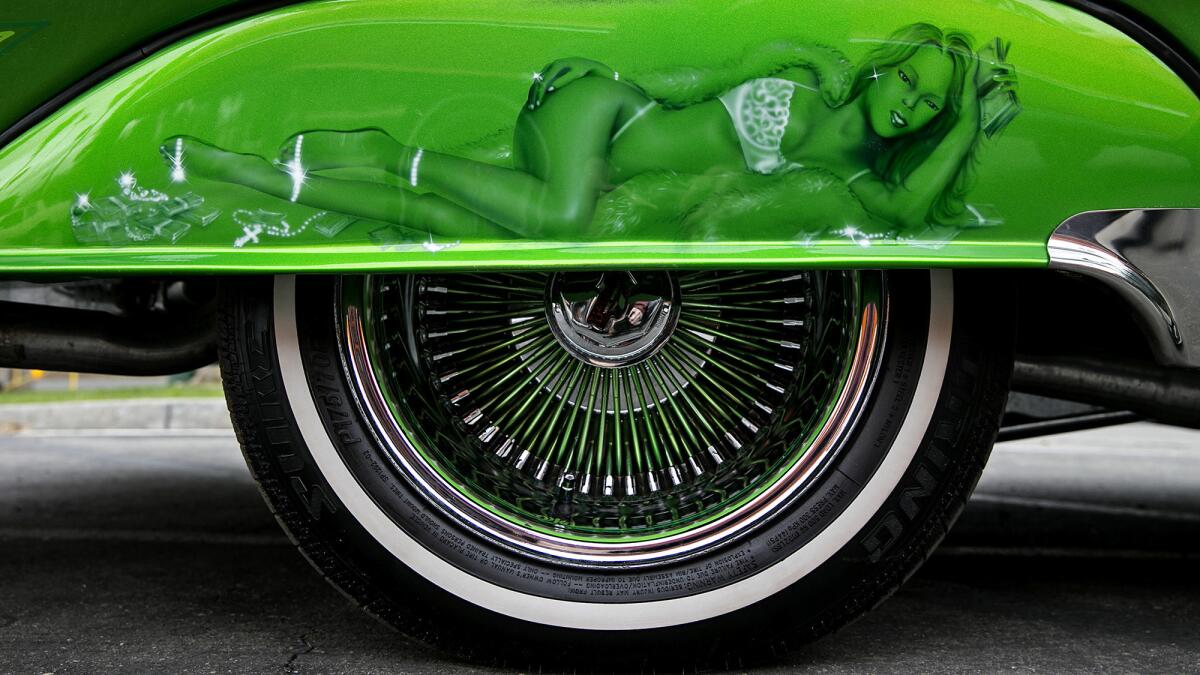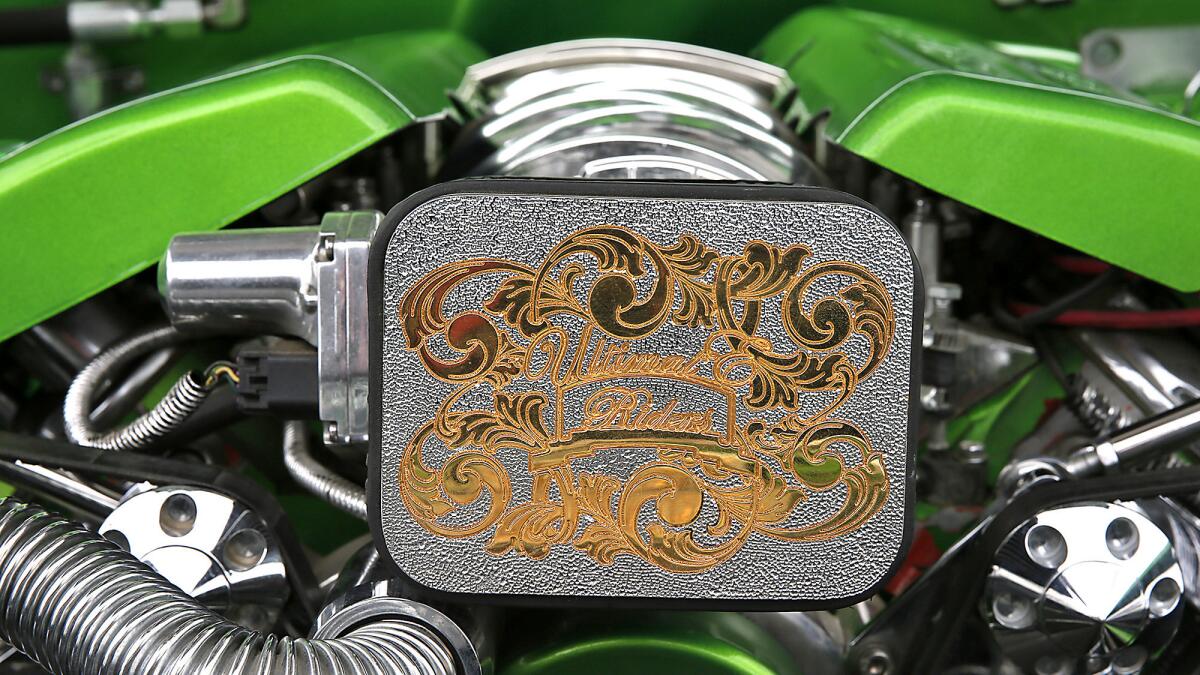 The art of lowriding was born in L.A.'s Eastside and was exclusive to the Latino community before it began to be adopted by African American enthusiasts.
Today, the car customizers featured on Lowrider Magazine's "Roll Models" video series come from mixed ethnic and socioeconomic backgrounds.
Steve Alvarez-Mott, a member of East Los Angeles car club Groupe, is a pediatric surgeon and drives a blue 1958 Impala. Lawrance Garcia, a member of Techniques Car Club, is a pastor and drives a '68 Caprice. Russell Randolph got into cars as a teenager but didn't start seriously lowriding until he retired from the military; now he lives in Pacoima and drives a tangerine-colored '63 Impala.
There appears to be little friction between the ethnic groups. A club like Maxwell's Ultimate Riders might be 30% Caucasian, some members estimated. Majestics Car Club in L.A. is has both African American and Hispanic members.
"We have blond-haired, blue-eyed guys in the Midwest who are doing it," Rivas said. "And lowriding is huge in Japan too."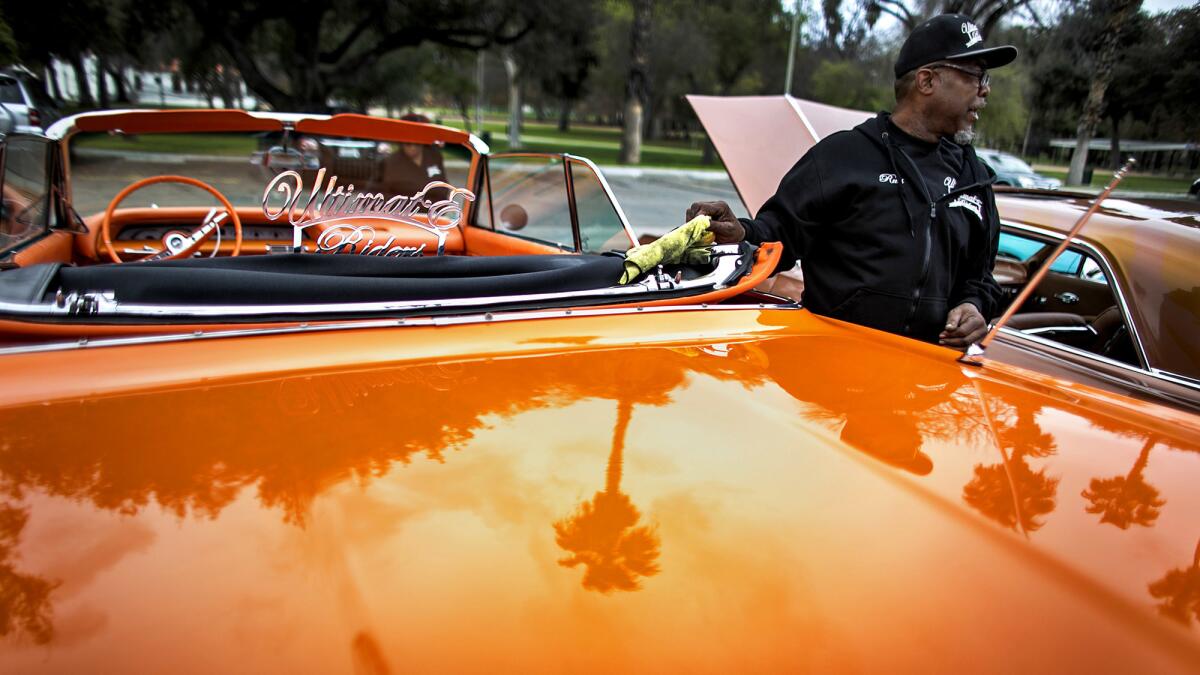 Parallel with the changes under the hood, lowriders have moved out of the 'hood, toward the mainstream.
A large lowrider event, like the annual Arizona SuperShow held last month near Phoenix, can draw a crowd. More than 18,000 fans attended.
Local events, like Arcadia's Cinco de Mayo Car Show or the Cinco de Mayo con Orgullo Festival and Car Show, both of which will be held in May, can draw twice that many people. Last year, 40,000 crowded into the Chicano Park event.
The spectator appeal isn't lost on the Petersen Automotive Museum, the Miracle Mile collection that houses some of the most beautiful vehicles designed.
In 2003 and again in 2008, the museum hosted lowrider-themed shows that broke Petersen attendance records, and it recently announced it will host another lowrider show — certain to include some big-motor cars — from July 1, 2017 to May 28, 2018. .
"These are rolling cultural statements and a big piece of the car culture in Southern California," Petersen curator Leslie Kendall said.
The roots still run deep. Despite the changes, old-fashioned cruising is still alive.
Garcia, the pastor, said he and his wife, who has her own custom '63 Impala, said the new technology hasn't changed the traditional appeal. The updated motors have just made the cars easier and more fun to operate.
"We like to show off the car," he said, "but we also still like to drive."
ALSO
On the Ground: While no one was looking, East L.A. got transplanted to Brazil — lowriders, taco trucks and all
Steve McQueen's lost 'Bullitt' car reportedly has been found and restored
No longer able to ride, famed Hollywood photographer to auction his rare motorcycles
---
UPDATES:
10:30 a.m.: This story was updated to include new dates for the upcoming lowrider show at the Petersen Automotive Museum. This article was originally published March 31, 2017 at 6:00 a.m.