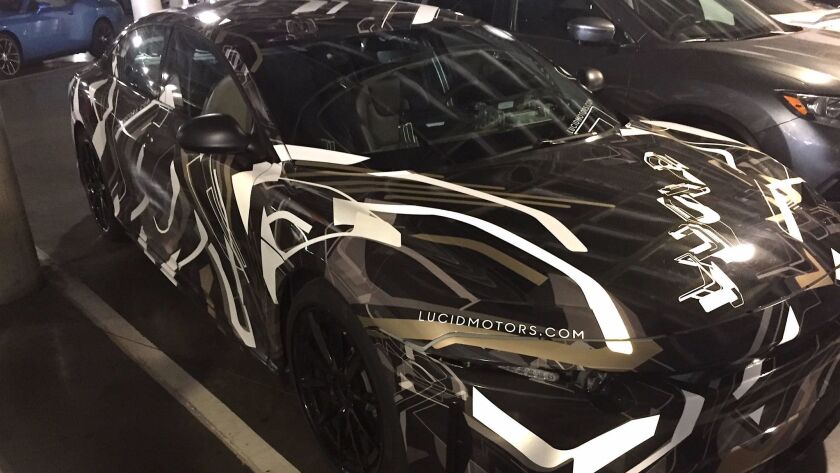 Reporting from San Francisco —
Electric car company Lucid Motors was all about its home state of California at the Los Angeles Auto Show a couple of weeks ago.
"We're a California car company and it's a fresh California spirit," said Peter Rawlinson, chief technology officer at Lucid Motors, as he showed off a new luxury 1,000-horsepower electric car at the show.
On Tuesday, though, Rawlinson was in Casa Grande, Ariz., announcing that Lucid will build its cars in the Grand Canyon State.
"The site we've located has been carefully selected, having scoured the U.S. extensively," he said.
He didn't say why California lost out. But Arizona Gov. Doug Ducey crowed about how his state's "commitment to low taxes and light regulations make us the best place in the nation to start and scale a new business."
Lucid is a small company based in Redwood City with grand plans to market a powerful electric luxury car packed with technology, to compete against German luxury brands and Tesla. The company showed off two "alpha" versions of the car at the Casa Grande event, wrapped in black-and-white camouflage.
When it hits full production, Lucid expects to turn out 50,000 to 60,000 cars a year. It intends to invest $700 million in the Arizona assembly plant and will hire about 2,000 workers by 2022. Initial hiring and groundbreaking are set for 2017; cars are expected to reach customers the following year.
Casa Grande is a desert town of 50,000 located about 50 miles southeast of Phoenix.
Lucid also said it planned to import car parts from Mexican factories near the border. Claudia Pavlovich, governor of the Mexican state of Sonora, took part in the Lucid announcement on Tuesday.
"Our two states together," she said, "have complementary strengths that make us more competitive" for industrial development.
Nogales, the name of American and Mexican municipalities on either side of the border, serves as a major trade gateway between the countries: $6.6 billion worth of goods crosses the border south and $10 billion worth crosses north annually.
Lucid is backed by Chinese investors, including Jia Yeuting, who also is backing Faraday Future, the Gardena-based car company having trouble delivering on its own hot new electric luxury car. Faraday has stopped paying millions of dollars in bills due and work has ceased at its barren factory site northeast of Las Vegas.
Lucid, however, is also funded by BAIC, a major automaker based in Beijing and controlled by the Chinese government.
Asked about Faraday and its problems, Rawlinson told the Los Angeles Times: "That's a completely different company."
Twitter: @russ1mitchell
---