James Murdoch reportedly in line to replace Musk as chairman of Tesla board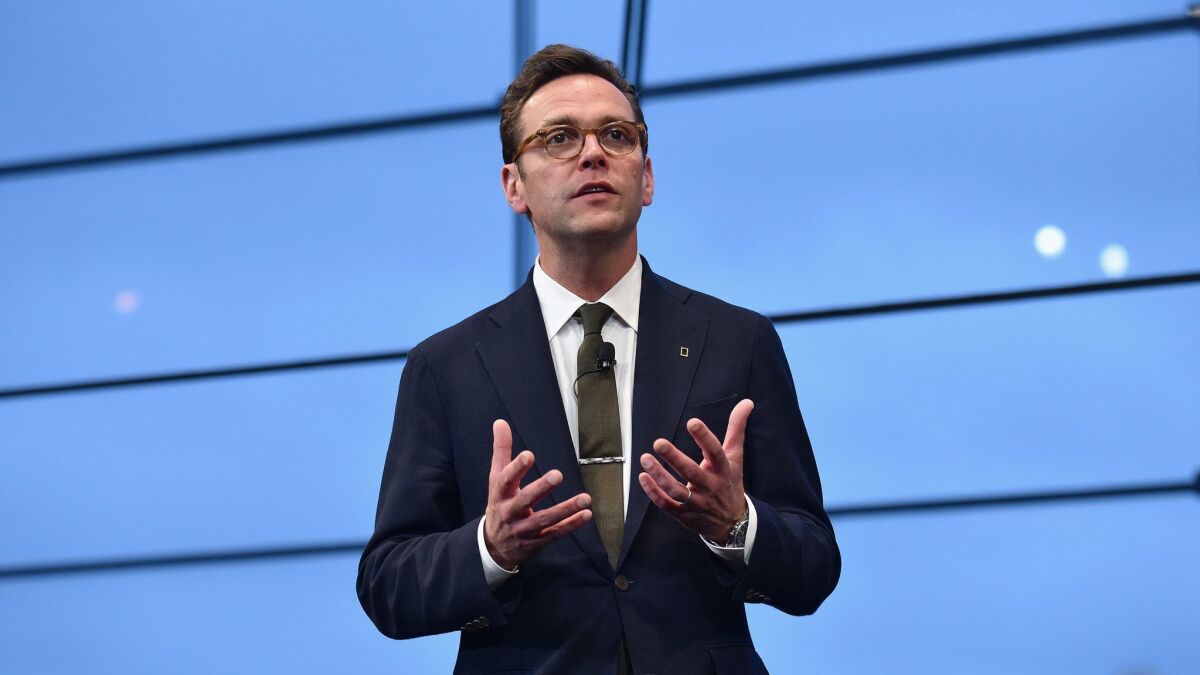 James Murdoch, already a member of Tesla's board of directors, has been identified by London's Financial Times as the candidate favored to replace Elon Musk as chairman of the electric-car maker.
Under a Sept. 29 settlement reached with the U.S. Securities and Exchange Commission over a Musk tweet that falsely claimed he had "funding secured" for a deal to take the company private, Tesla agreed to name a new chairman, while letting Musk stay on as chief executive. Tesla also agreed to add two independent directors to its board.
Murdoch is the son of media baron Rupert Murdoch. He serves as CEO of his father's company, 21st Century Fox, but plans to move on to other ventures when the bulk of Fox is sold to Walt Disney Co. That $71.3-billion deal is expected to close early next year.
The Financial Times story quoted unnamed sources and said Musk himself favored his friend and early investor Antonio Gracias for the role. Outsiders also were being considered for the chairman's job, according to the newspaper.
The publication did not identify who considered Murdoch as the "leading candidate" to head the board. It cited as sources "two people briefed on the discussions," leaving open the possibility that someone is sending up a trial balloon.
Musk pushed back hours later, replying to a Financial Times tweet that points to the article. Musk's brief tweet said: "This is incorrect." He did not detail his objection or offer an alternative narrative.
If experts in corporate governance had a vote, the board would have to keep looking.
"Naming an existing director who was on duty during all Musk's missteps and has no experience scaling up manufacturing at a cash-constrained company will not bolster confidence in Tesla's future," said Erik Gordon, a professor at the University of Michigan's business school.
Don't expect Murdoch to assume the role of reformer, said Charles Elson, a finance professor at the University of Delaware.
"He's a legacy director, from the same group that's been so deferential toward Mr. Musk," Elson said. "I wouldn't expect anything to change as long as Mr. Musk is on the board."
Tesla shares dropped $5.92, or 2.3%, to $256.88 on Wednesday, when the overall market was off 3% to 4%.
Short sellers, investors who bet that a stock is overvalued, greeted the chairman report warmly. In a tweet, Musk-critic Mark Spiegel of the Stanphyl Capital hedge fund called Murdoch "a fanboy who will allow [Musk] to serve as de facto Chair and continue controlling Tesla. Okay, I'm good with that!"
Another Tesla short seller, Rob Majteles of Treehouse Capital, said he believes the Tesla board will have trouble finding a skilled outsider to fill the role, especially in the aftermath of the settlement, an ongoing criminal investigation of Tesla by the U.S. Justice Department, and the possibility of investigations into other matters by the SEC.
Murdoch, 45, is "already exposed to full director liability," Majteles said. "No sane outsider would take it on."
Even an outspoken Tesla supporter hopes the board chooses someone else.
"He's kind of the only inside choice," said Ross Gerber, chief executive at the Gerber Kawasaki investment firm in Santa Monica and a Tesla stockholder. "The rest of the board is unqualified for the position. It's probably the best choice for Elon. But I prefer an outsider."
Some analysts say it's not so important who sits in the chairman's seat. "Without Elon there is no Tesla," said David Whiston at Morningstar. "Evidence of that is the stock falling 14% the day after the SEC complaint, which sought to bar Musk from serving as an officer of a public company. As long as Tesla is that dependent on Musk, board decisions will have less of an impact."
Tesla's media relations department said, "no comment."
Murdoch was named to Tesla's board in July 2017, along with Linda Johnson Rice, chairwoman of Johnson Publishing Co., a publisher and makeup company. Although Tesla faces manufacturing, delivery, quality control and service problems, no member of the board beyond Musk has any auto industry experience — including Murdoch.
The settlement itself has not yet been approved by the judge overseeing the case. U.S. District Judge Alison Nathan in New York told the SEC, Musk and Tesla to deliver a joint letter justifying the settlement by Thursday.
Times staff writer Meg James contributed to this report.
Twitter: @russ1mitchell
---
UPDATES:
5:30 p.m.: This article was updated with Elon Musk's tweet.
This article was originally published at 2:55 p.m.
---