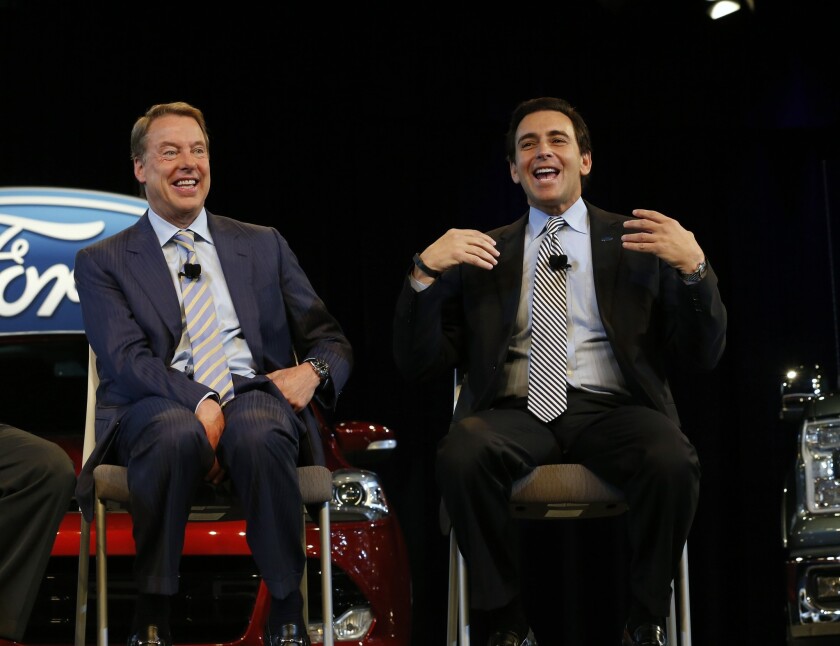 When Mark Fields was 8, his dad gave him 20 Matchbox toy cars, sparking a lifelong affinity for autos that culminated Thursday with his appointment as chief executive of the Ford Motor Co.
The New Jersey native and Harvard Business School graduate still has the cars, neatly tucked into their plastic carrying case. Fields, 53, says it's a reminder of the emotional attachment people have to their wheels and the power of childhood memories, whether it's being carted in a minivan to a soccer game or a first ride in a Ford Mustang convertible with the top down.
Fields was named Ford's chief operating officer in late 2012, putting him in charge of the automaker's day-to-day operations and cementing his position as heir apparent to CEO Alan Mulally. Fields talked with The Times earlier this year about Ford, cars and his management style.
What do you like about the auto business?
In all honesty I am not an engineer so I don't have oil running through my veins. I can't disassemble a car. ... But I love the way the auto industry is a great marriage of the ultimate industrial product, in terms of how it comes together, and the ultimate consumer product in terms of how you present it to the marketplace.
It is a very complex business where there are so many different stakeholders — suppliers and dealers, union partners, customers and the governments. It is a wonderfully complex industry that has so much impact on the economy. You are always learning something new.
It is also a business where innovation and technology are literally changing the business on an ongoing basis. It is also a business that is highly emotional. There is nothing like spending time with customers, having them tell you what they feel about the products and how cars have helped them in their lives and hear about any issues they are having with the product.
How did you get to Ford?
When I was coming out of business school, Ford was starting a program called the marketing leadership program, where in the first five years you could get one-year assignments to different areas in the business, most within marketing and sales but also one or two assignments outside.
When I graduated business school in 1989 the Japanese automakers were doing real well and I remember there were only a handful of students who went into the auto industry. This was when a lot of business-school students were going into investment banking.
I told people I was going to work for Ford and that I am going to be in Detroit. People looked at me and you can see their eyes asking how many classes did you fail? It wasn't very popular to go to the automotive industry. But I wanted to go to work for a company that was a manufacturing company and that was an American company.
What is the hardest management issue at Ford now?
I think our biggest opportunity right now is launching all these great products. We are launching 23 globally this year. It is a real opportunity to position ourselves for the next critical step in growth for the company.
What would you have said before the Great Recession and the restructuring of the U.S. auto industry?
Six years ago I would have been a lot more concerned about how we were going to launch. ... It would have been up to each region to try and make those launches successful. The difference now is because we run global skill teams and we spend a lot of time together as a senior management team we can share the lessons learned a lot more quickly around the globe as we launch these products.
Let's say we are launching product X in one region of the world we can immediately apply what we learned on that for the launch in the next portion of the globe. I have a lot more confidence that we will be able to launch effectively and successfully than we would have six years ago.
What issue is the most important for Ford going forward?
I think for Ford and the industry two of the biggest issues are developing our strategy around the connected vehicle and our vision for that is to create a seamless experience for the customer whether they are inside or outside of a vehicle. It is a big opportunity for us but we have to keep in mind to make sure that we keep the driver's eyes on the road and hands on the wheel.
I think the other opportunity for us going forward, which is kind of epitomized with the launch of the F-150 [pickup truck earlier this year], is continuing to deliver improved fuel economy for customers while also giving them the capability for whatever they want to do and meeting the national fuel standard of 54.5 miles per gallon by 2025.
How would you describe your management style?
First off I am very curious. I ask a lot of questions because I think it is important to understand first before trying to be understood.
I believe strongly in the power of bringing people together to create solutions to things rather than relying on your title to do that. I try to be very consistent for the organization.
I have a lot of passion for the business but at the same time my style is one where you will get a predictable Mark whether it is a crisis or whether it is good times or whether there is not much going on. I will be very calm and steady. People won't be guessing what type of mood Mark is in today.
Finally I can have a sense of humor. You can't take yourself too seriously. We are in great business, and a complex business, a business that requires a lot of effort -- but you got to have fun along the way. Having a sense of humor, enjoying each other along the journey is real important to me.
What was your first car?
My first car was a yellow Datsun B-210 and I got it when I was 20 years old and still in college. I got a great deal on it because the frame was bent because it was in an accident. I used to drive the car with the steering wheel turned so that the car would go straight.
Follow me on Twitter (@LATimesJerry), Facebook and Google+.
---