The 18th fairway at Pebble Beach annually plays host to the world's most valuable classic cars. Lovingly restored at great expense, until they are more beautiful than the day they were built, they vie for the top prizes at the Concours d'Elegance.
But rust stains are beginning to appear on that manicured lawn. Some discerning collectors are turning their attention to classic cars that have never met the restorer's hand — cars that have been preserved, rather than restored.
Why? Any old car can be made beautiful again with enough money thrown at it, the thinking goes, but a low mileage classic car that's never been touched is more pure, precious and unique.
Though these cars are often worth more untouched than their restored rivals, until recently they were considered something of an oddity at premier auto beauty pageants, where attendees looked askance at unrestored classics.
"Ten years ago, people weren't looking at cars like that as even acceptable," said Porsche builder and restorer Rod Emory, of Emory Motorsports. "Now people flock around the car that's just been pulled out of the barn and has all that original character."
Now people flock around the car that's just been pulled out of the barn and has all that original character.
Rod Emory, Emory Motorsports
By electing to preserve, rather than restore, owners are also saving time and money. A full frame restoration can easily take three years or longer and cost $1 million or more.
Increasingly, long-time auction watchers say, the unrestored car is becoming more valuable.
The annual Monterey Car Week, which culminates with the prestigious Pebble Beach Concours d'Elegance, is among the world's most important automobile gatherings. It begins in earnest Wednesday night with Gordon McCall's Motorworks Revival, held at Monterey Airport's Jet Center.
In the following days, the Monterey area will play host to dozens of car auctions, car rallies, car races and car unveilings, at locations in Monterey, Carmel, Carmel by the Sea, Carmel Valley, Seaside and at Pebble Beach. Hundreds of millions of dollars, and some of the world's most coveted cars, will change hands before the Sunday Concours climax.
The Concours created its first preservation class in 2001, for Pre-War cars, and added a Post-War Preservation class in 2007.
"Only a few years ago, Pebble had no preservation class, but now there's one in every major concours," said Beverly Hills collector Bruce Meyer, who has been restoring cars and showing them at Pebble since the 1960s. "Now, when people find cars that are presentable, they're leaving them that way. A classic car is only original once."
Car collector Wayne Carini, whose "Chasing Classic Cars" has been an auto enthusiast's reality show since 2008, will be attending Pebble Beach with one of the world's oldest and most original unrestored cars.
His extremely rare 1921 Stutz Model K Bearcat, made all the more rare because it is wearing its original paint, body and engine, in original condition, will go under the gavel at Bonham's Friday auction.
The drop-top two-seater, with only 10,000 miles on the odometer, won a blue ribbon at the 2015 Concours, in the Pre-War Trophy category.
It's one of only two known to exist — the other has been restored, and Carini's jalopy may be worth more preserved. Sold new in 1921 for $3,900, it is expected to fetch upwards of $500,000.
"Most of the really great historic cars have already been restored, so these are the rarest of the rare," said McKeel Hagerty, chief executive of the respected Hagerty Classic Car Insurance. "These preserved cars show up at auctions with all the dust still on them, and they blow away everyone's estimates of what they're worth."
Carini, who acquired the car two years ago, said the Stutz was bought new in 1921 by a military doctor who parked it in a Georgia barn after the engine started making funny noises. It sat there for more than 80 years.
Carini took the Stutz to his workshop in Connecticut and got it running. For a time, he thought of investing the time and money required to bring the car back to its original showroom condition — but decided against it.
"You don't repaint the Mona Lisa," Carini said.
Collector Scott Gauthier, also a Pebble veteran, is coming to the Monterey Peninsula this year in a similar state of mind, and with similar plans.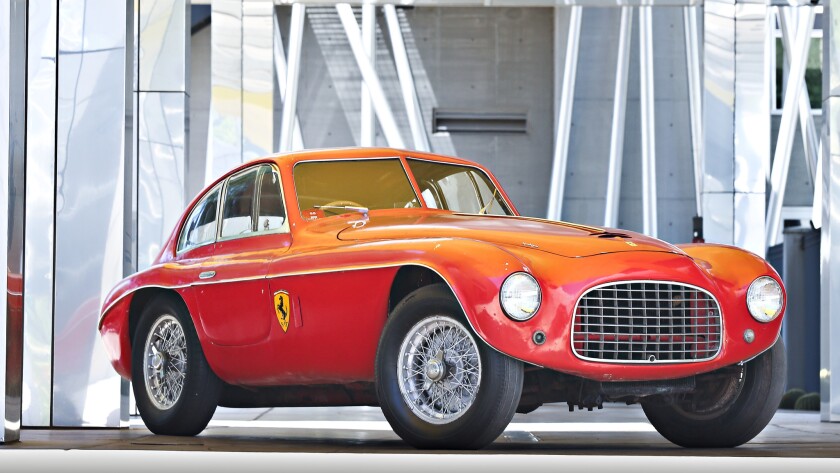 On Saturday, he will be attending a Gooding auction where the offerings will include his unrestored 1950 Ferrari 166 MM Berlinetta.
The Zagato-bodied Italian race car has not been tampered with since it stopped competing in about 1953. The vehicle wears its original paint and body and is powered by its original engine.
Like Carini, Gauthier considered restoring the car, perhaps to perform what is sometimes called a "sympathetic restoration," which would straighten bent body parts, remove rust and recreate original-looking upholstery without making it look museum-quality or movie-studio fresh.
He decided against it, he said, out of respect for the car's lineage and its place in history.
"This is probably one of the last great historic Ferraris that is not restored," Gauthier said. "I was worried that if I restored it, I might have been doing it a disservice."
He might also have been diminishing its value. There were only two such racers with Zagato bodies ever built. The other was dismantled in the early 1950s. This one is expected to bring $6 million to $8 million when the gavel goes down.
These figures represent a dramatic change in Monterey car week spending.
Rick Drewry, who helps value classic cars and motorcycles for American Modern Insurance, said a well-restored 1969 Corvette L88, for example, might sell for $200,000 or $250,000. But a low-mileage, unrestored model of the same car could be worth $400,000.
"The hard-core collectors want something completely original," Drewry said. "The pinnacle of the market right now is the totally unmolested car."
John Kraman, consignment director for Mecum Auctions, agreed: "Everything else being equal, a superb, pristine, unrestored car will bring more money than the identical car that has been restored, one hundred percent of the time," he said.
Several experts noted that there is almost no such thing as a completely original classic car. Older cars have almost always had their tires, hoses and other rubber parts replaced. Racing cars rarely have all their original engine parts. Seat cushions and upholstery have often been repaired or restored to some degree.
"There are very few great cars that are dead original," said California collector John Mozart, whose 1959 Ferrari 250 Testarossa Barchetta took 2nd place in last year's Pebble Beach preservation class. "So, degrees of originality start to prevail."
The rising value of the "barn find" car, and the increasingly prevalent use of words like "patina" to describe a vehicle's appearance, have also given rise to some classic car trickery. There are restorers who can apply new paint that looks like old paint, in an attempt to pass off as preserved a car that has been restored.
"You can walk onto the field at Pebble and see a paint shade that just doesn't feel right," Mozart said. "You realize it's been done, and it looks like a movie prop. It's too patina-ed."
Collectors wishing to capitalize on the "barn find" fever, several veterans said, should be warned. There aren't very many of them, and the competition is fierce.
"It's getting harder to find original cars that haven't been restored," Emory said, "and unfortunately once they've been restored, their history is lost."
ALSO
Another Tesla Autopilot crash, this time in China
Karma to sell its luxury plug-in hybrid car through eight U.S. dealerships
---