Pebble Beach 2017: Guts, glory and glamour at Concours d'Elegance
Confetti flies into the air as Bruce McCaw, right, of Bellevue, Wash., is driven over the stage in his 1929 Mercedes-Benz S Barker Tourer by restorer Steve Babinsky after winning Best of Show.
(David Royal / For The Times)
The 1929 Mercedes-Benz S Barker Tourer owned by Bruce McCaw of Bellevue, Wash., won Best of Show during the Pebble Beach Concours d'Elegance.
(David Royal / For The Times)
Marta Holsman and Henrietta Holsman's 1904 Holsman Model 3 Roadster is given a push from behind as they are escorted across the stage after winning an award.
(David Royal / For The Times)
Nancy Strong wears clothing to match her 1915 Packard 2-38 Six Runabout. The vehicle was driven as the pace car for the 1915 Indianapolis 500.
(David Royal / For The Times)
Colleen Page of Miami Beach drinks champagne with friends in the back of a friend's 1963 Bentley S3 Continental H.J. Mulliner Coupe.
(David Royal / For The Times)
Cars on display and people viewing them are reflected in the hubcap of a 1949 Baldwin Mercury Special.
(David Royal / For The Times)
Vanessa Cardinale, left, and her sister-in-law Fawn Cardinale shoot a selfie beside a row of classic cars.
(David Royal / For The Times)
Restorer Ian Fidderman wipes down a 1936 Rolls-Royce Phantom III H.J. Mulliner Sports Limousine. The vehicle transported various dignitaries including Winston Churchill and Dwight D. Eisenhower after being donated to the British Army and was later owned by Field Marshal Bernard Montgomery.
(David Royal / For The Times)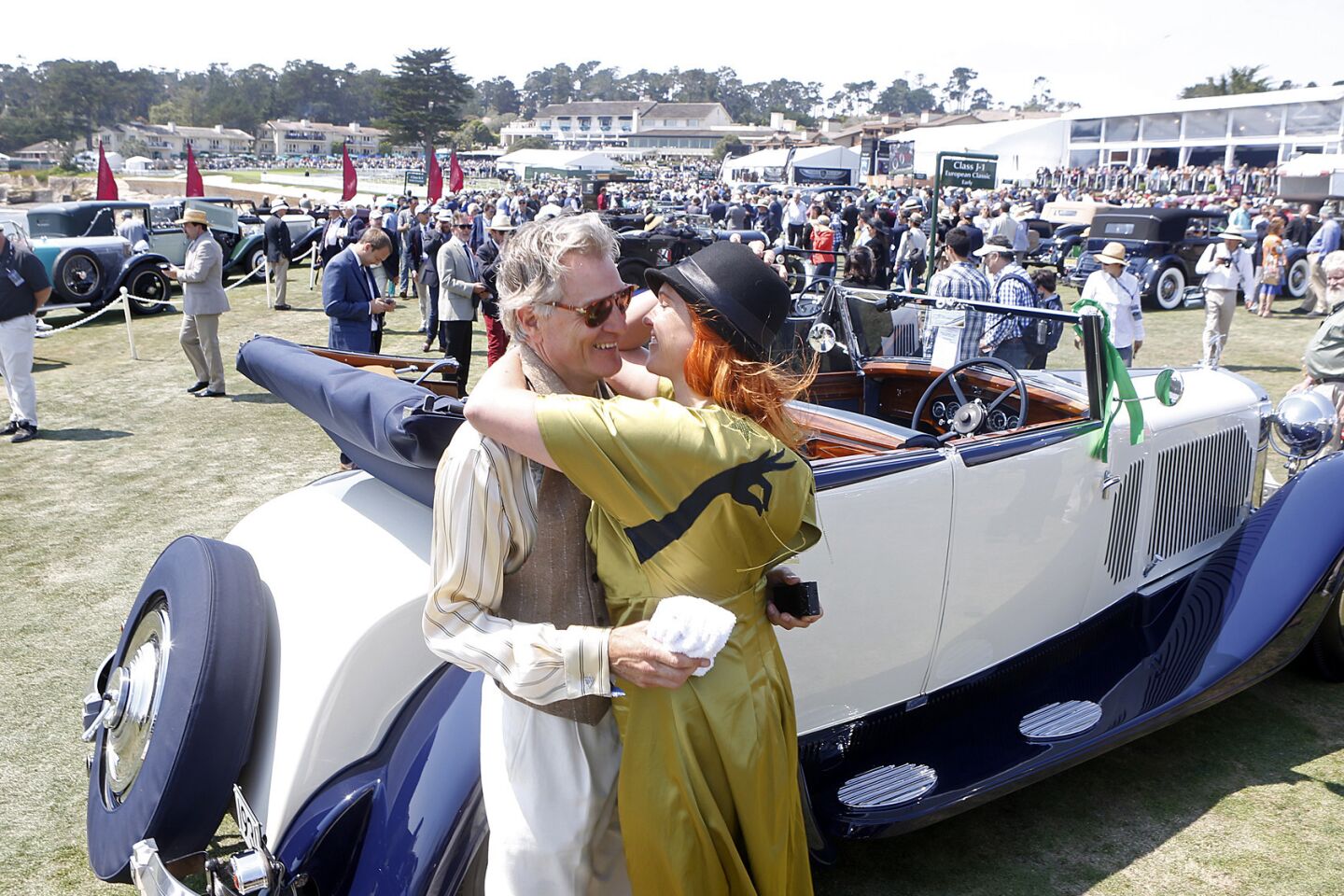 Mark Richter and his wife, Sonia, of New Zealand kiss behind their 1931 Hispano-Suiza.
(David Royal /For The Times)
A 1954 Ferrari 500 Mondial sits among a special display of 70 Ferraris to celebrate the Italian automaker's 70th anniversary.
(David Royal / For The Times)
A 1907 Renault AI 35/45 Vanderbilt racer sits at the front of a row of open-wheel race cars on the 18th fairway at Pebble Beach Golf Links.
(David Royal / For The Times)
A rooster's head hood ornament attracts attention on a 1930 Cord L-29 Brougham owned by Shawn Coady of Loda, Ill.
(David Royal / For The Times)
A 1967 Gyro-X car crosses the main stage during the Pebble Beach Concours d'Elegance.
(David Royal / For The Times)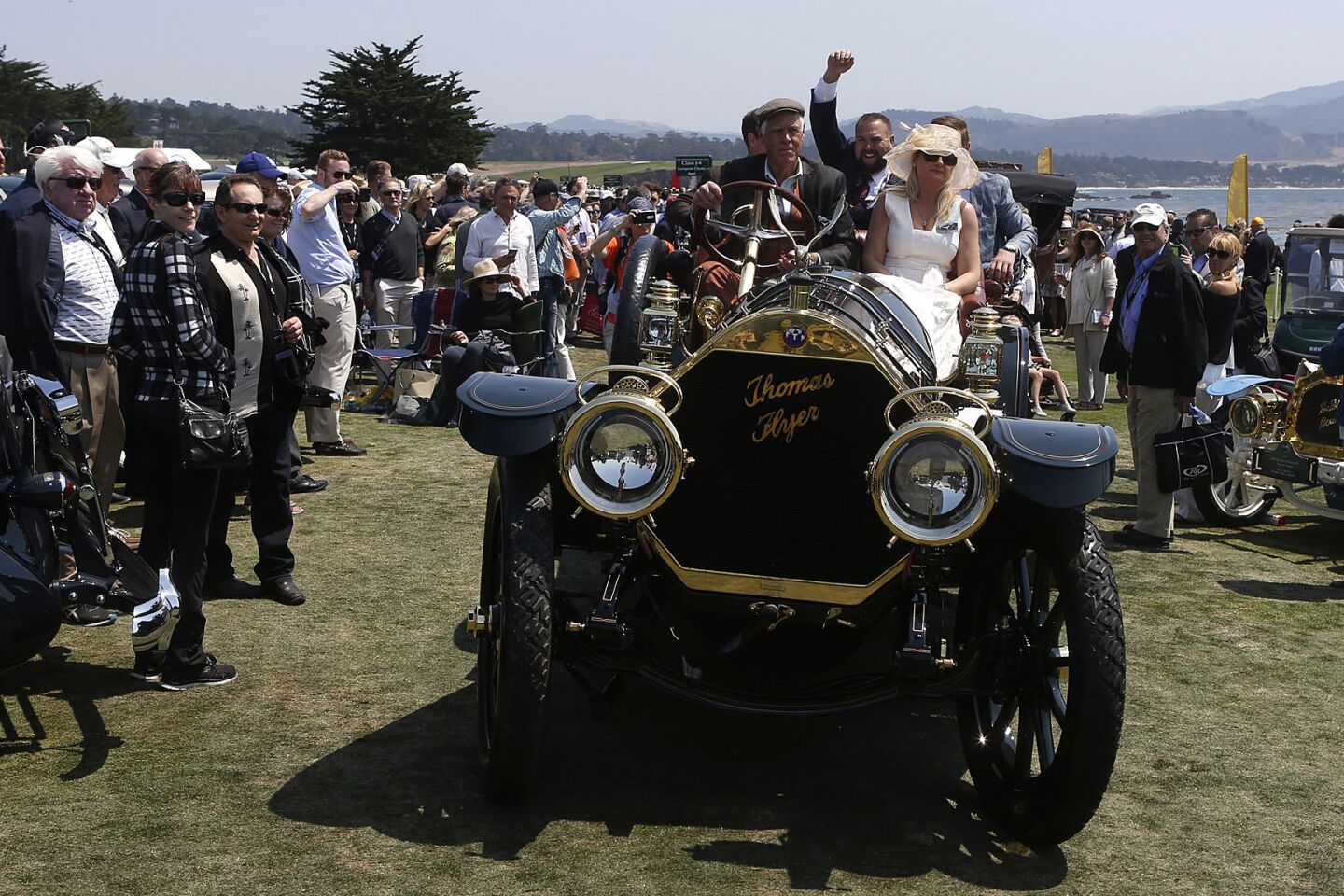 A 1910 Thomas Flyer Model K 6-70 Flyabout rolls up to the stage at Pebble Beach.
(David Royal / For The Times)
A 1960 Fiat-Abarth 100 Record Pininfarina Prototype attracts attention during the Pebble Beach Concours d'Elegance.
(David Royal / For The Times)
Cars line the 18th fairway during the Pebble Beach Concours d'Elegance at Pebble Beach Golf Links.
(David Royal / For The Times)
Reporting from Monterey, Calif. —
Dawn broke over the Monterey Peninsula and found the 18th fairway at historic Pebble Beach Golf Links decorated with a sampling of the most beautiful motor cars ever made.
The annual Pebble Beach Concours d'Elegance, which caps the Monterey Car Week, attracts only automotive superlatives. Entrants are selected from among the most beautiful, expensive, elegant and rare. The vehicles on the lawn are the fastest, the first or the best examples of automotive engineering — from the brass-piped steam cars of the early 1900s to this year's new category, "American Dream Cars of the 1960s."
The men and women who attended flew in or shipped their cars from far-flung locations — including, this year, Bangkok, Thailand, and Beijing — and came prepared to present the vehicles in full period regalia.
The spectators were equally colorful, the women wearing bright summer frocks and wide hats, the men plumed in pants of lime green, sky blue and a perennially popular shade of salmon.
"This is our Super Bowl, our World Cup," said McKeel Hagerty of the vintage car insurance company that bears his name. "This is the single biggest car event of the year."
The winner of the biggest award of the year was a 1929 Mercedes-Benz S Barker Tourer, owned by collector Bruce R. McCaw of Bellevue, Wash.
Under a fanfare of trumpets and a blast of confetti cannons, McCaw drove the elegant touring car onto the Concours d'Elegance stage to accept his Best of Show prize from the event Chairman Sandra Button.
McCaw found himself in the Best of Show circle just ahead of his brother John McCaw, whose 1957 Ferrari 315 S Scaglietti Spider was a runner-up, along with Chip Connor's 1932 Packard 906 Twin Six. (A third brother, Craig McCaw, is also a car collector.)
Former "Tonight Show" host Jay Leno, himself a noted collector and devoted car man, was on hand to hand out prizes and help raise money for charities.
Leno made the obligatory "Hair Club For Men" jokes about the age, wealth and gender of the Pebble Beach entrants.
"We have a gold Rolex watch to be given away to any Ferrari owner still on his first wife," Leno joked. "No? Nobody?"
The Concours organizers had declared in the run-up to the Sunday event that this 67th annual gathering would see greater diversity among entrants. Many countries and nationalities were represented.
Among the 204 vehicles competing in 27 categories and vying for other special awards, 165 had come from America. The remainder represented 15 countries, including one each from Slovakia, Spain, New Zealand and Mexico, and four from China.
While those showing cars on the greens and fairways were mostly male, a healthy sprinkling of women were in attendance as well.
In many cases, it was a family affair. Many veteran Pebble players came as couples, such as Peter and Merle Mullin, whose Oxnard museum contains a fine collection of French Art Deco and early American cars, and Jack and Helen Nethercutt, whose Nethercutt Collection is housed in Sylmar.
But some women came without spouses. Sisters Marta and Henrietta Holsman traveled from Santa Barbara with a 1904 Holsman Model 3 Roadster, designed and built by their grandfather, Henry Kerchner Holsman.
Wearing vintage gowns and period jewelry, under broad white hats, the two women said they were only the second owners of the 113-year-old car, having purchased it from the family of its original owner, a West Virginia country doctor, who paid $550 to acquire it new.
"He called it his 'Baby Buggy,' because he delivered so many babies with it," Henrietta said.
Hours later, the Holsmans would also ride into the winners' circle, to claim the coveted Chairman's Trophy.
Farther down the fairway, Carol Kurtis stood next to a bright yellow custom car she was showing with her son, Chris. The 1949 Kurtis Sports Car was designed and built by Chris' grandfather, and Carol's father-in-law, Frank Kurtis.
Like many machines at Pebble, the Kurtis came with a great story. The canary yellow, aluminum and fiberglass-bodied car was presented to Carol's late husband Arlen Kurtis when he was a teenager. He sold the car when he went into the Navy in 1952. Carol located it and purchased it back into the Kurtis family, 31 years later.
The Holsman sisters were competing in the Prewar Preservation class. Carol and Chris Kurtis were vying for Postwar Open honors.
Other categories were devoted to a single brand, such as the traditional classes limited to Packard, Duesenberg, Rolls-Royce, Mercedes-Benz and Ferrari.
But this year also saw 17 entrants, in three classes, devoted solely to cars made by Isotta Fraschini.
Some entrants didn't like their chances going in. John Adamick, a veteran of many Pebbles as a spectator, was making his debut on the 18th fairway, showing a very rare 1909 De Dion-Bouton BV Type de Course. Once owned by England's Lord Montagu and Hollywood's Tyrone Power, the bright blue race car attracted a steady stream of admirers.
Asked if he thought he had a shot at winning in the Antique class, Admich shrugged gamely and said, "Look around. There's a lot of beautiful cars here."
Car companies were using the daylong event to attract attention as well. Many had brought custom projects to the "Concept Lawn," to display flights of automotive fancy for the passing crowds.
Many were electrified, such as the Infiniti Prototype 9, a battery-electric retro race car that emcee Leno called out as his "favorite car" of the Monterey Car Week; the I.D. Buzz electric van concept from Volkswagen; and the Bentley EXP 12 Speed 6e, a battery-powered open-top sports car.
The Infiniti was a promotional exercise and will not become a real car. But Volkswagen has already promised to turn the I.D. Buzz into a production car within the next two years. The Bentley was less certain.
During an interview, Bentley board member Andreas Offermann said the luxury car company would build and sell a battery-electric vehicle sometime after 2020. It might be based, he said, on a "Baby Bentayga" compact SUV platform or possibly on a four-seat sports car platform more akin to the EXP 12 Speed 6e concept.
As the last of the prizes was distributed, and white caps appeared on the bay that fronts Pebble Beach, the thousands of fans who'd come to the peninsula to ogle the autos began to make their way back to the shuttles and parking lots.
"Until next year," one attendant said to another. "You're coming back, right?"