John Mendel plans to keep Honda on top in California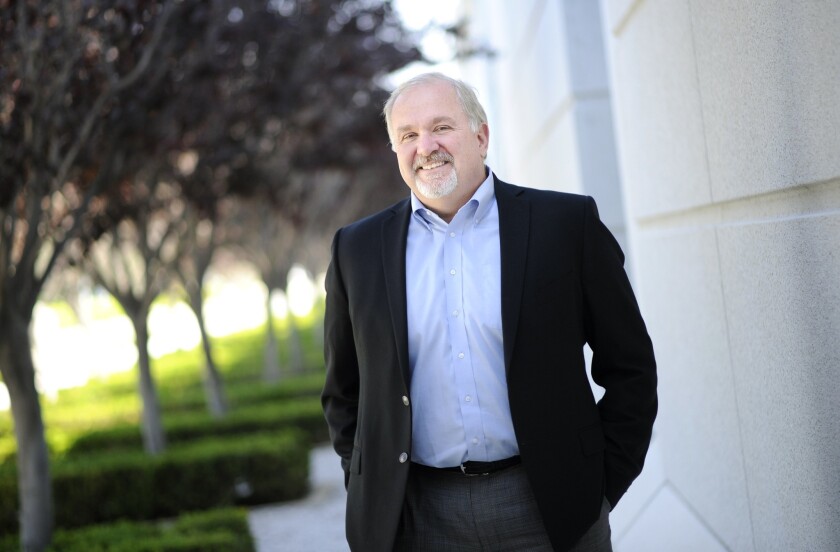 An admitted car geek, John Mendel is executive vice president of American Honda Motor Co., overseeing the Japanese carmaker's North American auto operations.
That includes four U.S. auto manufacturing plants, research-and-development sites in Southern California and 29,500 U.S. employees, including 2,900 at American Honda's Torrance headquarters and elsewhere in California. Honda also makes the Acura brand of cars.
Honda ranked fifth among car sellers nationwide last year. But in California, Honda's Accord was the bestselling car last year, just topping Toyota's Prius, and the Honda Civic ranked third in the state's sales.
No state identifies with cars as much as California, where there are 33 million registered vehicles. So we asked Mendel, 60, to talk about the current market. Here are excerpts:
What separates a car buyer in California from, say, one in Nebraska or Vermont?
The difference is lifestyle. The breadth of activities, the range of things to do that car buyers in California have at their disposal, is probably unparalleled. Where else can you snow ski in the morning and sea surf in the afternoon with an hour-and-a-half drive in between? What their vehicle has to do for them defines the challenge for any automaker in California.
What does that mean when they visit a dealership?
They want durability, quality, reliability.
That's it?
We're also very image-conscious. I maintain we're not in the transportation business, we're in the transformation business. We care what that vehicle says about me and does for me. But I also meet some people where the vehicle is nothing more than transportation.
Are Californians more interested in buying alternative-fuel vehicles than drivers in other states, especially because California gasoline prices are among the highest in the nation?
Californians enjoy the outdoors. I've always spent more time outside here, having moved around the country. That connection to the environment, coupled with higher gas prices and government support, has made California far and away the largest market for clean vehicles.
But Honda recently said it will stop making the Civic hybrid and the compressed natural gas (CNG) version of the car due to soft sales, reflecting lower gas prices and consumer indifference. Yet Honda also said it remained committed to alternative-fuel vehicles. Can you clarify?
We can achieve 2025 emissions targets with downsized, turbocharged engines and conventional hybrids, but beyond 2025, alternative fuel vehicles will increasingly come into focus. The power units will change. You'll see more electrification, more hybrid-ization. The time to invest in the technology and infrastructure, and develop the market, is now.
The Accord was the bestselling car in California last year. Does that mean anything other than being able to boast?
I'm not sure what that's worth to a customer. I guess at the end of the day it reinforces with people the strength of a particular brand. We don't do any fleet [sales], we don't do the rental-car business and that stuff because it tends to diminish [a car's] value for customers.
Is there pressure to repeat as California's sales winner again this year?
The pressure is to continue to focus on what customers like as opposed to some artificial bestselling title.
What do you drive?
A 2009 Honda Element [crossover SUV], a 2014 Acura MDX [luxury SUV] and a 1995 Acura NSX [sports car].
You were a car nut as a kid?
Yes. I was born in Buffalo [N.Y.], grew up in Texas and moved all over the world. I was a Ford brat. My dad was with Ford for 30 years in sales and marketing. Then I spent almost 29 years with Ford [before moving to Honda in 2004].
At the recent New York Auto Show, after Nissan topped Honda in U.S. sales in March, you were quoted saying "I don't give a damn about Nissan." What was that about?
It was a reaction to the intensity of the questions [about sales] that day. Nissan also has fleet sales and rental-car sales. I'm certainly not diminishing their business model, but it's not our business model. Candidly, Nissan never even comes up in our building unless we're looking at specific product comparisons.
What does a car in California look like in five, 10 years?
Five or 10 years ago I would have gotten it wrong as to what's on the road today. We always imagine it evolving much faster than it is. It was like, you would jump in the car and it's going to drive you there.
OK, so what's your more realistic view looking ahead this time?
Vehicle safety will play a huge role, such as vehicle-to-vehicle technology to prevent them from running into each other, or at least being more aware of each other [when they're close together]. Fuel economy will make gains; [gasoline] is a finite commodity. The car will be much more efficient.
But cars in general won't perform in radically different ways?
I don't think we'll have levitating pods floating over the 405 Freeway any time soon.
This interview has been condensed and edited.
Twitter: @PeltzLATimes
---
Your guide to our new economic reality.
Get our free business newsletter for insights and tips for getting by.
You may occasionally receive promotional content from the Los Angeles Times.