RawHyde helps motorcycle riders get ready for rough stuff
The adventure bike niche is the fastest-growing segment in the American motorcycle industry.
But many people who own the big, adventure-ready machines don't know where to ride them, don't know who to ride them with, and, perhaps of greatest concern, don't know how to ride them off-road.
Jim Hyde, and his RawHyde Adventure training programs, have become legend for helping them.
On a Friday afternoon last spring, dozens of riders were streaming into Hyde's hidden mountain compound north of Castaic.
Arriving on BMWs laden with adventure gear, or hauling their motorcycles in trucks and trailers, the riders had come to RawHyde to build their skills and face their fears.
"I'm terrified," said Jonathan Martin, a rider from San Jose who had never taken a motorcycle off-road.
I could relate. Though I'd raced motocross as a kid and had ridden dirt bikes in the desert for decades, I had very little experience putting a big bike through its paces off the pavement.
So, I was a little unnerved by the prospect of taking a 600-pound, $18,000 motorcycle onto uneven terrain. When shown Friday what I'd be doing through the weekend, I thought: Not me, not with this bike and certainly not in the dirt.
I had plenty of company. As the three-day training weekend began, I found that most of the 34 riders arriving at the compound were similarly spooked.
RawHyde charges $1,395 for the basic two-day, one-night camp, if the rider brings his or her own motorcycle. The base rate includes training, lodging and meals. Motorcycle rentals, gear rentals and additional training, including a two-day ride that follows the weekend, are extra. The camp is held several times a year.
The students were a mixed bag. Some were veteran dirt bike riders eager to brush up their skills on bigger equipment. Others were brave newbies with specific plans to put the training to use.
Some of the riders were young and fit. Most were not.
"Hey, everyone looks like me," said Tracey McCormick, a retired fighter pilot who had recently purchased a BMW adventure bike. "I thought it would be all kids."
After breakfast Saturday, the students and staff attended the morning briefing, where RawHyde's founder gave an overview of the training to come and set ground rules, which included: "We will not tolerate any clowning around — at all."
The students I met seemed quite serious, and had varying motives for attending.
Mark Adams, a photographer from Los Angeles, was preparing for an off-road ride across the country.
Jeff Gibson, a restaurant franchise owner from Utah, wanted to "be the cool dad," and ride dirt bikes with his son and grandson.
Giles Kavanagh, a finance officer from New York, was hoping to survive an off-road ride in Peru.
Hyde, an intense, compact man with sharp blue eyes and close-cropped white hair, grew up on what is now the RawHyde compound. He retired in 2000 from selling medical equipment and moved back to the mountain property shortly after.
After a few missteps running tours in off-road sport utility vehicles, he shifted his focus to motorcycles, and turned full time to adventure training in 2007.
Since then, RawHyde has trained 3,500 students, he said, and the company has grown. Annual revenue was roughly $500,000 in 2007, Hyde said. It rose to $1.8 million last year — 70% of that from training sessions, with the remainder earned via post-training tours and motorcycle rentals.
His staff has grown, too. Hyde employs seven people full time. He has 14 part-time coaches, and three part-time medics. His kitchen boasts three full-time chefs.
Most of the instructors, he said, are former students who became so enamored of the camp that they left other jobs to become trainers.
The business model makes sense for his partners, too. One of Hyde's instructors is Owen Balduf, who does sales for Long Beach BMW Motorcycles. Balduf estimated that the dealership has sold 70 motorcycles over the last few years to RawHyde graduates eager to own their own machines.
Hyde's teaching style is blunt and direct.
"It's an illusion that this is a safe activity. It isn't," Hyde said that morning. "But we're going to teach you the skills to do it without killing yourself."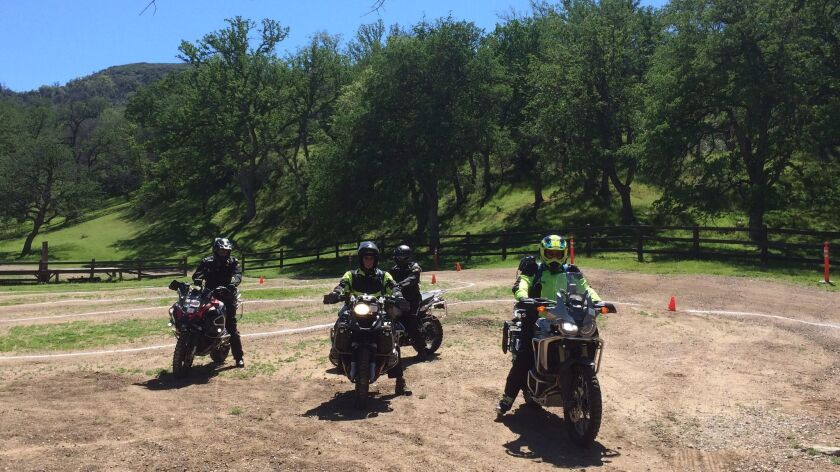 The RawHyde curriculum began with a simple exercise: Going slowly, on a dirt road, students were asked to stand up, remove one foot from a footpeg, and then swing that leg up onto the motorcycle seat. Then repeat, on the other side.
This was the first of several drills designed to get riders off their seats and onto their feet, so they would begin moving their bodies around on the motorcycle — essential, we would later learn, for controlling the heavy bikes on uncertain terrain.
Soon, riders were shifting their weight around while making circles and figure-eight loops. Within hours, we were doing tight turns and loops on a steep hillside.
The drills gradually got more complicated. Learning clutch and throttle control, later that day we were doing figure eight loops with two, or three, or even four other motorcycles inside the same circle — closely maintaining speed so we didn't bump into the bikes in front of or behind us.
They got more difficult, too. We were told that we would soon practice crossing a patch of deep sand, which, because of the size and weight of the motorcycles, is the great nemesis of every big-bike rider.
We'd all been warned, near the beginning of the instruction, that we should be prepared to fall over a few times. So riders were all required to wear proper helmets, boots, gloves and jackets. The delicate parts on our bikes had been removed or taped up for safety.
And fall we did. Some riders went down repeatedly. This allowed us all to practice another important technique we'd been taught, that of getting a big motorcycle back on its feet when it tips over. Some riders were expert at this before Saturday afternoon.
Some sustained injuries, too. Two of the riders who started the course were not able to finish, one going out with a bad knee, another with a sprained ankle.
The day ended with drinks in the bar, a substantial dinner of salmon steaks and jasmine rice in the dining room, and a musical performance, featuring coach Owen Balduf on electric violin, in the lounge.
The talk was entirely moto-centric — best bikes, favorite rides, greatest adventures, worst accidents — as a group of men, smoking cigars by the campfire, placed bets on which occupants of the four-person cabins would snore the loudest.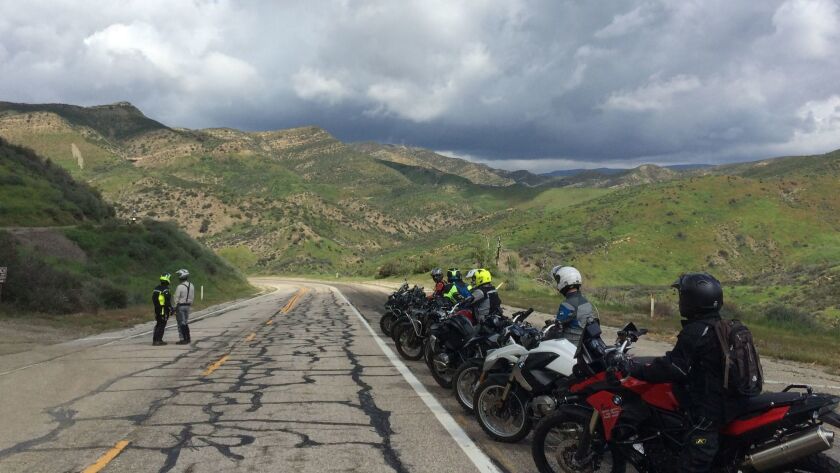 By midday Sunday, many of the novices were riding like veterans. Drills such as those designed to help a rider stop on a steep hill, and turn around without falling, were beginning to pay off.
Instructors led riders up a rutted, gravelly road, and then onto a narrow trail that climbed a grassy slope between low-hanging oak trees. Emerging from one grove, the riders followed as their trainers rolled up and over 6-foot-high dirt mounds.
Asked if he'd have been willing, on Friday, to do what he was doing Sunday, the once-nervous Martin said, "No way! Not a chance!"
Then came the hill climbs and finally the dreaded deep sand — which took down several riders, including one instructor.
"This was supposed to be fun!" one rider said as he tipped over into the sand pit.
That evening, after showering off the day's dust, riders received commendations from the trainers and certificates of completion.
Some would leave that night, but others had paid extra to continue on to "Base Camp Alpha," which meant another two days of riding and practicing in real-world conditions. Many exchanged email addresses, and made plans to team up for future rides.
Contacted later, riders said they were still reveling in the experience.
Kody Honeyman, who'd been a veteran dirt bike rider, bought a BMW R1200GSA, like the one he'd studied on, then took a 14,000-mile trip with his girlfriend through Alaska, Canada and a smattering of U.S. national parks.
Retired pilot McCormick, also a seasoned dirt rider, did several more RawHyde rides, and hosted Honeyman and his girlfriend when they crossed Nevada on their way from Tennessee to Alaska.
"You really do become part of the RawHyde family," McCormick said.
Mark Adams, who may have won the award for most falls during the training session, set off on a cross-country, solo motorcycle tour. By email, months into his trip, he called the RawHyde training "a real spiritual experience" that gave him "a tremendous amount of confidence about riding off-road."
New rider Kavanagh completed his planned two-week ride through Peru, much of it on dirt roads and trails. In an email, he described riding on beaches and sand dunes as "like a Steve McQueen movie."
Relative newbie Gibson learned about his limitations, and said most of his post-RawHyde riding was close to home with his grandson.
"I was able to do things that I never thought were possible," Gibson wrote. "I also learned that I did not want to ride a motorcycle around the world."
Hyde's empire, meanwhile, is growing. Having expanded his Castaic compound, the adventure riding entrepreneur added a Colorado stake to his holdings in 2013. RawHyde now does adventure training from a 9,500-foot-high mountain camp 70 miles south of Breckenridge.
More recently, Hyde purchased a large plot of land in the Mojave Desert, where he is building a new facility to host rides, riders and special events.
Meanwhile his demographic, encouragingly, is changing.
"I used to never see anyone under 45," Hyde said. "Now, we're getting guys in their 30s. That tells me this adventure riding thing hasn't peaked yet."
---