L.A. Auto Show: The Elon Musk of electric pickup trucks? Meet Rivian's R.J. Scaringe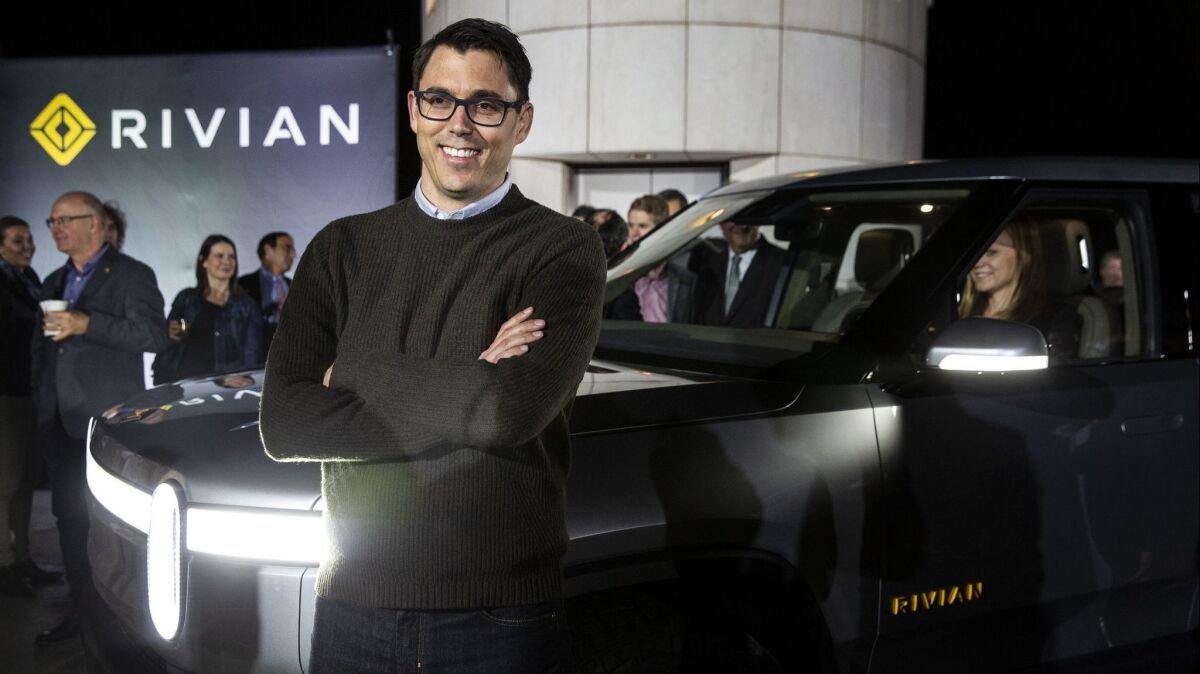 At the LA CoMotion mobility conference this month, R.J. Scaringe was introduced as "the version of Elon Musk you'd want your daughter to marry."
His company, Rivian, is making a big splash at the Los Angeles Auto Show, which began this week with press and industry events and is open to the public starting Friday. At Griffith Observatory on Monday night, Scaringe, with a celebrity assist, unveiled Rivian's all-electric pickup truck, the R1T.
Aimed more at outdoors enthusiasts than at construction workers or hay balers, Scaringe said, the electric truck is built not only for a smooth ride and rapid acceleration on the highway (zero to 60 mph in three seconds) — but also to climb over rocks and push through mud, sand, and chuckholed gravel off-road.
"It's the ideal platform to go out and enjoy nature," he said, pointing out all the extra gear space made possible by the lack of an internal combustion engine as the decidedly un-outdoorsy Rihanna, dressed in high-heeled boots and wearing long red fingernails, looked on.
"You can take kids to the beach, or go mountain biking, or surfing," he said in a separate interview with The Times. It'll be priced like a Range Rover but sold to customers who won't mind getting muddy. "If the analogy were clothing, this is more like a Patagonia jacket and less like an Armani suit. It's comfortable getting dirty. The interior design is rugged and cleanable."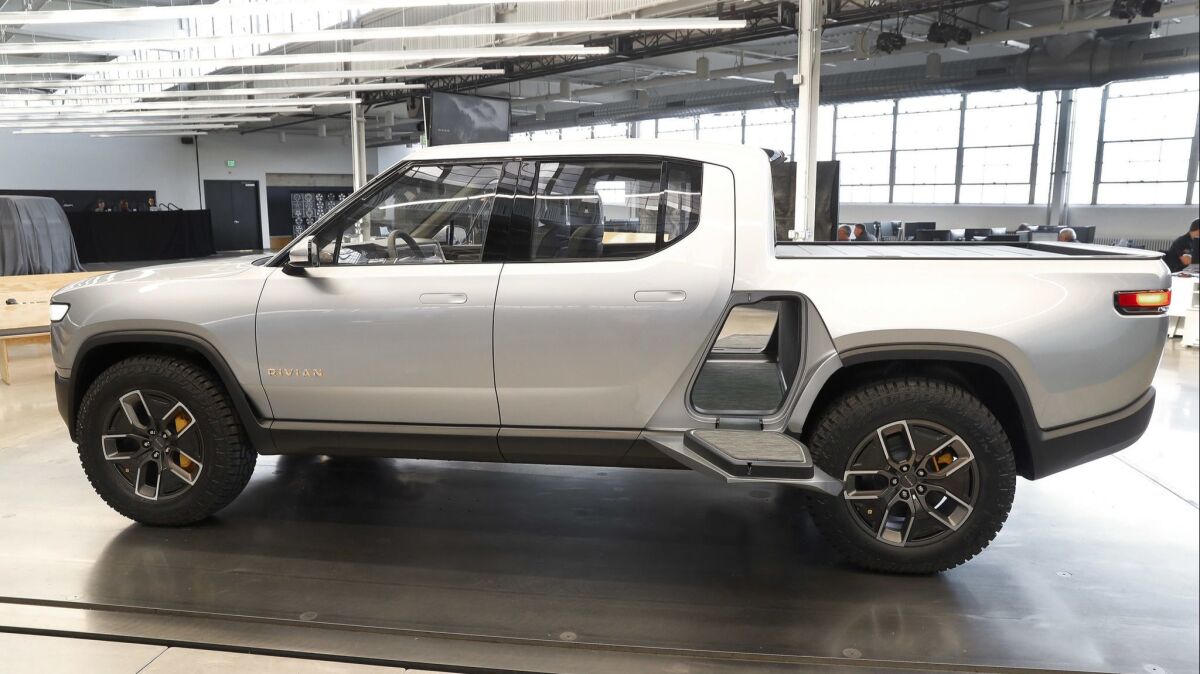 Auto show attendees can check out the unusual looking R1T and a companion SUV, the R1S. Rivian plans to start selling both within two years, assembled at a former Mitsubishi plant in central Illinois.
Mild-mannered, boyish looking in Clark Kent glasses, not given to hyperbole, Scaringe, 35, eschews Musk's trademark bluster. He has not smoked weed on internet TV and avoids controversy on Twitter.
But, like Musk, he is a pioneer in the electric vehicle market, aiming to beat traditional automakers to the punch with fun-to-drive made-in-America electric vehicles that turn heads, while creating a new market segment — in Rivian's case, "electric adventure vehicles."
With four 147-killowatt electric motors, one on each wheel, the R1T promises powerful and precisely aimed torque. That puts the power exactly where it's needed. Traditional internal combustion off-roaders transfer power from a central engine to the wheels through a mechanical transfer case.
"There are some amazing technical advantages to have each wheel independently driven," said Michael Harley, market analyst at Kelley Blue Book. "But it's expensive. We'll see if they can pull it off."
Base price will be $62,000 for a 230-mile-range truck. The first version to be sold, however, will be rated 400 miles between charges; no price tag has been announced, but the longer range is sure to cost substantially more.
It's possible that electric pickups could help persuade buyers of large, powerful utility vehicles — where the market is increasingly headed — to give electric powertrains a try. The mainstream $40,000-pickup buyer probably will find such a truck too expensive, but higher-end pickups run into the Rivian zone. A fully loaded GMC Denali pickup, for example, costs $67,000.
Rivian, now with 600 employees, has operated in near-zero-publicity "stealth" mode for the last nine years — another way Scaringe differs from the spotlight-loving Musk. Major investors include Sumitomo Corp. of America and Saudi Arabian conglomerate Abdul Latif Jameel Co.
Scaringe's love for cars dates back to his youth in Cocoa Beach, Fla., near Cape Canaveral and the Kennedy Space Center. He spent his free time refurbishing classic Porsches.
He graduated from Rensselaer Polytechnic Institute and earned a doctorate in engineering at MIT's Sloan Automotive Laboratory, which works with automakers worldwide on vehicle and manufacturing technology and processes.
He started Rivan soon after, having never worked directly for an auto company. Scaringe aims to innovate his way into a new product category in an old-fashioned industry with the fresh thinking and management agility a start-up allows. But, unlike some start-ups, he also respects what the auto industry already does well. That's why the headquarters is outside Detroit.
"The industry has developed core expertise in the supply chain and in manufacturing," he said. Michigan is "where we can access that talent. We can stand on the shoulders of what's been done before."
Rivian has major satellite operations in Northern and Southern California: cloud computing, connectivity and self-driving development in San Jose, and electric chassis propulsion systems in Irvine.
Innovation in manufacturing will be a key element in Rivian's success, Scaringe said, but he has no plans to make the factory look like a spaceship. His approach is the tried-and-true "lean" approach to manufacturing, first developed by Toyota, which emphasizes constant improvement over dramatic attempts at cutting-edge automation.
Rivian has developed a "skateboard" platform on which all its future vehicles will be built. A battery-based powertrain can be laid flat underneath the vehicle body and between the wheels. With no big gasoline or diesel engine, there's more room for people and their stuff.
The lower center of gravity lends itself to better handling, which holds true for most similarly configured electric vehicles, including Tesla's. But the truck also will have a double wishbone suspension up front and multi-link suspension in the rear, more sophisticated than what's found on most pickups.
"I am cautiously optimistic" about Rivian's chances, said market analyst Harley. "They have to remember they are not going to bite into the meat and potato part of the [Ford] F-150, [Chevy] Silverado, Dodge Ram market." But with the company planning annual production starting at 20,000 vehicles, "it's an interesting niche they are targeting."
Even if Rivian executes well, Harley said, a lot depends on consumer acceptance of electric vehicles, which still represent only 1% or so of total vehicle sales. There's plenty of competition emerging for that small market share, including a pickup truck from a company called Bollinger Motors. Musk said he's planning an electric pickup too, but has offered little detail.
For Rivian, a lot will ride on new forms of distribution. The company intends to sell its cars over the internet, and it plans a subscription service that would allow someone to drive a Rivian "once a year, once a month, once a week," Scaringe said.
Twitter: @russ1mitchell
---
UPDATES:
11:45 a.m.: This article was updated with additional details on the pickup truck market.
This article was originally published at 6 a.m.
---