Tesla can't supply all the world's batteries. Here comes Romeo Power.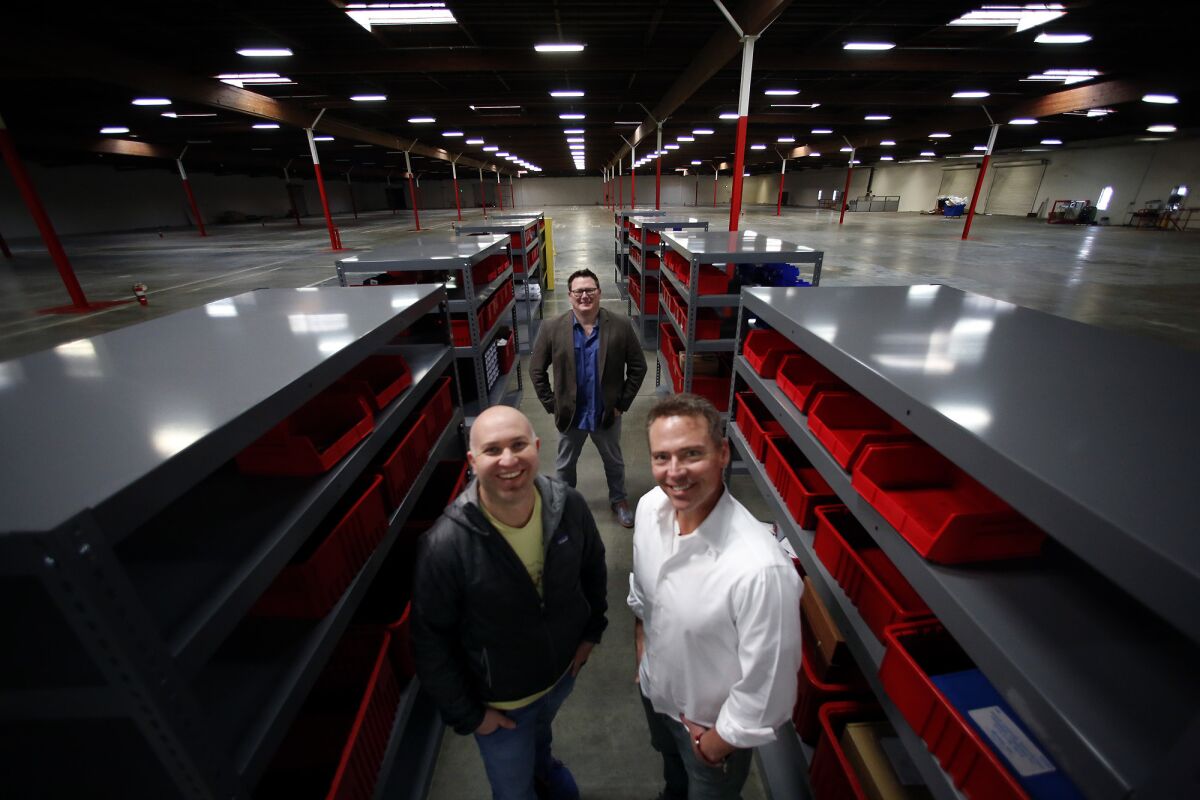 Michael Patterson holds out his right arm, crooks it, flexes it like he's shooting up dope.
"They're all going on the lithium!" he says, pretending to thumb-pump a syringe, drawing a big laugh from his executive staff.
By "they" he means buyers of high-tech batteries to power electric vehicles and store electricity for utilities, businesses and homes.
The fast-growing market for the new-style batteries, which run on a chemical mix based on lithium ion technology, could be worth $140 billion by 2026, according to research firm IDTechEx.
Patterson's battery startup, Romeo Power, needs only a piece of it to score big in a fast-growing new industry that was kickstarted by Tesla.
"It's a difficult landscape, but there's plenty of opportunity for a startup that offers unique technology," said Sam Korus at investment manager Ark Invest.
Hundreds of young companies around the world want in, but Romeo Power is local — based in Vernon, an industrial zone skirting the southeast border of Los Angeles.
The company is taking off on a chancy adventure. Plenty of risks lie ahead: technical, financial and execution risks. But the rewards could be substantial, not only for Romeo Power but for the L.A. area, which is trying to establish itself as a major player in new-tech transportation.
The aim is to sell the company's battery packs to motor vehicle makers as they scale up their electric-powered ambitions.
Romeo's on a mission, Patterson said: "Level the playing field for everyone else who is not Tesla."
"All these automakers want to compete with Tesla because they're losing a lot of business to them," Patterson said.
On the high end — say the BMW 7-series – that's true. With Tesla's planned introduction of the Model 3, they may lose some mid-market business too.
Most of the major automakers around the world have announced ambitious plans to put electric cars on the market over the next several years. Ford plans 13 new electric and plug-in hybrid models by 2020. Volkswagen says it will turn out 30 new electric vehicle models by 2025.
Romeo is staffed by renegades from brand-name companies including SpaceX, Tesla, Samsung and Amazon, and from Faraday Future, the cash-troubled electric car company in Gardena that has lately suffered an exodus of talent.
"We've got a lot of tribal knowledge" about the battery business, Patterson said.
Battery packs are the company's main product. They look like anonymous black boxes, usually long and thin enough to fit under the floor of a car. They contain enormous reservoirs of energy.
Each pack is loaded with hundreds or thousands of battery cell cylinders, each looking like a AA battery but a bit bigger. They put out enough power for an electric motor to rocket an automobile from zero to 60 miles per hour in just a few seconds — and drive it for a couple hundred miles or more before a recharge.
Tying all those volatile cells together to achieve maximum power while avoiding a disastrous explosion is tricky. The battery companies that do that best, and for the lowest cost, are the most likely to succeed.
Romeo Power contends it can achieve at least 25% more energy density than existing lithium ion battery packs and do it safely. All it needs to do is prove that to the world.
Patterson sits in a brightly lighted white-on-white conference room — white walls, white tables, white chairs — set off from 120,000 square feet of warehouse space soon to become a manufacturing plant.
Down the table from Patterson is Porter Harris, chief technology officer and the person most essential to Romeo's technical success. He's a battery industry hotshot who made his mark developing power packs for spacecraft at Elon Musk's SpaceX in Hawthorne and holds several patents in advanced battery technology. Between SpaceX and Romeo, he did a stint at Faraday Future.
Next to him is Erik Fleming, chief operating officer, the nattier member of the group, with his sport coat and fashion eyeglasses. He handled purchasing at Tesla, SpaceX and Faraday. Romeo is trusting him to run its supply chain.
Across from Fleming is Dion Isselhardt, in hipster glasses and a flat-brim cap, in charge of a separate business line that plans to market hard-shell, portable rechargers for electronic devices.
Patterson, tan, trim and fit, is holding court, explaining the business plan. He's got no direct connection to batteries, but he's successfully started a string of companies, the latest being InAuth, a mobile security software provider backed by $30 million in venture capital sold to American Express in December for an undisclosed amount.
Romeo is starting out with niche customers. The company said it's got orders with a builder of small commuter cars in Brazil, a bus company that's adding battery-powered buses to its hydrogen fuel lineup and even a forklift battery company, where lead acid batteries will be replaced with lithium ion versions.
The big automakers will be a tougher nut. They have deep reserves of research and development to draw on in house.
But if Romeo Power proves it can increase energy density by 25%, it believes it can get the big guys to buy in to Romeo's battery packs.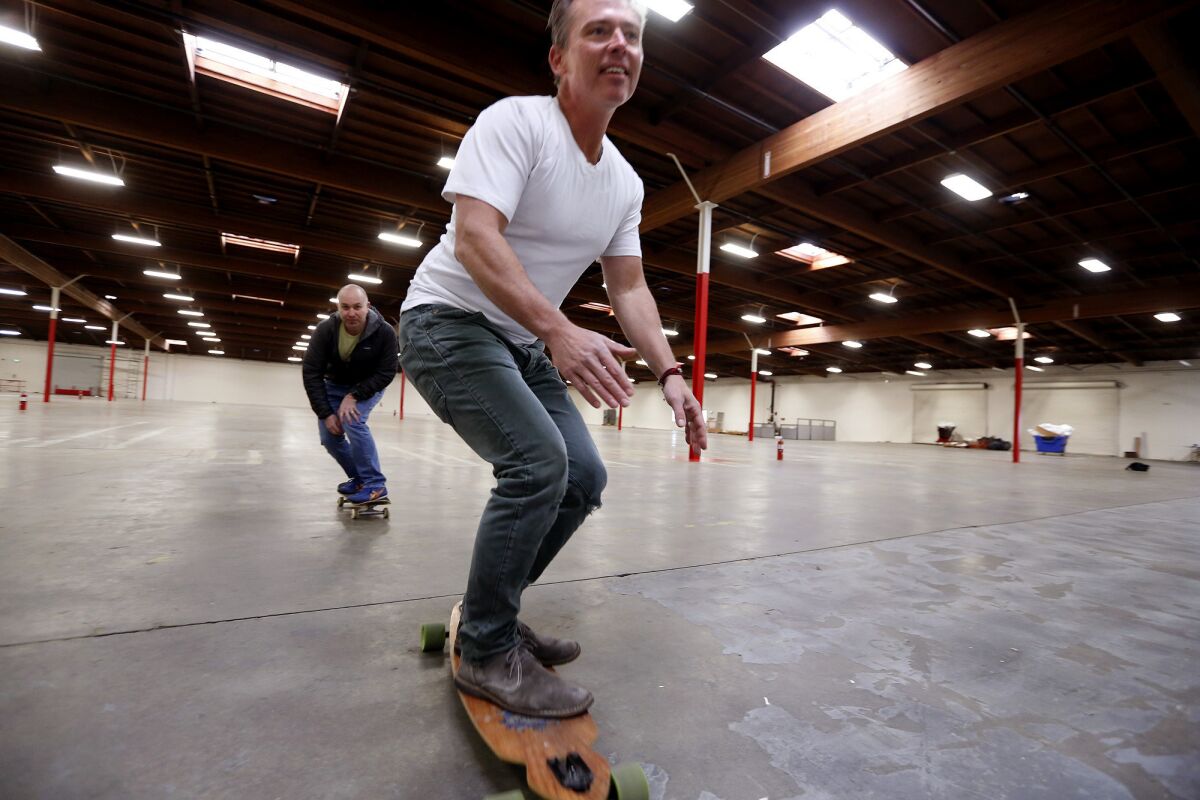 To that end, Patterson expects an announcement soon regarding a deal with a Detroit auto company.
Like most startups, Romeo Power is cloaked in trade secrets. Exactly how it plans to boost battery pack performance is unclear.
"People ask what's your secret sauce," Patterson said. "There's 400 of them."
"It's not unobtainium," Fleming chimes in.
"That's right," said Harris. "It's finding the unique combinations and putting them together." Welding techniques, materials, fault-tolerant circuitry, cooling technology and much more.
The group moves from conference room to the warehouse floor, past a set of Ikea bunk beds put there so workaholics needn't go home.
The concrete floor is mostly empty. Robots and other equipment are on their way.
Several tables are set up where engineers are assembling batteries by hand, looking to make last-minute tweaks before full-scale production. Romeo employs 68 engineers and 10 managers, and will add 150 workers this summer who possess modern manufacturing skills.
How all this is being financed is another secret. Right now the money comes "from me and a couple of friends," Patterson said.
Whether they have oceans of cash to draw on or their well's almost dry, they're not about to say. The company is likely to seek an initial round of venture capital funding.
The coming months will tell whether Romeo, with its executive pedigree and grand ambitions, has staying power or if it's another flash in the pan.
Twitter: @russ1mitchell