As Tesla ramps up to produce its Model 3, losses mount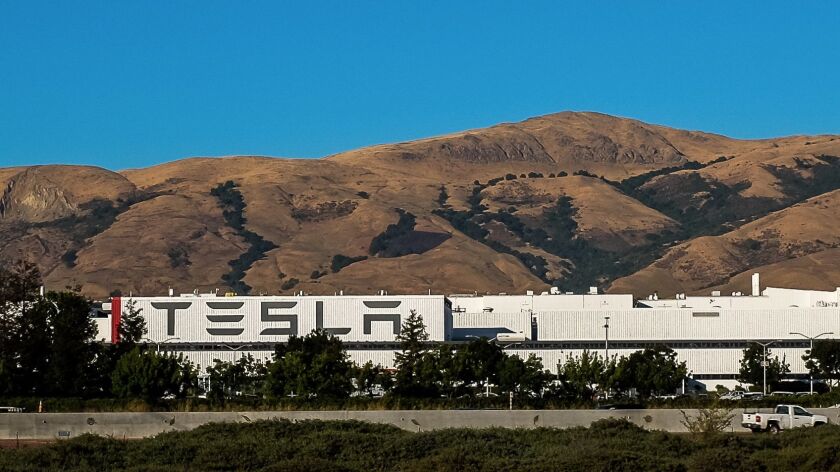 Reporting from San Francisco —
As Tesla begins ramping up production of its crucial Model 3 sedan, the company on Wednesday reported a second-quarter net loss of $401.4 million.
The loss, which comes to $2.04 a share, was better than analysts had expected but still 37% higher than what the company reported in the same quarter last year.
Tesla recorded revenue of $2.79 billion in the second quarter, up 34% from a year earlier.
The company said it used up $1.16 billion of cash during the quarter, but it has $3 billion cash on hand, enough for "sufficient liquidity."
Efraim Levy, equity analyst at CFRA, said he believes that will carry the company through 2017, but "we do think a capital raise in 2018 is likely to support production of the Model 3." He retained his sell recommendation on the stock.
The report comes days after the company began selling its long-awaited Model 3, which the earnings release called "a huge milestone."
The future of the company hangs on the Model 3, described as a mid-market car with a price range of $35,000 to $60,000. The company delivered the first 30 to buyers July 28, all of them Tesla employees. A hundred more will be built in August, 150 in September, followed by a ramp up to 5,000 a week by the end of December, the company said.
Tesla, which sold 76,000 Model S and X luxury cars in 2016, said it plans to turn out 500,000 cars by the end of 2018.
But to get there, Tesla faces six to nine months of "manufacturing hell" and "production hell," Tesla Chief Executive Elon Musk told workers and reporters last week.
If Model 3 sales meet Tesla's expectations, the federal government's $7,500 consumer credit per vehicle will run out for its customers, with unknowable effects on Model 3 sales. The company is lobbying the California Legislature to make up the difference if the federal subsidies run out. A bill to spend $3 billion on electric car subsidies is currently in a state Senate committee.
Musk told reporters last week that more than 500,000 people had put down $1,000 refundable reservations on a Model 3.
Musk told stock analysts Wednesday the figure he gave "was just a guess." The total actually is 455,000 when cancellations are subtracted, he said.
Complaints about long waits for cancellation refunds are appearing on Twitter and other online forums. A Tesla spokeswoman said, "At times, refund processing slows down when additional confirmation is needed to prevent fraud via identity theft."
Since last week's Model 3 introduction, the company said, it's received about 1,800 new reservations a day.
Aside from the Model 3, some investors and analysts wonder whether growth in Model S sales is tapped out. For this year's second quarter, which ended in June, Tesla had reported 22,046 Model S and X deliveries. That's 53% higher than the second quarter of 2016, the company said. It also marks four consecutive quarters of flat or declining unit growth.
"We expect Model S and Model X deliveries to increase in the second half of 2017, as compared to the first half of the year," Tesla said.
The company said second-quarter deliveries would have been higher but for severe production problems involving new technology on a new battery production line. Those problems have been resolved, the company has said.
It's unclear whether those problems are related to the departure of Kurt Kelty, senior director of battery technology at Tesla.
Asked whether Kelty quit or was fired, a company spokesman offered a statement: "We can confirm that Kurt Kelty has left the company to explore new opportunities and we want to thank him for everything he's done for Tesla. Kurt's responsibilities will be distributed among Tesla's existing teams."
Kelty could not be reached for comment.
Kelty was in charge of battery cells for Tesla. Cells are the basic components in an electric vehicle battery pack. The lithium-ion cells look similar to AA batteries, but a bit bigger. Hundreds or thousands of them are clustered and packed together to power modern electric vehicles.
Tesla has a contract with Panasonic of Japan to manufacture cells at the Gigafactory. Kelty worked in research and development at Panasonic for 15 years before he joined Tesla in 2006. Tesla is locked in to a take-or-pay contract with Panasonic, which Kelty negotiated. That means Tesla is bound to purchase set amounts of cells at the negotiated price.
Some analysts say lower cell prices from other manufacturers in Asia could put Tesla's battery costs above those of competitors. Cell pricing is publicly opaque, however, and absent Tesla disclosures any effect would be hard for outsiders to determine.
In a conference call, Musk said newly introduced solar roofs from the company's SolarCity arm have been installed on some Tesla employee rooftops, including on his own Bel Air residence.
Solar power and battery storage currently make up a small percentage of Tesla revenue, but it has high hopes for both.
Tesla shares rose $6.32, or 2%, to $325.89 on Wednesday before earnings were released. They rose 8% in after-hours trading.
Twitter: @russ1mitchell
---
UPDATES:
3:55 p.m.: This article was updated with information from Tesla's earnings call.
This article was originally published at 2:35 p.m.
---