California bill would boost electric car rebates by $3 billion, but where will the money come from?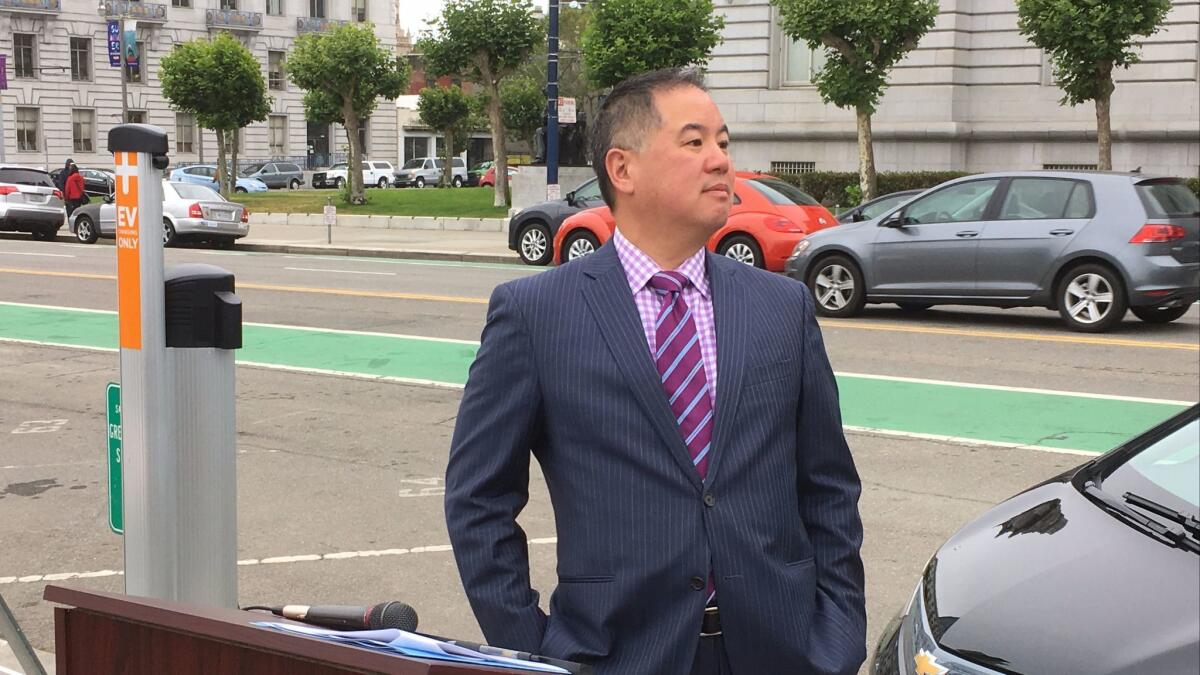 Reporting from San Francisco —
Over seven years, California has spent $430 million on low-emission vehicle subsidies to help lower the cost for car buyers.
Now the state Legislature is looking to extend that by another seven years, but with a price tag of $3 billion.
Assembly Bill 1184 is being slammed for leaving basic questions unanswered, including the biggest one: Where would the money come from?
The legislation favors automakers such as Tesla that make electric-only cars over carmakers that sell plug-in hybrids – subsidies on such cars would be a fraction of pure EVs.
The Assembly's own analysts have described the bill as "duplicative," "unclear" and "problematic."
Even some supporters admit it's not fully cooked. And one Democratic state senator, Jerry Hill, has even proposed stripping funding until revenue sources are identified.
"I know this is something that's just come off the griddle recently," state Sen. Bob Hertzberg (D-Van Nuys) said at a recent hearing. "I just want to take a deeper think, a more elegant approach to policymaking."
There's little time left for deep thinking. The bill has already passed the Assembly and two Senate committees. A full Senate vote could send the bill to Gov. Jerry Brown's desk within weeks.
Dependable and consistent funding for zero-emission rebates is a key goal for the legislation, written by Assemblyman Phil Ting (D-San Francisco). Rebates currently are funded by the state's cap-and-trade system, which generates money when the state auctions pollution rights to companies that haven't met their emission-reduction goals. The timing and dollar amount are unpredictable.
The electric car subsidy fund this year is already depleted. Anyone who buys a qualifying car after June 30 will in effect receive an IOU from the state for credits of up to $5,000 to be paid when the fund is replenished.
Unsure whether incentives will be available, auto dealers don't advertise rebate savings on low- and zero-emission cars, lest they be accused of bait-and-switch tactics.
The main purpose of the rebate programs is to help the state reduce greenhouse gas emissions by encouraging sales of electric vehicles. Brown wants 1.5 million zero emission cars sold in the state by 2025.
Few customers have been persuaded. Although sales of electric vehicles are growing in California, they account for less than 3% of the total market for light vehicles in the state and 1% across the U.S.
Still, Californians are ahead of the game when it comes to electric car purchases. About 250,000 cars have been sold — which represents about 50% of sales across the U.S.
Ting's bill would make the subsidy stream far more dependable, if more costly. It would require that $500 million be continuously appropriated to pay for rebates each year. The money would come from "existing funds," including cap-and-trade revenue.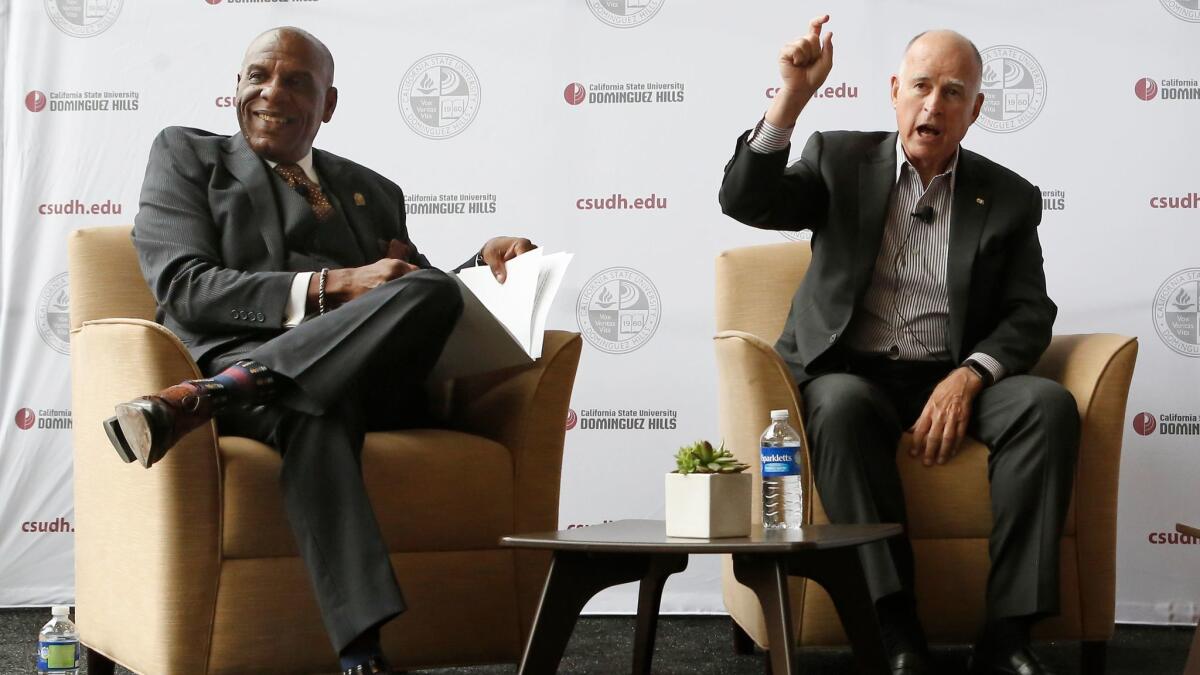 State Sen. Steve Bradford (D-Gardena) wonders, "What existing funding sources are available to hit that $3 billion?"
All he can imagine, he said, is that funds will be shifted from other environmental programs.
At a recent news conference in San Francisco, Ting said a "very significant subsidy program" is needed to jump-start electric car sales.
The new rebate program would benefit all electric car makers, but Tesla most of all. In part that's because the Palo Alto company will probably hit production numbers next year that trigger a phase-out of a separate $7,500 federal government subsidy program after Tesla credits max out. No other car company is close to its federal subsidy limits, so, for example, buyers of a Chevy Bolt would benefit from a California tax credit on top of the federal incentive.
"There's a federal tax credit, but this bill is anticipating that potentially falling out," state Sen. Henry Stern (D-Canoga Park) said. "The mandates we set out for ourselves often lack the carrots to make the sticks work."
The Trump administration has remained silent on the matter.
For Tesla, the bill would have the state pick up where the federal government leaves off.
It would set rebates at a level that would help reduce the consumer cost of an electric vehicle to "the cost of the most frequently sold compact car in the state." The bill doesn't specify a dollar amount. Today, the state rebates, when available, range from $1,500 to $5,000.
The compact car standard "is incomprehensible," said Gene Erbin, who represents the Auto Alliance, the nation's biggest lobby group for major automobile manufacturers. "I have no idea what that language means," Erbin told senators at a hearing on the bill.
The Honda Civic is now the most frequently sold compact car in California, with a base price of $18,740. The new Tesla Model 3 base price is expected at about $35,000. That implies a state-subsidized rebate of $9,760 per Model 3 if the federal subsidy is included, or $17,260 if the federal subsidy is not available.
Tesla had no comment on the bill, but the company has been lobbying hard in Sacramento. "They're always in the building," Bradford said in a phone call from the Capitol.
The Ting bill has already faced a twisted path. When introduced this year, it put the state's electric utilities in charge of the rebate program, to be funded by utility ratepayer money and supervised by the state Public Utilities Commission. That provoked an outcry from consumer advocates, and the bill was rewritten, putting the California Air Resources Board in charge, as it is today, but "in coordination" with the PUC.
Legislative analysts have questioned other elements of the bill that have yet to be dealt with.
In a critique for the Senate Environmental Quality Committee, analyst David Ernest Garcia wrote that "it is unclear how increased demand will lower prices" in the long run as the bill claims.
Increasing the budget of the existing program "would be a simpler and more cost-effective" solution. But the $3-billion price tag is "problematic," he said.
State Sen. Ben Hueso (D-San Diego), who chairs that body's energy committee, said he is skeptical about "whether we can raise this kind of money."
Major automakers, who rarely say no to subsidies, have also slammed the bill because it excludes fuel cell vehicles and favors pure-electric subsidies over plug-in hybrids.
"It's picking winners and losers," state Sen. Anthony Cannella (R-Ceres) said.
The bill goes to the Senate Appropriations Committee on Monday. An amendment to bar utility ratepayer funds will be considered as will committee member Hill's proposal to strip references to funding because revenue sources are not clearly identified.
Twitter: @russ1mitchell
ALSO
Plan calls for L.A., Long Beach ports to go to zero-emissions technology; cost could hit $14 billion
California plan for 100% renewable energy by 2045 clears key hurdle
California invested heavily in solar power. Now there's so much that other states are sometimes paid to take it
Aliso Canyon natural gas facility that was site of massive leak can reopen, state says
---
UPDATES:
For the record: An earlier version of this article said Assemblyman Phil Ting's office did not respond to inquiries, which was not the case. The same version said plug-in hybrids would not be be eligiible. They would, but at a fraction of the subsidies offered to pure electric vehicles.