Musk's Tesla faces a cash crunch as it confronts a suddenly skeptical Wall Street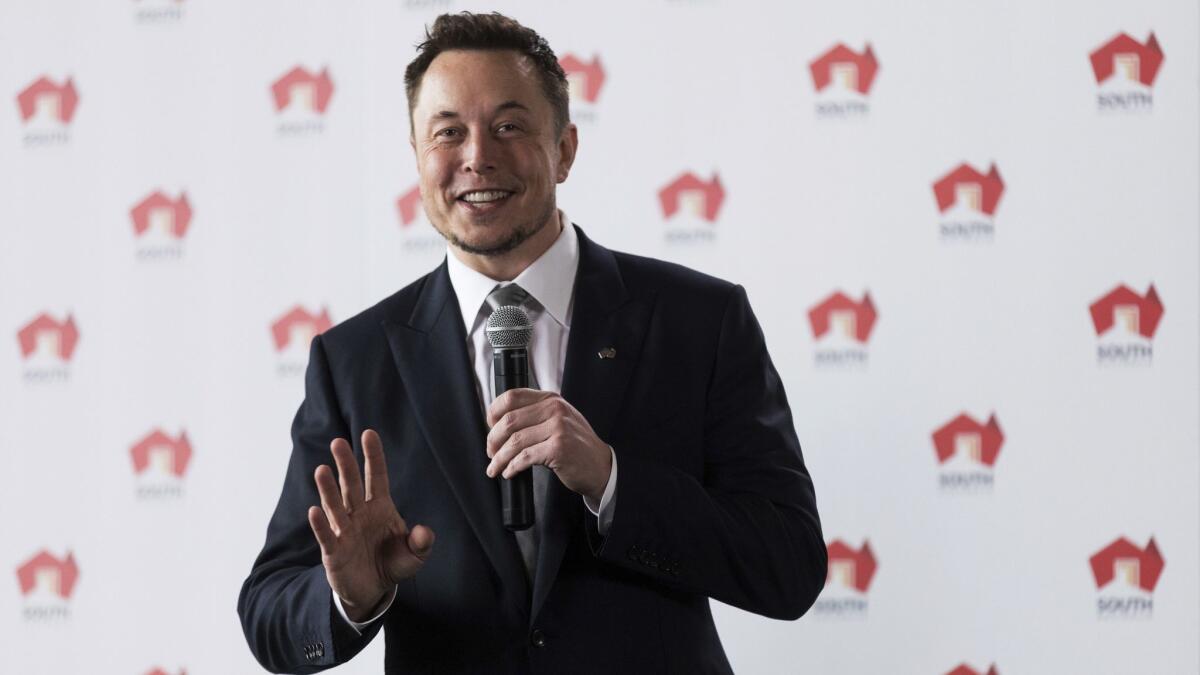 Reporting from San Francisco —
It was a bad week for Elon Musk. Tesla bonds got hammered, Tesla stock got slammed.
The National Transportation Safety Board launched an investigation into Tesla and its Autopilot self-drive system after a Model X driver was killed in a fiery crash on a Silicon Valley freeway. Late Friday, Tesla said Autopilot was engaged and the driver had his hands off the wheel for six seconds.
The company issued a voluntary recall for 123,000 Model S cars to check for problems on power-steering bolts.
A leaked internal memo showed top Tesla production executives pushing workers to boost production of the troubled Model 3 just days before CEO Musk is set to reveal whether the company reached his production forecast of 2,500 cars per week.
Worse for the company's financial future, bond-rating service Moody's on Tuesday downgraded Tesla's bonds. Ominously, the report said the $3.4 billion in cash and securities Tesla had at the end of 2017 was "not adequate to cover" its normal operations and production increases.
Already labeled by Moody's as high-risk, the rating was lowered from B2 to B3 while the outlook was downgraded from stable to negative. "Tesla's ratings reflect the significant shortfall in the production rate of the company's Model 3 electric vehicle," Moody's said in a release.
Tesla is due to report production figures on Monday. Musk was unavailable for comment.
Wall Street, home of some of Musk's biggest cheerleaders, has turned on him of late. Tesla's stock price fell 14.5% last week and is down 30% from its peak in June, just before the Model 3 went on sale. Tesla's 5.3% notes due in 2025 traded at $87.25 on Thursday, down from $94.86 a week earlier.
Stock analysts are near unanimous in their belief that Tesla, burdened with persistent negative operating cash flow, will need to raise billions from the capital markets this year to keep going.
Just before the first Model 3s went on sale in July, Musk tweeted it "looks like" the Model 3 could hit an annual production rate of 240,000 vehicles, or 5,000 a week, by the end of December. On Aug. 2, Musk said in an earnings call he had "zero concern" about reaching 10,000 a week by the end of 2018.
Soon after, Tesla sold $1.8 billion in unsecured bonds at a rate of 5.3%. Demand was enthusiastic — the issue took in $300 million more than Tesla had planned.
By November, however, as production problems came to public light, Musk pushed the 5,000-a-week forecast to the end of March. In a letter to investors in January, he trimmed the March figure to 2,500 and said "we intend to achieve" 5,000 a week by the end of June.
As of Friday, the Bloomberg Tesla Model 3 Tracker, which makes its estimates via vehicle identification numbers, put the weekly total at 1,076. Tesla might end up counting the figure differently.
A detailed report on Musk's approach to manufacturing from analyst Max Walburton at Bernstein concluded that by pushing the boundaries of factory automation too far, too fast, Tesla "may have shot itself in the foot." Using robots for functions that other car companies have concluded are better done by humans is causing many of the Model 3's quality problems, he said.
A company with production problems like Tesla's but with plenty of cash on hand could ignore financial market perturbations and focus on fixing what's wrong. Tesla does not have plenty of cash.
That fact creates an uncomfortable dilemma for Musk. Tesla must hit up the capital markets once again for billions more in cash, or curtail its aggressive plans.
With negative operating cash flow, quarterly operating losses in the hundreds of millions, and revenue from the crucial all-electric Model 3 project currently strangled by production problems at Tesla's two main factories — one for the batteries, one for the cars — neither choice is desirable.
Raising capital would almost certainly prove far more expensive than Tesla stock and bond offerings of the past — if a willing market is found at all.
Cutting back on Model 3 production would knock the legs out from under the growth story Tesla has sold to investors and the 455,000 people who had signed up to buy Model 3s as of July.
Musk could pull back on some of his many other ambitious plans: a planned Model Y crossover vehicle, Tesla Semi big-rig electric truck, new Roadster high-end sports car, or new solar roof business. But that would go against everything Musk and Tesla stand for.
In March, shareholders approved a mammoth 10-year pay-for-performance incentive plan for Musk. The official value of the plan is $2.6 billion, but Musk in fact could make as much as $55 billion if he can raise Tesla's market value to $650 billion. He has to more than double the current $45 billion market value to $100 billion to get anything at all.
Moody's said Tesla will burn through $2 billion in cash in 2018 if it sticks with its aggressive capital expansion plans. Convertible bonds expiring this year and early next will require another $1.2 billion outlay.
Given the Moody's downgrade and the generally higher cost of corporate high-risk bonds due to rising interest rates, bond analysts say Tesla would have to offer an interest rate significantly higher than the 5.3% in the last issue.
On the equity side, a $45-billion market value for a 15-year-old company that's never earned an annual profit indicates a massive buy-in to Musk's vision of a company that makes money from electric cars, solar energy and battery storage, while cutting down greenhouse gases and other pollution and making the Earth a better place to live.
Trip Chowdhry, co-founder of Global Equities Research, voiced the position of Tesla bulls, saying that "bean counters" who focus on the number of cars it produces miss the big vision.
"All the nitwits and Wall Street investors cheer management for jumping over easy hurdles and consider them geniuses," Chowdhry said. "Instead of aiming at the stars, they just aim at the stones a few millimeters off the surface. Tesla aims very, very, very, very high. Even if they achieve 50% of (their ambitions), they are still 500 times ahead of the competition."
But what about the earthly need for capital and the recent hits to Tesla's stocks and bonds? "The whole world is going to be screaming, 'take my money, take my money,'" he said.
Even "Montana Skeptic," a popular Tesla critic on the Seeking Alpha website, warned readers not to discount Musk's financial resourcefulness.
"Perhaps Elon Musk has more rabbits up that sleeve of his," he wrote. "He's always managed to pull one out before."
Twitter: @russ1mitchell