Tesla becomes collateral damage in the China-U.S. trade war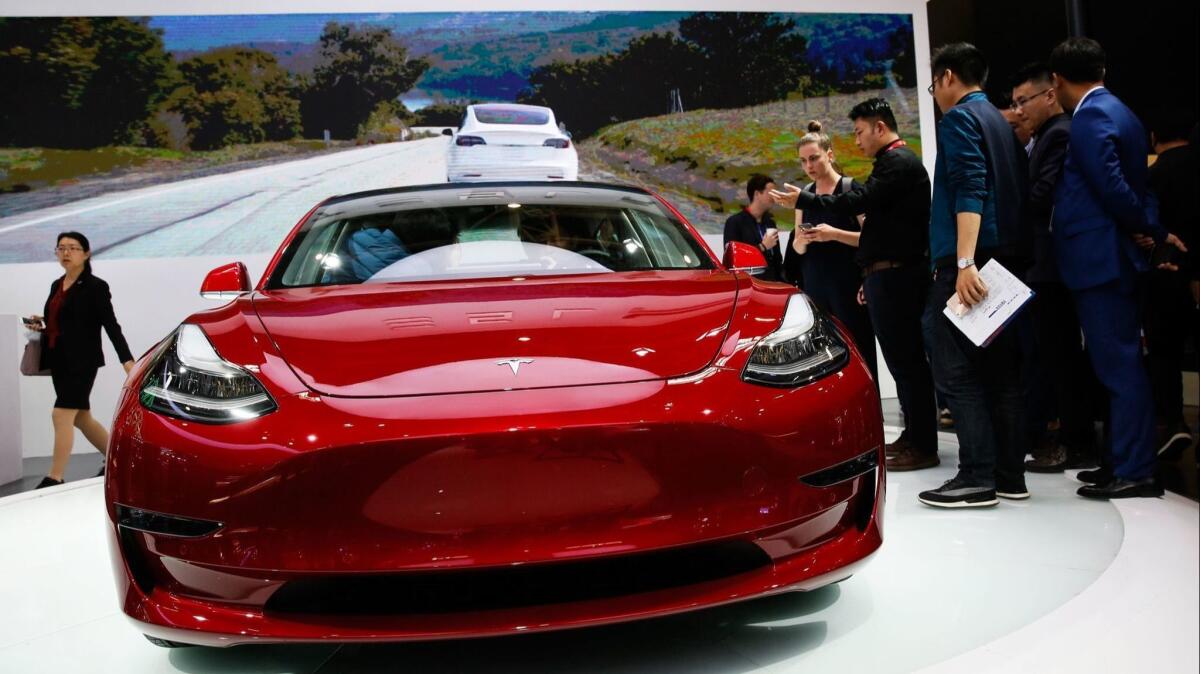 China is crucial to Tesla's future. So it's not surprising that the trade war is hitting the company hard.
China is Tesla's largest market outside the U.S., accounting for about 10% of total revenue in the first three quarters of 2018 — and the Model 3 isn't even available there yet.
The company sold about 15,000 of its more expensive Model S and Model X models in China last year, according to estimates from research firm LMC Automotive.
Since the country raised the tariff on U.S. car imports to 40% in July from the 15% it charges on non-U.S. auto imports, in retaliation for the Trump administration's tariffs on Chinese goods, Tesla's China revenue has plummeted — 27.5% in this year's third quarter compared with the same period last year, according to company reports.
The China Passenger Car Assn. told Reuters recently that sales plummeted further in October. Tesla said last month it was reducing Model S and X prices 12% to 26% under tariff pressure.
Like much of the stock market, Tesla shares were up Monday on reports of a trade truce between President Trump and Chinese President Xi Jinping. The stock surged 5% early in the day, though it settled back down to finish up $8.01, or 2.3%, to $358.49.
Tesla last month began taking reservations in China for its more affordable Model 3 sedan, which is expected to start shipping "early next year," Chief Executive Elon Musk said. Considering its relatively low price — starting at $46,000 in the U.S. compared with $78,000 for a Model S (with options that can push the price well over $100,000) — a 40% tariff on the Model 3 could devastate sales in China.
But if Tesla follows through with its plan to build a big factory in China, tariffs won't matter as much. The plant, to be near Shanghai, would manufacture Model 3s and a new Model Y crossover. Building the cars in China could reduce prices by a third, even without taking the tariffs into account, Musk has said.
"It's really the only way to make the cars affordable in China," he told analysts last year.
But right now the project is little more than an empty expanse of land in Shanghai, which Tesla procured by signing a long-term lease in October. The project awaits a government license, and no financing has been announced. Musk has said Tesla will rely on loans from Chinese banks.
The project had been set to begin producing cars by 2020, but Musk told analysts in October the plant would be "active" sometime in 2019. Analysts did not ask what "active" meant.
Musk alluded to "low capital costs" in the plant's early stages, relying more on manual labor than on advanced technology, akin to the assembly line the company built in a parking lot under a tent in Fremont, Calif., this year.
If the deal goes through, it would be the first time China has allowed a foreign company to manufacture cars on its own there. To date, a joint venture with a Chinese company has been required. General Motors, Ford, Volkswagen, Toyota, Honda and other major automakers operate in China on that basis.
The Trump administration has raised complaints about China forcing companies to give up proprietary technology for access to the China market. A Shanghai official was quoted this year saying technology transfer for the Tesla project is "subject to negotiations."
Twitter: @russ1mitchell