Will Elon Musk answer tough analyst questions on Wednesday's earnings call?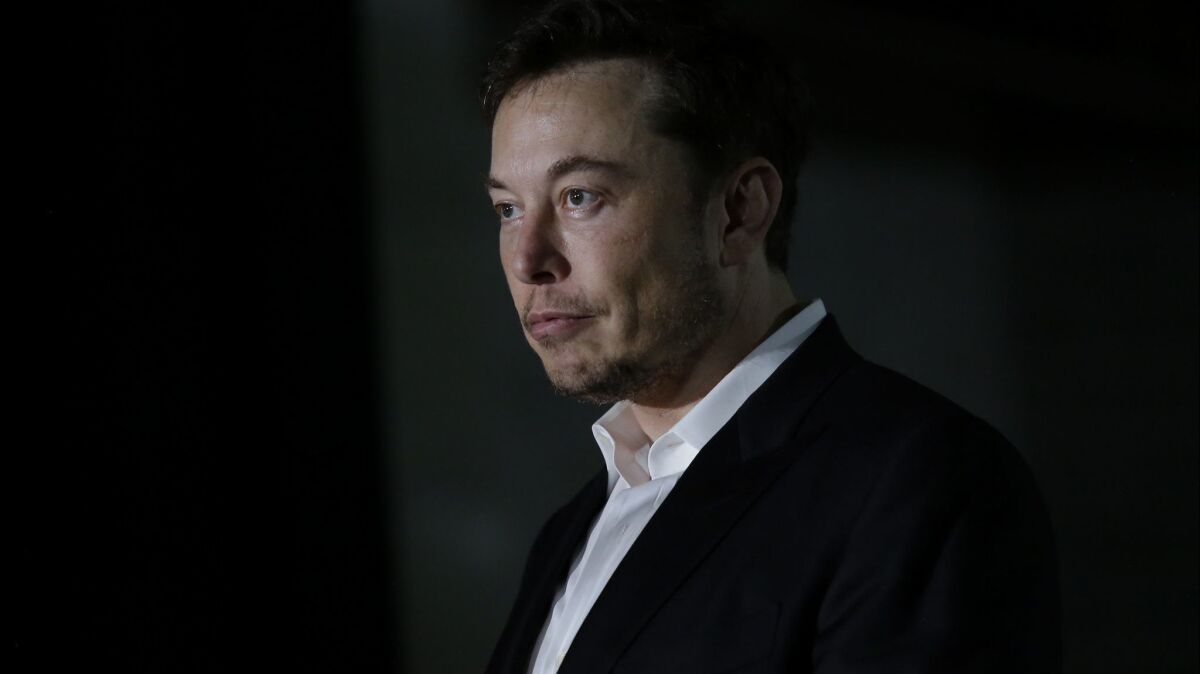 Reporting from San Francisco —
The buzz around Tesla's second-quarter earnings announcement on Wednesday afternoon isn't over how many millions of dollars Tesla will have lost. It's whether CEO Elon Musk will behave himself during his conference call with stock analysts.
During the first-quarter earnings call in May, he cut off questions from analysts who asked about competition from Porsche, capital expenditures and demand for the Model 3. Musk deemed those inquiries "boring" and "so dry, they're killing me." He turned the call over to a Tesla-invited fanboy with a YouTube channel who asked questions Musk found more pleasing.
Even some of Tesla's most ardent supporters are hoping for a more professional approach on Wednesday, especially after tweets from Musk that accused a British diver involved in the Thailand cave rescue of pedophilia and another that pictured scantily-clad singer Miley Cyrus, tongue dangling, twerking against a fellow performer's crotch. ("They grow up so quickly…" Musk commented on that image.) The tweets have since been deleted.
"I really don't want people talking about Elon Musk anymore. The story is the Model 3," said Ross Gerber, chief executive of Silicon Valley investment firm Gerber Kawasaki, a Tesla investor. "The story has been … horrendous for the last six months."
Hobbled by persistent production delays on the Model 3, Tesla reported a net loss of $709 million in the first quarter. According to FactSet, analyst forecasts average out to a loss of $630 million for the second quarter ended June 30.
The Model 3 electric sedan is a "bet the company" endeavor, according to Musk. Originally billed as a $35,000 mass-market car, the Model 3 can't be had for less than $50,000. The company promises the cheaper version is months away.
If Tesla could clear up such questions, it would go a long way to crush the bear thesis, So management should be happy to answer, no?
— Investor Anton Wahlman
Musk had set a target of 400,000 Model 3s sold in 2018, but because of manufacturing problems the company won't come close to that figure. Only 26,620 Model 3s were delivered in the first six months of 2018. By the end of June, the company announced it had reached a production rate of 5,000 Model 3s in a single week. Musk now forecasts 6,000 a week by the end of August.
But Tesla has yet to show those rates are sustainable. And other challenges remain, including service delays apparently caused in part by a widespread shortage of spare parts.
That's why Tesla critics and Tesla supporters prefer a more informative earnings conference this time around. Some, including Tesla critic Anton Wahlman, hope analysts ask tougher questions than they have in the past.
Wahlman notes that while Musk has talked weekly figures, he hasn't updated the 2018 annual production rate since early 2016, when he said the company would make 500,000 cars — implying 100,000 of the luxury models S and X, and 400,000 of the Model 3.
"What is the new guidance for the year?" Wahlman said.
Given numerous reports of battery failures on Tesla online forums, he's hoping someone will ask what percentage of delivered Model 3s have had their drivetrains repaired or replaced.
"If Tesla could clear up such questions, it would go a long way to crush the bear thesis," Wahlman said. "So management should be happy to answer, no?"
Even Tesla fan Gerber would prefer tougher questioning. He suggests analysts ask about production lines at Tesla's Fremont factory. Because of production snafus inside the factory, Tesla earlier this year moved some Model 3 production to a high-end tent built on the parking lot.
"How is Tesla going to deal with the Fremont factory going forward, will the tent stay forever or is a building going to be built?" Gerber asked. "Where will future production lines be?"
Gerber, who owns a Tesla, also wonders "how will Tesla deal with parts for cars? What is the plan to service a much bigger fleet? I've had great experience with the service team, but I've been told by them they are lacking parts."
One owner recently told The Times he's been making lease payments on his Tesla Model X for four months while it's sat at a body shop waiting for a hood replacement.
Musk might also be asked about photographs and aerial drone videos posted on Facebook and Twitter that appear to show thousands of Model 3s parked uncovered on huge lots outside Stockton and near the Burbank airport.
Tesla's media relations department said those are simply holding areas for cars that are on the way to new owners. Musk might be able to address rampant online speculation about the parking lots, including suggestions that they reflect lack of demand for the Model 3 or that they're being used as repair centers for cars that came out of the factory with glitches.
The need for new financing might come up, too. Tesla continues to burn cash, and analysts surveyed by FactSet expect its working capital to remain negative into 2019. Musk has said Tesla doesn't need to raise new capital through debt or equity offerings this year.
Musk had led investors to believe the company will post positive net earnings — the ultimate bottom line that determines profits or losses — in each of the next two quarters.
"The third quarter is where things get interesting," Gerber said.
Absent a big surprise, the arguments over whether Tesla is headed for a crash or poised to take off like a rocket won't be resolved on Wednesday.
"The bulls and bears will dig in with their own spins," said Efraim Levy, stock analyst at CFRA Research.
Twitter: @russ1mitchell
---