In a bind, Musk hopes autonomous Tesla taxis will drive a new, positive narrative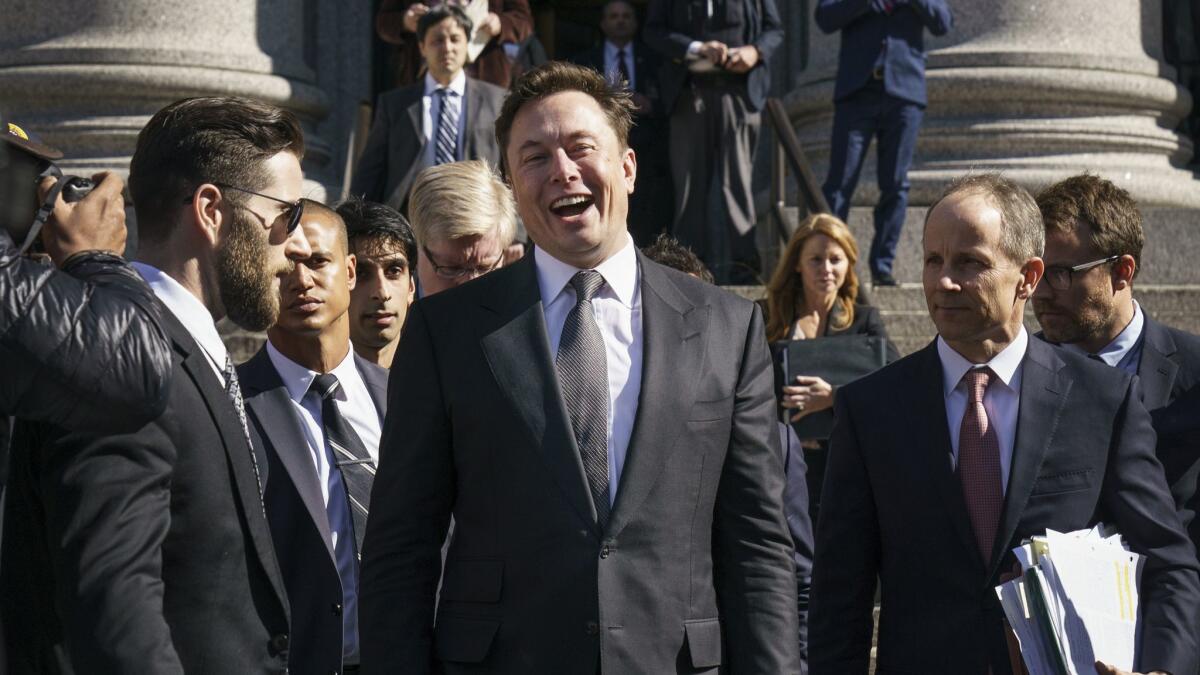 Elon Musk is in a bind — perhaps the tightest bind of his business career.
Demand for Tesla cars appears to have stalled. Stores are being closed. Inventory is piling up. Prices are being cut.
Panasonic, the company's closest business partner, abandoned plans to expand operations at Tesla's giant battery factory in Nevada unless car sales pick up.
Although Tesla posted consecutive quarterly profits late last year, Musk has prepared Wall Street for a loss when first-quarter 2019 earnings are announced April 24.
The controversial chief executive also faces contempt charges from the Securities and Exchange Commission. He had agreed to settle SEC stock fraud charges after tweeting falsely last August that he had the funding to take Tesla private. In the settlement, he agreed not to tweet material information about the company without prior vetting. A federal judge said the settlement could be clearer, ordering both sides to put on their "reasonable pants" and revise the agreement.
Amid the bad news, Tesla's volatile stock has fallen from a year-to-date high of $347.31 a share to 273.26 on Thursday, a 21% decline.
The crowd-sourced, social media swarm that is betting Tesla will crash and burn »
On Monday, Musk will attempt to shift the downbeat narrative from immediate challenges to new prospects for growth. Judging from his recent tweets, Musk will lay out a near-future vision in which money-generating self-driving Teslas compete with the likes of Lyft, Uber and Waymo.
The CEO has not yet offered a timeline for such a service. Although Tesla has been working on automated cars as long as anyone, it would have to start virtually from scratch in the intensely competitive robotaxi business.
The business could prove so lucrative, according to Musk's tweets, that Tesla cars would appreciate in value year after year. (Tesla critics were dubious on Twitter. According to Edmunds, a new car loses 15% to 25% of its value the moment it leaves the dealer lot, and continues to depreciate every year after.)
At the invitation-only event — called Investor Autonomy Day and set for 11 a.m. Monday at the company's Palo Alto headquarters — Musk is likely to detail currently sketchy plans to make Tesla the first company to offer widespread deployment of driverless cars on highways and city streets. Within months, Musk said, owners of most Teslas can have their cars refitted with a new computer board to enable full self-driving.
"Tesla will free investors from the tyranny of having to drive their own car," Musk tweeted this week. (Why "investors" and not "buyers" went unexplained.)
Rapid deployment of self-driving cars would buck current sentiment in the driverless-vehicle industry, which is attempting to tamp down expectations of widespread deployment of driverless cars anytime soon.
"We overestimated the arrival of autonomous vehicles," Ford Chief Executive Jim Hackett said in a recent speech.
Although Ford still plans to begin selling driverless vehicles as planned in 2021, they'll start out restricted to specific "geo-fenced" zones, beyond which human drivers would have to take the wheel. The "applications will be narrow … because the problem is so complex," he said.
Waymo, widely considered the industry's robot-car leader, had once planned to launch a commercial robot taxi service in Arizona by the end of last year. It did so, but so far has limited its use to a few hundred pre-selected customers.
General Motors' Cruise Automation planned to offer robot taxis in San Francisco in 2018, but those plans are on indefinite hold.
Musk, no surprise, takes the contrary view. He plans to put self-driving Teslas on the road as soon as possible.
He has said it would be immoral not to. He's claimed that the company's current Autopilot technology — which still requires an attentive human driver — has proved safer than Tesla cars driven without Autopilot engaged.
Professional statisticians from Rand and other research and academic institutions say it will take billions of miles — and corporate transparency — to prove whether robot cars are safer than humans.
That presents automotive and technology companies with a conundrum: They can't prove driverless cars are safer without putting the cars on public highways.
The proof will take years. Meanwhile, robot cars will crash and people will die. The media naturally will focus on robot-car accidents with far more intensity than on the dozens of other traffic deaths that occur every day.
In light of that, an industry organization has been created to grapple with how to educate the public about driverless cars. The group is called PAVE, for Partners for Automated Vehicle Education. Its members include Audi, Toyota, Waymo and dozens of other companies and organizations, including auto safety groups. Tesla is not a member of the group.
The group is concerned that crashes and deaths that are inevitable in wide-scale deployment could slow down development if the public is not convinced that the industry is doing all it can to keep such crashes to a minimum. There's big money at stake: Broadly defined, estimates for annual revenue in a new driverless-car industry are in the hundreds of billions of dollars per year.
Tesla's Autopilot has been involved in crashes in which drivers have been decapitated or burned to death. Whether that makes Autopilot more dangerous than human drivers can't yet be determined, but the stories pack emotional punch.
Although the industry is unwilling to directly confront Tesla's aggressive timetable for self-drive deployment, it's easy to read between the lines.
After Musk began tweeting about Tesla's robot car plans, Brad Stertz, who heads U.S. government affairs for Audi, tweeted: "Speaking for Audi … we are going to introduce this tech responsibly and not beta test on public roads. Some may call that old-school. I beg to differ."
Whether the autonomy event, and the earnings results to follow, will boost Tesla's flagging stock price will be clearer by the end of next week.
Twitter: @russ1mitchell