Tesla's Model 3 earns a five-star safety rating. Here's what it means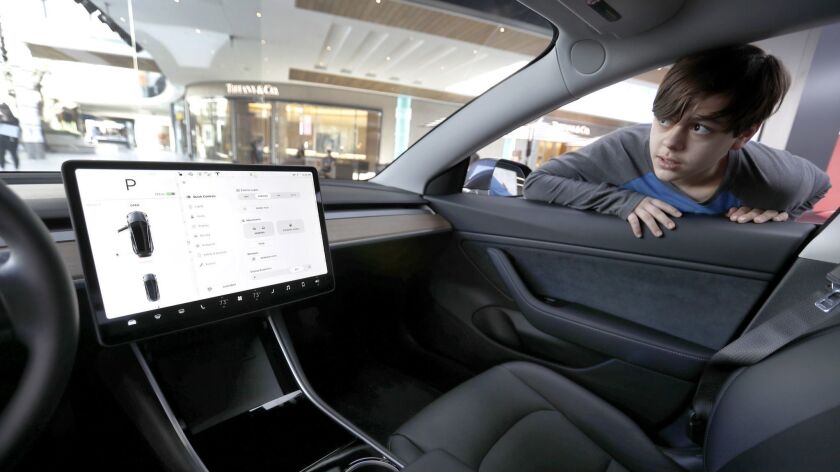 A five-star safety rating for the Tesla Model 3 from the National Highway and Safety Administration was a welcome bit of good news for the automaker.
In overall crash safety, the agency put the Model 3 on par with compact luxury sedans from BMW, Audi, Mercedes-Benz and others, all of which also received five-star overall ratings. Tesla Chief Executive Elon Musk was retweeting the news Thursday morning.
Production problems have been followed by delivery problems and widespread reports of quality issues, ranging from mismatched body panels to dead batteries. The company has also been under scrutiny for accidents that involve Tesla's Autopilot driver assistance features.
Tesla also faced criticism from Consumer Reports for the Model 3's substandard performance in its brake test. After the company updated the brake system with an over-the-air software fix, the car passed its brake test and Consumer Reports recommended it to buyers.
The federal safety agency conducts crash tests and grades cars on a scale of one to five stars. NHTSA issues an overall rating, and separate ratings for front impact, side impact and rollover. The Model 3 earned five stars across the board.
Some Model 3 competitors, while earning overall five-star ratings, were dinged in the frontal crash test. The BMW 3 series, the Mercedes C Class and the Audi A4 received only four stars in that category.
Tesla's Model S and Model X also earned five stars in every category.
NHTSA isn't the only organization that conducts crash tests. The Insurance Institute for Highway Safety, which represents automobile insurers, offers its own ratings that differ somewhat from NHTSA's. The institute has not yet published ratings on the Model 3, but the Tesla Model S trailed other automakers in one of the institute's frontal crash tests.
The NHTSA frontal test crashes the entire width of a vehicle's front end into a rigid barrier. The insurance institute does not replicate that test, but measures collisions that occur at angles — for instance, the left front end of one car hitting the left front end of another.
In one of those "offset" tests, the Model S lagged behind competitors. The institute applies ratings of Good, Acceptable, Marginal and Poor ratings to vehicles. In one angular test, the Model S received an Acceptable rating, while competing BMW, Mercedes, Audi, Lincoln, Lexus and Genesis sedans were rated Good.
"An offset test is more demanding of a vehicle's structure than a full-width test, while a full-width test is more demanding of seat belts and air bags," according to the institute.
Both the NHTSA and IIHS ratings indicate whether tested vehicles are equipped with traffic safety technology, such as emergency braking. But the safety and dependability driver assist systems, such as Tesla's Autopilot, are not rated by either organization.
Twitter: @russ1mitchell
---