Tesla may build safe electric cars; when will they be affordable?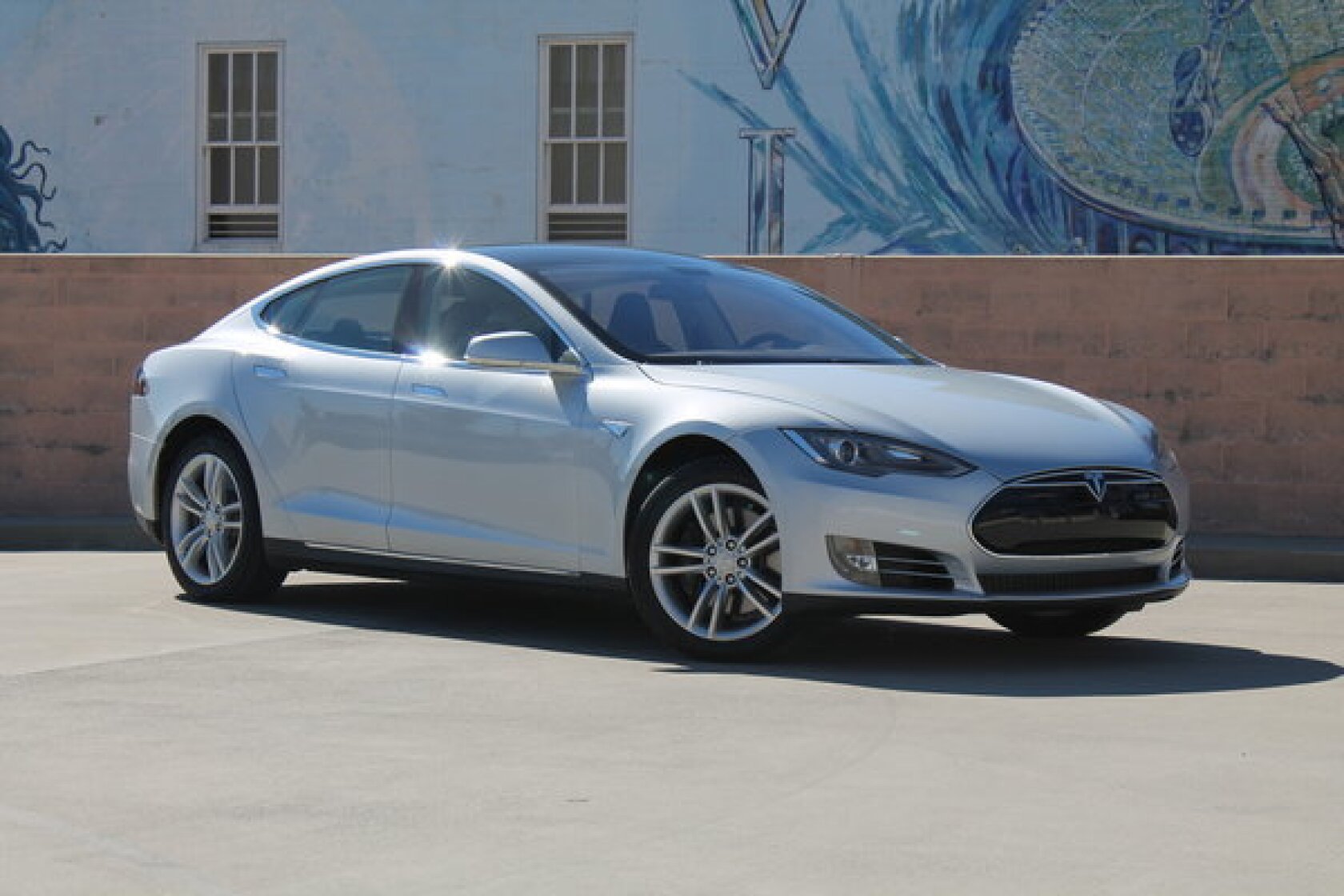 This Tesla Model S sells for $81,150 before any tax incentives or rebates.
(David Undercoffler / Los Angeles Times)
It's Day 2 of our five-day stint with the Tesla Model S, and already we're noticing several details about this car that are worth sharing.
(David Undercoffler / Los Angeles Times)
The most dramatic aspect of the inside of the Model S is the 17-inch touch screen. You can use the entire display for the navigation system, which uses Google Maps.
(David Undercoffler / Los Angeles Times)
Or you can split the screen between any combination of navigation, stereo, backup camera, phone and efficiency meter, seen at the top.
(David Undercoffler / Los Angeles Times)
The bottom inch of the screen is dedicated to the climate control, regardless of what's displayed above it. It has a pop-up menu for selecting the air vents and controlling the air conditioning.
(David Undercoffler / Los Angeles Times)
A high-resolution backup camera also displays on this screen.
(David Undercoffler / Los Angeles Times)
Another menu on this screen will display all the car's functions. Drivers can select one of three steering modes and four ride heights (though the car will automatically lower itself at speed for greater efficiency), and control the regenerative braking, creep (whether the car moves forward when you take your foot off the brake) and traction control.
(David Undercoffler / Los Angeles Times)
Meanwhile, the window switches, cruise control stalk, gear-shift lever (mounted on the steering column) and turn-signal stalk are all sourced from Mercedes-Benz.
(David Undercoffler / Los Angeles Times)
This is probably a cost-saving measure: designing and manufacturing these is an immense cost a large automaker can spread across many, if not all, of its vehicles. Tesla is too small to do so, so it looks elsewhere.
(David Undercoffler / Los Angeles Times)
The cruise-control stalk (the upper one) and the turn-signal switch from Mercedes-Benz are seen here.
(David Undercoffler / Los Angeles Times)
Another highlight is the amount of storage space in the Tesla Model S.
(David Undercoffler / Los Angeles Times)
The trunk is spacious, the rear seats fit tall passengers (with a flat floor seen here) and fold flat for extra space.
(David Undercoffler / Los Angeles Times)
Because there's no engine up front, the front trunk (frunk, as Tesla calls it) is also plenty useful.
(David Undercoffler / Los Angeles Times)
Turning outward, the car has a very clean profile and aesthetic.
(David Undercoffler / Los Angeles Times)
This is aided by door handles that automatically retract when not in use. To get them to pop out, simply touch them. You then need to give the door a good tug to open it.
(David Undercoffler / Los Angeles Times)
Also, the charge port is cleverly hidden in the corner of the rear taillight so as to avoid any unseemly fuel-door confusion.
(David Undercoffler / Los Angeles Times)
Now that Tesla Motors has turned a profit, and its Model S electric car has scored the top federal safety rating and the top Consumer Reports rating, what's left for the upstart Palo Alto automaker?
Plenty.
What Tesla has accomplished is remarkable, and it appears on track to become the first successful automotive start-up in a century. Investors certainly think so, having pushed the stock up 323% this year.
Top 10 cheapest cars that get 35 mpg
But whether the bullish bet pays off in the long term will depend on whether Tesla can break out of its niche of selling government-supported cars to rich people. Despite the hot start, some huge obstacles remain in Tesla's path.
Remember that much of Tesla's profits rely on government policy. Without pollution regulations that the automaker has effectively turned into an ATM, it would be far from profiting on what remains a small-volume, expensive car. The Model S may be the darling of the Los Angeles luxury market, but it's way off the shopping list of almost every U.S. driver.
Tesla sells its Model S sport sedan for prices starting at $63,570 and running to more than $100,000, with the largest battery and other options. And it's selling as many as it can make, expecting to move 20,000 or more Model S sedans this year.
But the cars themselves aren't making the company any money.
Tesla has reported a profit in the last two quarters because its chief executive, the intrepid Elon Musk, has deftly extracted millions from government environmental policies, all the while establishing himself as the country's leading corporate futurist, a modern Henry Ford.
On the more expensive Model S -- with the biggest battery and longest driving range -- Tesla collects seven environmental credits from California's Air Resources Board. It can sell those credits for an estimated $5,000 each to other automakers, as Los Angeles Times auto reporter Jerry Hirsch reported earlier this year. Other automakers need the credits to meet state pollution regulations.
So Tesla can net as much as $35,000 per Model S -- more than most cars cost. It's the difference between profit and loss. During just the first six months of this year, Tesla has sold about $150 million in environmental credits.
That's on top of the up to $10,000 in state and federal government subsidies directly to buyers of electric cars. Strip all that away, and Tesla presumably would have to sell its top-end Model S for something more like $150,000, in the same volume, to make any money.
This is not to attack the subsidies. Many people fairly argue that the government has a vital role in jump-starting innovative businesses that can't otherwise survive in a free market but serve a public good, in this case pollution control.
But the long-term survival of Tesla -- and all that Wall Street money riding on it -- ultimately depends on whether the company can stand on its own. Government startup subsidies aren't meant to be permanent.
It will also depend on the grand question facing all electric cars: When can we buy one with a sticker price less than $25,000? That's a reasonable limit for most mainstream household budgets. (The spate of cheap leases this year on many electrics makes them cost-competitive for some drivers, but they remain heavily subsidized.)
Tesla plans next to release a Model X sport utility vehicle. Based on much of the same technology as the Model S, the Tesla SUV may be cheaper but certainly not cheap. Only after that, Musk says, will Tesla attempt a mass-market model.
Most new technology comes down in price with time. But serious questions remain about the future of cost of electric car batteries. The fact that the technology has been around since forever and yet still needs subsidizing provides the clearest evidence of the engineering challenge.
Meanwhile, traditional gasoline and diesel engines, along with gas-electric hybrids, are getting far more efficient, in part because of another kind of government intervention. Ever-stricter federal fuel economy standards have produced a rush of innovation. Efficiency is the new horsepower -- the new cool car -- and automakers are embracing the challenge like never before.
Musk and Tesla have taken the tougher path, insisting with missionary zeal that zero emissions cars such as electrics are the only answer to pollution concerns; hybrids, to Musk, are a half-measure.
The question of whether Tesla becomes the next Ford is just as complicated. Tesla's success so far, although impressive, represents the first mile in a marathon.
But that's less a comment on Tesla's performance than the enormous challenge the company has embraced. It's no surprise, really, that Musk's other business is space travel.
ALSO:
Oh, Lord, won't you buy me a Tesla Model S
Subsidized leases are making electric cars as cheap as gasoline rivals
Tesla stock soars on second quarter operating profit
@LAThevenot on Twitter
---