Tesla cuts annual production forecast; second-quarter loss widens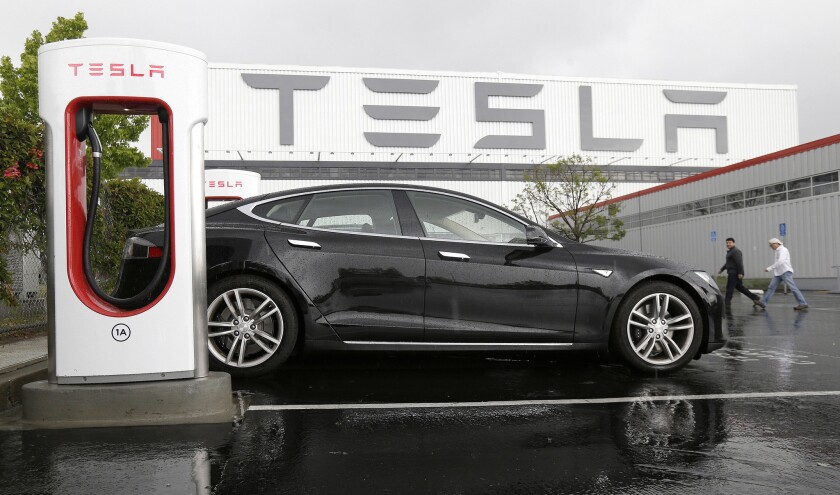 Tesla Motors Inc.'s second-quarter loss nearly tripled as it invested in launching a sport utility vehicle, releasing new versions of its flagship Model S sports sedan and constructing a giant battery plant near Reno.
The Palo Alto electric-car company said Wednesday that it lost $184 million in the second quarter, compared with a loss of $62 million a year earlier. Second-quarter revenue rose 24% to $955 million.
Using so-called non-GAAP accounting, Tesla posted a lower second-quarter loss of $61 million, compared with a profit of $16 million a year earlier. The figures include deferred profits on leased cars and exclude certain noncash expenses, such as stock-based compensation.
The company delivered a record 11,532 vehicles in the second quarter and produced a record 12,807 cars, exceeding its previous estimate of 12,500. It expects to produce about 12,000 vehicles in the current quarter.
But Tesla downgraded this year's delivery forecast to a range of 50,000 to 55,000 units of the Model S and Model X, the new SUV. Previously, Tesla Chief Executive Elon Musk had said deliveries would hit 55,000.
Tesla has been wrestling with supply issues for the Model X, which is on schedule to be delivered to the first customers late next month. The automaker wasn't getting a sufficient quantity of high-quality production parts to meet its planned production schedule.
"Every week it's delayed means hundreds of missed sales," said Karl Brauer, an analyst with auto information company Kelley Blue Book. "It's admirable Tesla won't release a car until it's ready, but it was supposed to be ready over a year ago, which adds up to a lot of missed opportunity."
But Cathie Wood, chief executive of ARK Investments, said Tesla's go-slow approach in launching the car was prudent.
"Obviously they have to get the supplier base in gear," Wood said.
Musk said the automaker is having the most trouble with seats and interior components. "In a choice between a great product or hitting quarterly numbers, we will take the former," he said during a conference call with analysts after the results were released.
Tesla originally said it would start manufacturing the Model X at the end of 2013, with sales to begin last year. Part of the delay was because Tesla could not use as many of the same parts for both the X and the S, Musk said.
"The Model X is a particularly hard car to build," he said.
Designed at Tesla's studio in Hawthorne, the Model X will fit seven adults in three rows of seats. It will use Tesla's flat battery pack, positioned on the underside of the vehicle. That clears space in the cabin and also allows for a second trunk under the hood. The Model X looks more like a crossover than a conventional sport utility vehicle and features falcon-wing doors that lift up and out.
Looking ahead, Musk said the company's manufacturing capability will reach 1,600 to 1,800 vehicles a week next year, or roughly 85,000 to 90,000 a year.
He said the automaker will show off its prototype of the Model 3, a small electric car that will sell for about $35,000, early next year. It is scheduled to go into production in 2017. The Model 3 is expected to become Tesla's top seller.
Musk also said Tesla would ramp up production of its battery systems that will be sold to utilities, commercial users and residential users for backup power and energy storage. The technology is a spinoff from the batteries that go into Tesla's vehicles.
Although Tesla is already making the battery systems at its Fremont auto factory, production will shift to the new battery plant near Reno when the first phase comes online early next year. Musk said Tesla already has orders for about $1 billion of its energy storage business.
Selling government-awarded environmental credits continues to be a steady source of revenue for the automaker. It sold $27 million of credits during the first quarter, including $14 million of special California zero-emission vehicle credits.
Other automakers purchase the credits to meet the state's environmental regulations. Tesla's total take from selling the credits now amounts to more than $561 million. The company expects to sell an additional $45 million in credits in the third quarter.
Shares in the company rose 1.5% to close at $270.13 on Wednesday. Tesla released its report after the close of the stock market; its shares were down more than 5% in after-hours trading.
Follow me on Twitter (@LATimesJerry), Facebook and Google+.
ALSO:
Tesla's push for tougher emission standards would boost its bottom line
Yelp adds healthcare data for hospitals, nursing homes to reviews
Gates, Ellison, Bezos top Forbes' World's Richest in Tech list
---