Can Tesla go from sexy car company to clean energy empire?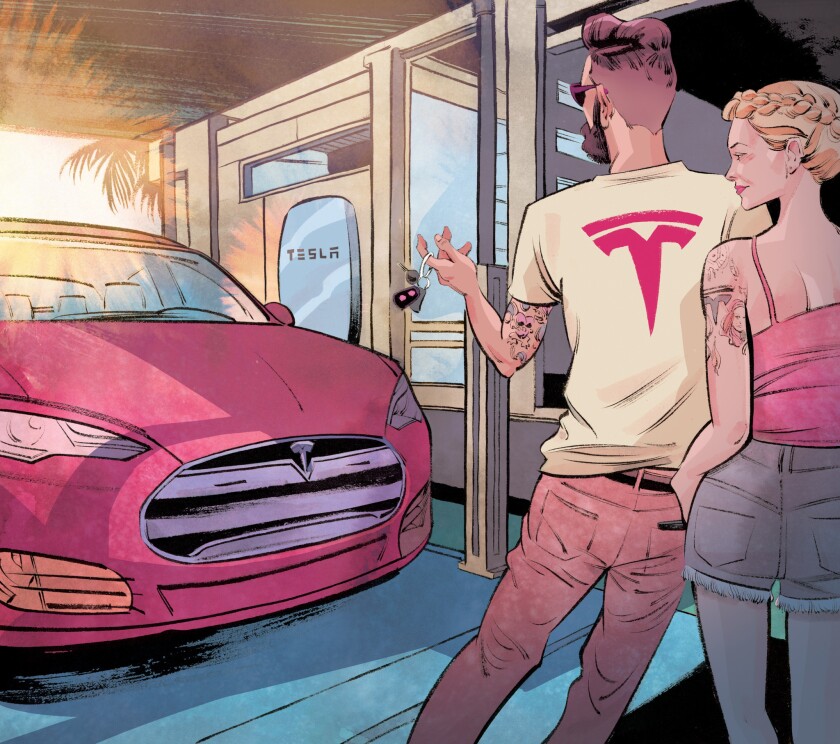 Reporting from San Francisco —
If you're wondering about Elon Musk's latest vision for Tesla, think Apple.
Apple succeeded in turning a bland market for electronic devices into a coveted and connected lifestyle where your phone, your tablet, your computer, your watch and your television can all be bought in one place and work seamlessly together.
It's about passion too. People continue to line up at Apple stores overnight to be the first to possess the latest iPhone. The company's launch events resemble the gathering of a cult.
At Tesla Motors, Musk tapped into that kind of branding magic when he built electric cars that drive fast and look good. The spring launch of the upcoming Model 3 evoked an Apple-like frenzy in stores and online.
Now he's looking to create his own ecosystem, this one centered on sustainable energy, solar panels and batteries. It's a much less sexy realm than cars but at least as ambitious.
In recent weeks, Musk began to rapidly expand the Tesla footprint: merging with SolarCity to bring a major solar energy company into the fold, and laying out a sweeping "master plan" to transform Tesla beyond cars, by expanding into eco-friendly trucks and buses, ride-sharing and more.
The bold entrepreneur envisions Tesla stores as all-in-one destinations for green-minded shoppers, where one can buy an electric car, a charging station, a solar rooftop for the house and a futuristic-looking battery to store the excess power, all in the same place.
What really matters is how do we get a lot of people to make the transition, not just a few.
— Elon Musk, Tesla CEO
"In order for people to go en masse to sustainability, you really need to create something that doesn't have a lot of compromises," Musk said Friday in an interview with The Times. "Easy to order, easy to install, looks great when done."
But unlike Apple, which sells far less expensive consumer products, Tesla is venturing into new territory at a time when it hasn't proved that it can make money or meet production deadlines.
To become the first provider of a comprehensive clean energy lifestyle, Musk needs to sell not just products, but present the combined company as a fresh creator of a new way of living, with image and branding and marketing that convince consumers of all kinds to shell out big bucks to be part of it.
"We've got to reach people for whom the environment is not their top priority," Musk said. "What really matters is how do we get a lot of people to make the transition, not just a few."
Noah Hagey, 43, a lawyer and co-founder of the BraunHagey & Borden law firm in San Francisco, is already part of the tribe.
First his family bought a Tesla Model S sedan, which they considered a jumping-off point for environmental good deeds. A few months later, they installed solar panels on the roof of their Oakland hills home. When Tesla's Powerwall went on sale, Hagey put in an order.
"It just seemed like the obvious thing to do, to see how off the grid you can get," Hagey said.
He didn't buy panels from SolarCity. Instead, Hagey chose a local contractor experienced with tricky-to-work-with Spanish tile roofs.
But if the Tesla showroom had had solar panels on offer, "I could have seen doing a package deal," he said. "It's kind of shocking how well the stuff this guy builds works."
Now Musk needs many, many more customers like Hagey for his plan to work.
Right now, Tesla's main draw is upper-income households. Most people can't afford a Model S, which starts at $70,000, and many millennials can't even afford a house, much less a solar roof.
Hagey knows this and is counting on Musk to lower costs over time.
"This thing has to be mass market," he said. "That's the only way it's going to work."
But to be mass market, going green has to have mass appeal. As it is, early adopters have flocked to the save-the-world philosophy espoused by Musk, but many everyday consumers simply aren't there yet -- and cool marketing might not be enough to convince them otherwise.
"You buy Tesla because of the brand," said Shayle Kann, a vice president at news and research firm GreenTech Media. "You're not doing it to save money. Whereas with solar, the single thing that has been most important in getting the widespread adoption of solar … is people saving money on their electric bills."
Most people have reliable electric service, and many aren't convinced that they'll save enough money with solar to make installation worth it. And the subject can be enormously complicated. Fewer than 5% of U.S. homes have solar panels, although that number is growing fast.
Meanwhile, the market for storing power from solar panels – which was less than $200 million in 2012 – will have grown to $19 billion by 2017, according to a report by IMS Research.
Musk figures that Tesla stores will offer a convenient spot for consumer education. By consolidating the buying process using Tesla's established — and rapidly growing — footprint of retail stores that are trafficked by serious buyers and people who just want to look at a hot car, he predicts that he can move solar into the mainstream.
"You want one sales process, one installation event, no finger-pointing if something's not working, one service contract, one app to see how it's doing and make adjustments," Musk said during the interview. "It's what you'd want as the end customer."
Tesla has opened 260 stores to date -- most in upscale markets -- and plans a total of 441 by the end of 2017, when Tesla's relatively affordable Model 3 is expected to become available. Owned by Tesla and staffed by Tesla employees, the stores serve as retail showrooms for the company's sleek and expensive Model S electric sedan and Model X electric SUV. Soon, solar panels will join the merchandise mix.
Many of these showrooms are located within walking distance of Apple stores, and in fact Tesla consciously drew on those stores for inspiration, with their airy feel, dutiful employees and emphasis on fine design.
The company has counted 3 million visitors so far. They demonstrate an interest in solar living just by walking through the door.
They might be attracted by the vehicles, but Musk said it's the connection between home-solar batteries and rooftop panels that's the key to his energy ecosystem.
Already, the Powerwall, Tesla's new solar battery for the home, is on prominent Tesla showroom display. It stores excess energy during the day to charge a car, provide electricity at night or serve as backup in a blackout emergency. The price starts at $3,000.
The Powerwall's most notable aspect is its appearance. Competing batteries, just as functional, look like chunks of industrial equipment. The Powerwall is a sleek piece of sculpture, harmonizing with the lines of the Model S it hangs next to.
SolarCity's rooftop panel installations aren't nearly so sexy. Musk said he wants to address that. They need to be "beautiful," he said.
"This is very important," he said at a media event last month at Tesla's new battery factory near Reno. "This needs to be an asset to your house. It needs to be so good that when it's done you call your neighbors over to show them how proud you are. "
Before he makes solar panels beautiful, Musk will have to make them look attractive in the stores and online, to fit the stores' Tesla motif. Three weeks ago, Tesla lured Chester Chipperfield – a handsome young man with blond locks – from Apple and named him global creative director.
Although a customer will be able to buy what might be called the Full Tesla, a complete package including car, charger, solar rooftop and battery, the company will be happy to break it into sub-components for customers who don't want it all.
Those pieces, however, all will come with Tesla software to manage home and auto energy use. The more the software is integrated into a full system, the more powerful the system becomes. And, as with Apple, the less likely you are to switch to someone else's information ecosystem. That's called lock-in. If you like the system, great. If not, you're kind of stuck.
Longtime Silicon Valley watcher Rob Enderle, who runs Enderle Group research, said it's likely that Tesla could expand its energy management software throughout the home, covering major appliances and smaller household objects equipped with silicon chips and connected through the so-called Internet of Things.
"It moves Tesla from being a car company to being a home automation company, and a powerful one," Enderle said, going up against companies like Google's Nest.
And it will distinguish Tesla from other automakers.
"Tesla would be part of your home, not just part of your transportation system," he said. "That brings them much closer to their customers, far more than any other car company. That's something no one else has."
At this point, there's more theory than substance to Musk's vision. There's no guarantee that people are ready to flock to solar power in the numbers necessary for success. There's no assurance that he can bring prices down for cars and energy systems low enough to appeal to the masses. It's unclear whether a market exists for a home energy software ecosystem powerful enough to hold customers loyal.
"It doesn't make any business sense at all," says Jim Nelson, chief executive at Sunworks, a SolarCity competitor and a corporate customer of Tesla's Powerwall. "The solar business and the electric car business are unrelated businesses. They are artificially connected."
Right now, Tesla's stock is a short-seller favorite. Neither Tesla nor SolarCity are profitable; both depend on investor infusions and government subsidies for cash flow. The SolarCity deal seems more like a bailout by the better-capitalized Tesla than an organic business strategy, several financial analysts have opined.
But Musk has proved himself capable of beating odds and delivering the goods, from his early days at PayPal, to the surprising success of his SpaceX rocket launching company, to the rabid consumer embrace of Tesla automobiles.
Except for the short sellers, nobody's counting him out.
One aspirational fanboy is Michael Figueroa, 39, of Laguna Hills. One day, he plans to trade his Acura or Volkswagen for a Tesla Model X. He's already had a SolarCity array installed on his home's roof. A Powerwall is on the wish list too.
"I want to manage my energy on my own. That's where the future's going," Figueroa said. "No other company is trying to capitalize on that, and that's what I'm looking for."
Times staff writers Samantha Masunaga and Ivan Penn in Los Angeles contributed to this report.
MORE BUSINESS NEWS
Long Beach Airport gets more routes as competition heats up
Cheap fares fueled the rise of ride-hailing. But will rides stay cheap forever?
Passengers should dress appropriately for a flight, most fliers agree
---