Two things about the Tesla Model 3 that Elon Musk wants you to know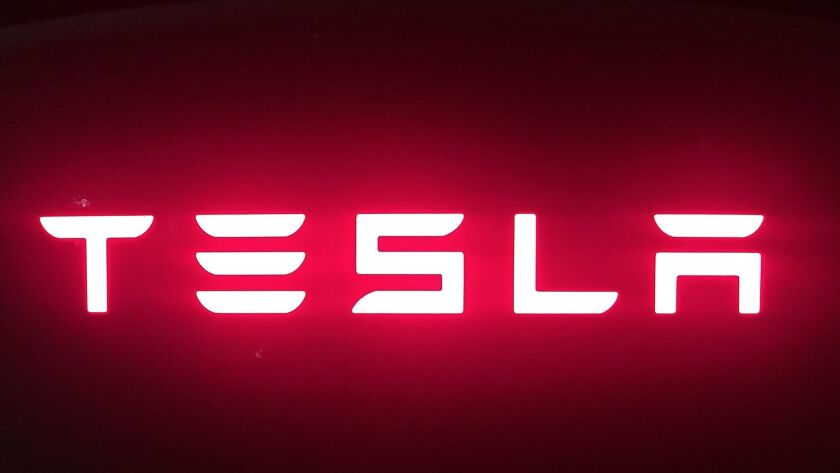 Reporting from San Francisco —
"Any customer can have a car painted any color that he wants so long as it is black," Henry Ford once said.
Tesla Chief Executive Elon Musk is taking the same approach to early versions of the Model 3, due for initial production and delivery in July.
The first wave of customers will have only two choices for the mid-market electric car, Musk said: "What color do you want, and what size wheels do you want?"
Speaking at Tesla's annual shareholder meeting in San Jose on Tuesday, Musk vowed not to repeat the problems encountered by the Model X SUV when it was introduced in 2015. Available in multiple configurations from the start, it was riddled with manufacturing and quality problems.
The pressure on Tesla is intense. To justify a high-flying stock valuation, the Model 3 must sell well in large numbers. The company plans to be building 5,000 a week by the end of the year, with visions of hundreds of thousands sold each year.
Demand appears strong. More than 370,000 people have put down refundable $1,000 deposits, the company said. The challenge for the company, which has yet to build more than 84,000 cars in any given year, will be to reach high volume production with high levels of quality.
The shareholder meeting produced no drama. Even Musk himself seemed more subdued than usual.
A proposal from the Connecticut Retirement Plans and Trust Funds was voted down by shareholders. It would have required the entire board be voted on every year. Right now, the terms are staggered.
Under pressure from some large shareholders earlier this year, Tesla said it would add outside members to its board. Musk said Tuesday that two or three new board members would be named within the next two months.
Musk also reacted to recent news that AAA of Southern California was raising its rates on Tesla cars by 30% because of frequent and expensive claims.
"There is a simple solution," Musk said. "Change your insurer."
Unexpectedly, Musk brought up the subject of music, and left the audience with a mystery. "It's very hard to find good playlists and good recommendation algorithms" for discovering new music. Expect "an announcement later this year," he said, offering no detail.
Tesla stock rose $5.53, or 1.6%, to $352.85 on Tuesday.
Twitter: @russ1mitchell
---