Car Night has been an L.A. institution. But soon it could face the end of the road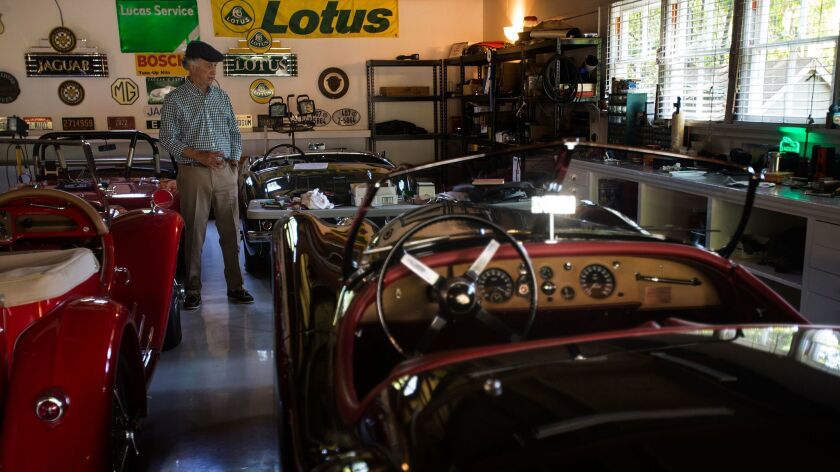 At first, it was just three old friends with three old cars.
Creighton Turner had built a new garage, big enough for more cars than he owned, behind his Pasadena house.
He invited two buddies to bring their cars around, so they could help each other keep their finicky engines in tune.
One of the guys had a new girlfriend, and asked if she could come along. The girlfriend brought a bottle of wine, and invited a couple of friends of her own. Soon other single guys wanted to stop by, and Thursday Car Night was born.
For the next 30 years, Turner's creation was an exclusive automotive appointment, often drawing several hundred guests and their cars to secret locations.
But now, following a series of disagreements among members, it may be threatened with extinction.
There were a few bad apples, and they spoiled it for everyone.
Tina Van Curen, Autobooks-Aerobooks co-owner
In the beginning, it was just supposed to be about the cars.
"Originally we just set aside one night a week to get together and do some work," Turner remembered, standing in the garage where it all got started. "But then the girls starting coming. It went downhill from there."
Actually, it went uphill. That first gathering in Turner's garage, in late 1982, became a regular weekly hot spot for local auto enthusiasts.
Within a year, the garage, driveway and backyard were overflowing with vintage MGs, Morgans, Jaguars and Austin Healeys. By the late 1980s, it wasn't unusual for 150 gear heads to show up with their exotic cars.
To appease his neighbors and keep his marriage intact, Turner said, he suggested that Car Night find another location. Or maybe more than one.
Tina Van Curen, co-owner of Autobooks-Aerobooks, a Burbank institution known as "The World's Fastest Bookstore," stepped in and became the group's unofficial den mother.
Using her substantial customer base, Van Curen began inviting other collectors to host a Car Night. Early each week, a growing list of names on a private list would get a notice telling them where to go that Thursday.
For more than a decade, under Van Curen's care, Thursday Car Night was a well-managed affair, attended by collectors, racers, engineers, designers and other motoring enthusiasts eager to get a look at cars and collections they'd never otherwise be able to see.
Getting into the club wasn't impossible, but attendance was technically limited to serious car people. Still the list grew.
"It got really big," said collector Dave Simon, who hosted the event many times over the years at his Gardena warehouse. "We'd drink wine and barbecue hot dogs. We'd even have a band playing, and dancing."
With apologies to Detroit, Southern California is generally credited as the country's current automotive capital, especially in the areas of custom, vintage and collectible cars.
Home to the massive Petersen, Mullin and Nethercutt automotive museums, as well as hundreds of independent car builders, restorers and customizers, the greater Los Angeles area is also ground zero for dozens of wealthy private collectors.
Proud of their vehicles, but unwilling for security reasons to open their doors to the public, they presented a ready-made list of locals receptive to Van Curen's invitation to host a Car Night.
Each Thursday the Car Night people would travel to farflung secret locations — to Thousand Oaks, to see Mike Malamut's vast private collection of vintage VWs and micro-cars, or to North Hollywood, for a private after-hours visit with car designer George Barris at his Kustom City showroom.
One Thursday night last winter, 100 or more drove to Gardena to spend the evening at Dave Simon's place.
Inside a dark parking lot bordered by chainlink fence, at the end of a bleak street lined with faceless single-story industrial buildings, vintage English, European and American cars sat ignored.
But inside were 50 highly valued pieces of automotive art, part of Simon's collection. In one room was a sleek 1959 Rolls-Royce Silver Cloud. Nearby was a 1948 Bentley Mark VI. Next to that, a 1941 Willys Jeep, fitted with a working machine gun and attended by a full-sized mannequin dressed in World War II combat clothes.
Wandering through the collection, Simon's Car Night colleagues tippled wine and beer while nibbling on hot dogs and swapping stories about their own cars and car histories.
The two prizes of Simon's stable, he said, were a one-of-a-kind 1938 Bentley four-door saloon car, and a 1934 Ford that he first purchased in 1951, for $50, at the age of 14.
He wooed and wed his wife in that car, he said, and then traded it for an Oldsmobile when he was 19 — "because it was a kids' car, and we were all grown up."
Many years later, after his wife told him she was sorry they'd gotten rid of it, he started trying to replace it. More than 25 years after he sold the original, he bought an identical one in Palos Verdes.
"It turned out to be the same car!" Simon said. "I found the original plates under the front seat."
Squiring visitors around the garage, Simon seemed a happy host, proudly pointing out which cars had appeared in which TV shows, TV ads and movies.
"I drove in that one with Anna Nicole Smith," he said.
It became a drinking and light finger society. It had to die.
Tina Van Curen, Autobooks-Aerobooks co-owner
A few months later, behind a similarly anonymous exterior in Pasadena, Joe Young was leading a group of fellow car nuts through his collection.
Tousled haired and grinning, walking visitors past a line of vintage Corvettes and telling stories about how he bagged the Ferrari Dino, or the blue Shelby Cobra, Young was making the case for car collecting.
"Where else do you want to put your money — in an IRA?" he asked. "Nobody's ever going to pull up beside you in traffic and say, 'Hey! Cool IRA!'"
Like Simon, Young had often rented his cars out for movies, ads and TV shows. He'd helped Cindy Crawford pose in that '57 Corvette for a TV commercial. He'd tried to teach Angelina Jolie how to drive an '85 Ferrari Testarossa in the remake of "Gone in 60 Seconds."
"You know that scene where she drives away?" he asked. "That's me, in a wig."
Then something went wrong. Too many people were finding out about the Car Night locations. Total strangers were showing up.
Involved with Thursday Car Night since near its inception, Young had hosted the event multiple times before concerns about security first arose.
A highly collectible book on French cars disappeared from one member's garage after a Car Night. A couple of rare car parts were taken from another member's shop.
"Things were happening that weren't kosher," Young said.
"People would just show up to drink wine and see if there was anything worth purloining," Turner said.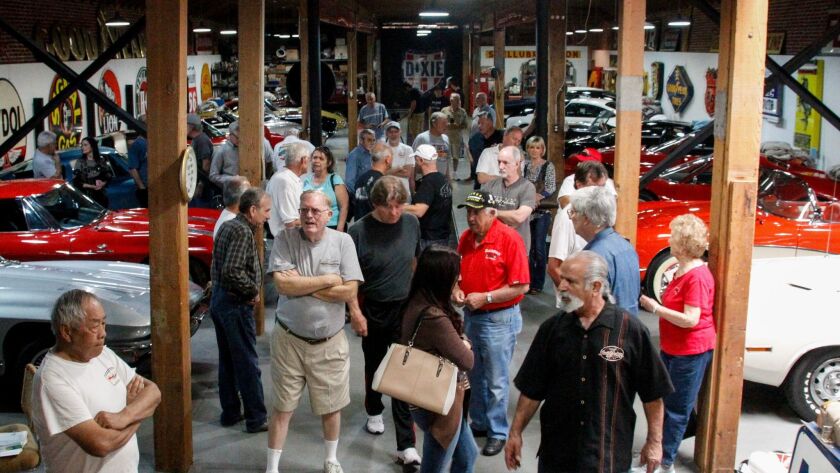 Aaron Weiss, veteran collector and co-founder of the San Marino Motor Classic car show, said he supported Car Night but hadn't enjoyed hosting it in modern times.
"It was wild. I never saw more beer get consumed in such a short time," he said. "I think the event became an excuse for car guys to get out of the house, away from their wives and to drink."
When things went missing, it was hard to know who was responsible, because Car Night had become so big.
"There were people hosting that had 200 or 300 people walking through their garage," said George Shapiro, a Pasadena chiropractor and vintage vehicle collector who has hosted multiple Car Night events. "You might know a hundred of them, but you've never seen the other 200."
Van Curen, as Car Night's unofficial steward, felt she could no longer guarantee hosts that their garages, cars and belongings would be safe. She announced she would resign her position unless some suspects were eliminated from the group.
"There were a few bad apples, and they spoiled it for everyone," Van Curen said. "We all had such fun, and everyone made so many good friends. But it became a drinking and light finger society."
There is the danger that Car Night could just fade away.
Steven Mandell, current Car Night manager
After Van Curen's departure, Car Night stumbled along for a couple of years under other stewardship, slowly losing momentum. In time, management of the once-popular weekly event fell to Steven Mandell, a Claremont chiropractor and car collector who said he first attended the long-running event in 1991 and became a regular shortly afterward.
"I am officially the self-appointed grand pooh-bah now," he said. "I took up the office when no one else would take it."
By then, however, a Car Night schism had developed — with Mandell on one side and Van Curen on the other.
Some Thursday veterans felt they could no longer host the event and risk appearing to take sides.
"A lot of people joined Tina's army, and it's a big army," said one member who asked not to be named for fear of furthering bad feeling in the group.
Mandell, who has a collection of more than 50 micro-cars and is also the proud owner of a rare Lamborghini Miura that he values at near $1 million, said he has felt that older members are reluctant to host or attend events.
"It's an aging population. Car Nighters are getting older, and lazier, and dying off," said Mandell, who at 66 is 14 years younger than Turner or Simon, both 80. "There has been a gradual decline in attendance."
Recent venues haven't been all that great, either.
"The guy who hosted the last one, he only has one car — a Datsun 1600," Mandell said. "But he offered to do it, and he served really good food."
Mandell said he was determined to keep the legacy alive, but worried that its days were numbered.
"It's become harder and harder to create these events," he said, "and there is the danger that Car Night could just fade away."
ALSO
Review: Cruising California canyons in Jaguar's F-Type SVR
Funding for $3-billion electric car rebate bill is up in the air
Uber says it'll stop tracking riders after they're dropped off
---
Your guide to our new economic reality.
Get our free business newsletter for insights and tips for getting by.
You may occasionally receive promotional content from the Los Angeles Times.