Tom White, motorcycle racer and entrepreneur, dies at 68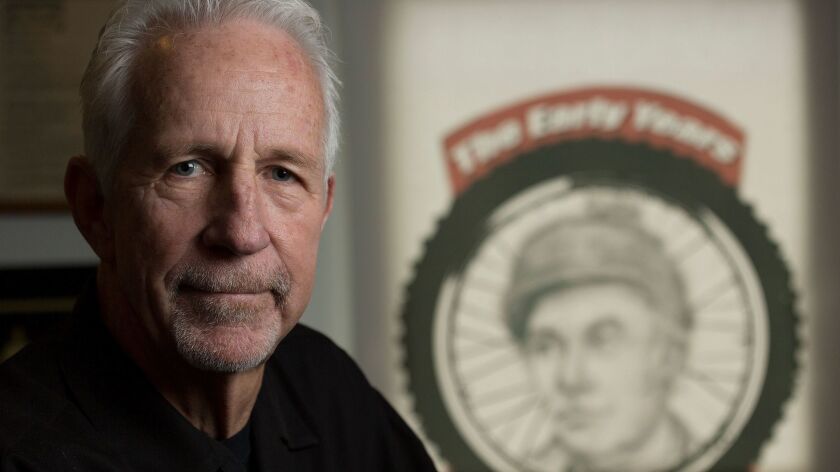 Motorcycle racing legend Tom White, who made a fortune as an aftermarket parts entrepreneur and later founded one of California's most admired motorcycle museums, has died at age 68.
His daughter, Kristin Anderson, said White died Thursday after a long battle with cancer, at home, surrounded by family members in a room that also housed several of his favorite motorcycles.
White, born in Alhambra on April 8, 1949, won his racing spurs on the American flat track circuit, rising to national prominence behind the No. 80 number plate between 1971 and 1976.
The racer would find greater fame in the sport of motocross, as a parts entrepreneur. White Bros. Cycle Specialties, formed in partnership with his twin brother Dan, rode the 1970s and '80s popularity of that dirt bike sport and became an aftermarket parts powerhouse. Its catalog of 30,000 individual parts and accessories became a $40 million a year business.
White eventually sold the company and turned his motocross profits into a passion for collecting rare motorcycles from the earliest days of the sport. The collection ultimately grew to more than 200 vintage machines, and became the private Early Days of Motocross Museum on the grounds of the White family home in Orange County's Villa Park.
The collection was considered the finest of its kind in the world and was a fitting testament to the former racer's businesslike approach.
White did everything "just right, from starting and running a very successful motorcycle parts business to assembling an extraordinary collection of rare and vintage motorcycles," said Roger Riddell, the off-road race champion who worked on the film "On Any Sunday" and produced "On Any Sunday 2."
White used the museum as a mechanism for charitable giving, particularly for a medical facility that had helped his son Bradley after the racer suffered a near-fatal motorcycle accident as a teenager. The family's annual Bikes and Burgers charity event drew enthusiasts from around the globe. The 2015 event raised $170,000 for the High Hopes Head Injury Program.
White, a 2014 inductee into the AMA Motorcycle Hall of Fame, was also active in vintage and veteran class amateur racing. For years he announced motocross races at San Bernardino's Glen Helen Raceway, where earlier this year he was given a plaque on the venue's Walk of Fame.
"One of Tom White's great strengths was that he always led with goodwill," said Mark Hoyer, editor in chief of Cycle World magazine. "He never lost the pure joy of motorcycling — inclusive of the people, culture, machines and history, about all of which he was incredibly knowledgeable."
After receiving a diagnosis of non-operable cancer in April, White said he would fight to survive but remained realistic about his chances and sanguine about the outcome.
"I've had a lot of good years, and I'd like to have a few more," he said. "But we all get what we get."
White is survived by his wife, Dani; daughter, Kristin Anderson; sons Bradley and Michael; and three grandchildren.
---