Robot cars won't wait: Toyota creates new company to speed development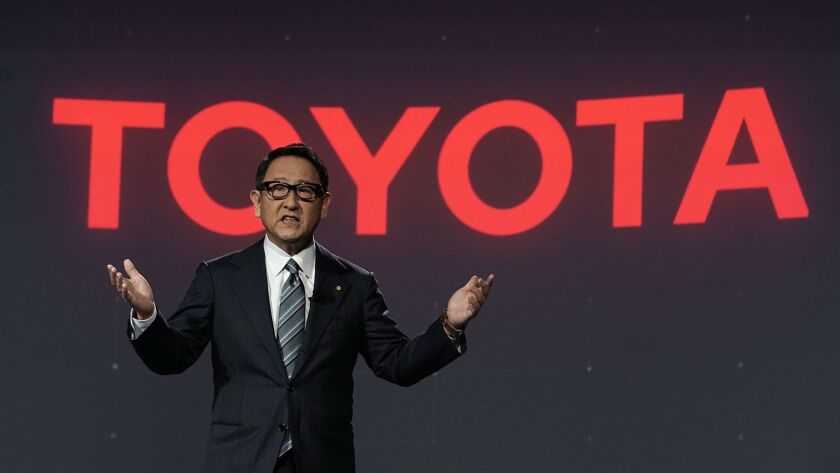 Reporting from San Francisco —
In an attempt to move driverless car software more quickly into its cars and trucks, Toyota is creating a separate company and hopes to fill it with some of the world's best autonomous-vehicle coders.
Called Toyota Research Institute-Advanced Development, the new Tokyo-based company will draw on work turned out by Toyota's research labs and transform it into commercial-ready products.
The joint venture comprises Toyota and two of its major parts suppliers — Denso and Aisin Seiki. The partners will invest $2.8 billion, Toyota said, but didn't indicate a time frame.
The company will be headed by James Kuffner, now chief technical officer of the Toyota Research Institute in Silicon Valley.
Kuffner, a Stanford grad and still a Carnegie Mellon University professor, was a researcher at Google from 2009 to 2016. He's well known in the coding community as co-inventor of the randomly exploring random tree algorithm, a benchmark in robot motion planning.
Toyota is hoping such tech chops will help attract "world class" programmers to create a "smooth software pipeline from research to commercialization," according to a company news release.
With 300 employees now, the new company will eventually employ 1,000, Toyota said.
Kuffner told The Times that he'll move with his family from Silicon Valley to Tokyo, where the company conducts much of its internal business in English.
Tech talent is scarce in general, but especially so in driverless car development. Toyota currently has driverless research centers in Los Altos, Ann Arbor, Mich., and Cambridge, Mass. The Tokyo center will help extend the net, he said.
"We have always adopted the approach to take talent wherever we can get it. Based on the recent politics [that seek to reduce immigration] it's harder for some of the talent to come to the U.S.," Kuffner said.
Also, a small, new growth company could attract more desirable workers with equity or stock options, he said.
Like all automobile manufacturers, Toyota is looking for ways to break down bureaucracy so it doesn't get left behind as the industry moves rapidly toward robot cars powered by electric drive.
"It's difficult to be good at everything — it's just hard to focus a team that has to have a daily competitive focus to do other things as well," said Mark Wakefield of consulting firm AlixPartners. "But, of course, a separate company isn't necessarily a panacea either. As always, the proof will be the execution."
Toyota has been reshuffling top management and diversifying its board of directors to face what Toyota Motor Corp. President Akio Toyoda sees as existential threats to the traditional automotive business.
"Over the next 100 years, there is no guarantee that automobile manufacturers will continue to play leading roles in mobility," he said at a company event in November. "A crucial battle has begun — not one about winning or losing, but one about surviving or dying."
Twitter: @russ1mitchell
---