Uber fires Anthony Levandowski, engineer at center of legal battle with Waymo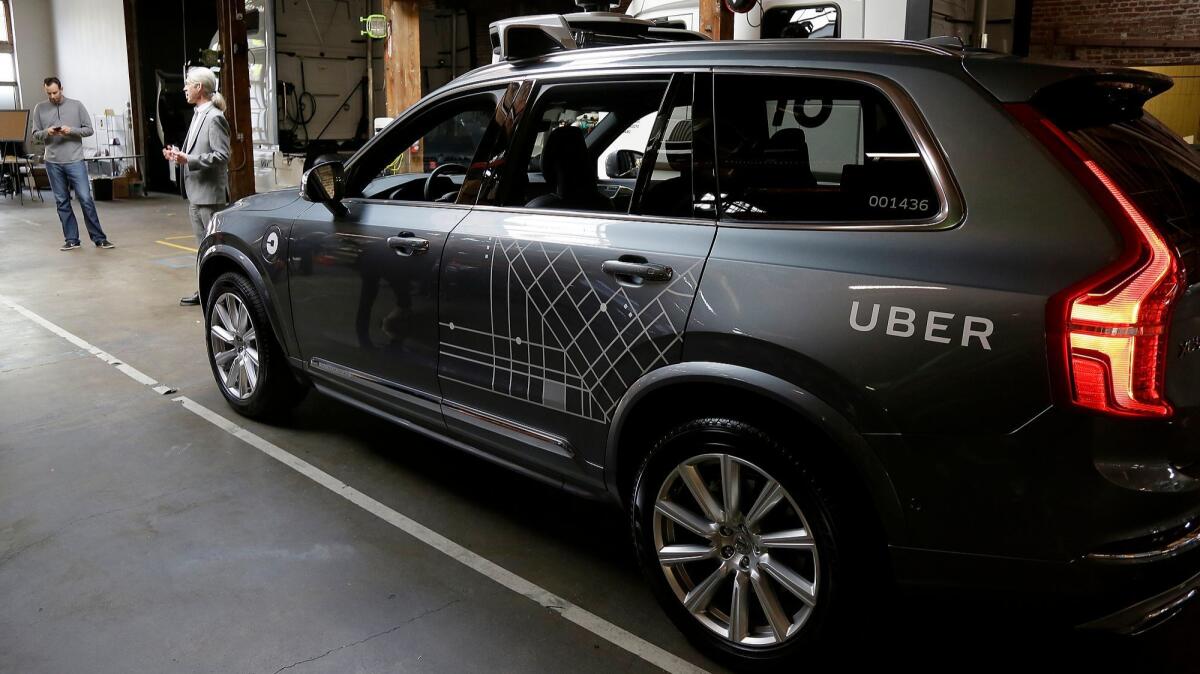 Uber has fired Anthony Levandowski, the star engineer at the center of the company's fight with self-driving rival Waymo.
Levandowski — a former Waymo employee who until recently was leading Uber's effort to replace human drivers with robot cars — has refused to hand over documents requested by Waymo and a federal court judge in a high-profile legal battle between two Silicon Valley giants. Waymo is part of Alphabet Inc., the parent company of Google.
Uber is being accused of stealing Waymo's self-driving technology. The San Francisco company has denied the allegations.
An Uber spokeswoman said Tuesday that the company's driverless car program will continue to be run by Eric Meyhofer, who took over from Levandowski in April. Levandowski's direct reports have been moved to Meyhofer.
"We have been pressing Anthony to comply and assist with our internal investigation for months," the spokeswoman said. "We set a deadline that he did not meet, and we will not wait for this issue to make its way through the courts."
The firing represents a milestone of sorts for Uber, which has a reputation for protecting executives who reflect badly on the company.
"This is a clear indication that [Uber Chief Executive] Travis Kalanick has grown up," driverless industry consultant Grayson Brulte said. "He is evolving into a leader who is owning his mistakes."
Waymo sued Uber in February, alleging Uber made illegal use of 14,000 documents it says Levandowski stole from Waymo while he was a Waymo employee.
The stakes in the emerging market for semi-autonomous and completely driverless cars are huge. Market forecasters say it'll become an annual market worth tens to hundreds of billions of dollars over the next decade.
Technology companies, traditional automakers and others are fighting for a foothold. Companies that gain proprietary technological advantage will benefit the most.
Waymo, under the Google name, was first out of the gate with a major driverless car project in 2009. Other companies are hoping to catch up with Waymo and then bypass it.
After Levandowski left Waymo, he started his own company: driverless-truck start-up Otto. Uber soon bought Otto, reportedly for $680 million, and put Levandowski in charge of Uber's driverless project.
Uber has insisted that it developed its driverless technology independently and that it does not possess and has not made use of any stolen material.
Levandowski has refused to turn over the documents or his computer to anyone, citing a 5th Amendment right against self-incrimination. That led the federal judge in the case, William Alsup, to pressure Uber to take action against Levandowski.
"Uber has no excuse under the 5th Amendment to pull any punches as to Levandowski," the judge said in a written order this month.
Uber then threatened to fire Levandowski if he didn't comply. Tuesday, Uber announced his termination.
Meanwhile, Uber continues to resist Waymo's court request to release the term sheets Uber and Levandowski signed when Uber bought Otto last summer.
The Waymo-Uber battle is over a technology called lidar. Considered by most experts as an essential element for driverless cars, lidar uses light beams to identify objects including traffic signs, motor vehicles, bicyclists and pedestrians.
Lidar is not a new technology, but engineers are racing to adapt it for automotive use, trying to shrink its size and lower its cost while improving its performance.
Levandowski is widely considered a top figure in driverless vehicle research. Whatever his personal attributes, his knowledge and experience will be hard to replace. Perhaps to compensate, Uber announced this month that it will expand its driverless car research program to Toronto, under Raquel Urtasun, also a highly regarded researcher. Some of the most important breakthroughs in artificial intelligence and machine learning in recent years have emerged from the University of Toronto.
ALSO
Uber launches freight service to meet on-demand trucking needs
Lyft takes on Uber's black luxury car services by launching Lyft Lux
Uber faces criminal probe over the secret 'Greyball' tool it used to stymie regulators
---
UPDATES:
2 p.m.: This article was updated with comments from Judge William Alsup and from consultant Grayson Brulte, as well as additional background information.
This article was originally published at 12:30 p.m.