Court restricts Uber actions in driverless-tech theft case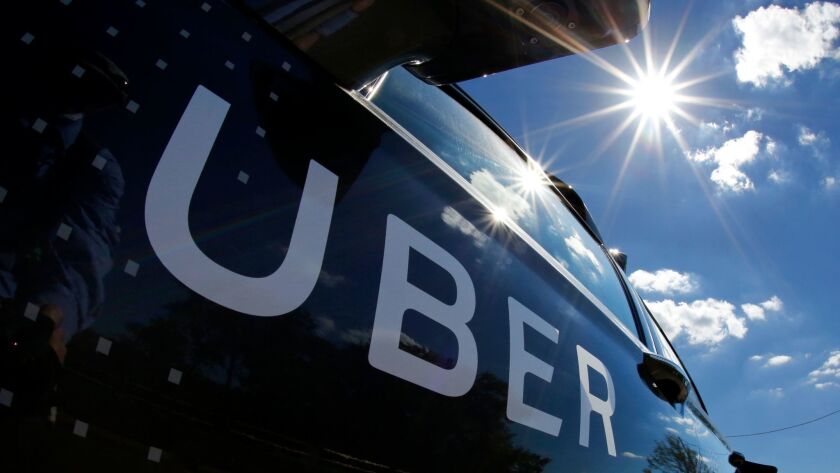 After suggesting the U.S. Department of Justice consider a criminal investigation of Uber in a trade secrets theft case, a federal judge on Monday ordered the ride hailing company to stop the man accused of the theft from work on the technology at issue.
The order stems from a lawsuit filed by Waymo, part of the Google family of companies, that alleges former employee Anthony Levandowski stole trade secrets covering lidar, a key technology for self-driving cars, when he left the company.
Evidence indicates that "Uber likely knew or should have known that Levandowski had taken and retained possession of Waymo's confidential files," according to the judge.
A court-appointed special master will inspect Uber worksites to ensure compliance.
Judge William Alsup also told Uber to conduct a thorough investigation of the case, including interviews with anyone who might have been involved, and report back to the court June 23.
Read more: Waymo and Lyft team up on technology for driverless cars »
The companies, fierce competitors, are racing to develop autonomous vehicles.
The judge's order comes one day after Waymo and Uber's top competitor, Lyft, announced a partnership to collaborate on driverless technology through pilot projects and product development.
The driverless market could be worth hundreds of billions of dollars, analysts say.
Waymo's suit against Uber is heading toward a jury trial, but the process could take years. Waymo sought to block Uber from any work on lidar in the meantime. The judge will allow that work to continue, but without Levandowski, or any purloined data.
Waymo claimed theft of patents and trade secrets and sought a blanket ban on lidar research at Uber.
The judge on Monday dismissed the patent claims and said only "some" of the trade secret claims hold merit.
Uber positioned the order as a victory. "We are pleased with the court's ruling that Uber can continue building and utilizing all of its self-driving technology, including our innovation around lidar," a spokeswoman said.
Uber aims to replace its human drivers with driverless robot cars. To catch up with Waymo and others, it set up a research center in Pittsburgh in 2015.
Early last year, Levandowski quit Waymo and founded a self-driving-truck company called Otto. Six months later, Uber bought Otto for a reported $680 million and put Levandowski in charge of its driverless project. He still works at Uber, but was replaced by Eric Meyhofer in April as head of self driving.
"We welcome the order to prohibit Uber's use of stolen documents containing trade secrets developed by Waymo through years of research, and to formally bar Mr. Levandowski from working on the technology," Waymo said.
---
UPDATES:
1:20 p.m.: This article has been updated throughout with staff reporting.
8:35 a.m.: This article was updated with comments from Uber and Google, additional details about the case and analysis of the situation.
This article was originally published at 8 a.m.
---
Your guide to our new economic reality.
Get our free business newsletter for insights and tips for getting by.
You may occasionally receive promotional content from the Los Angeles Times.