VW agrees to pay U.S. owners of 3-liter diesels that cheat on emissions tests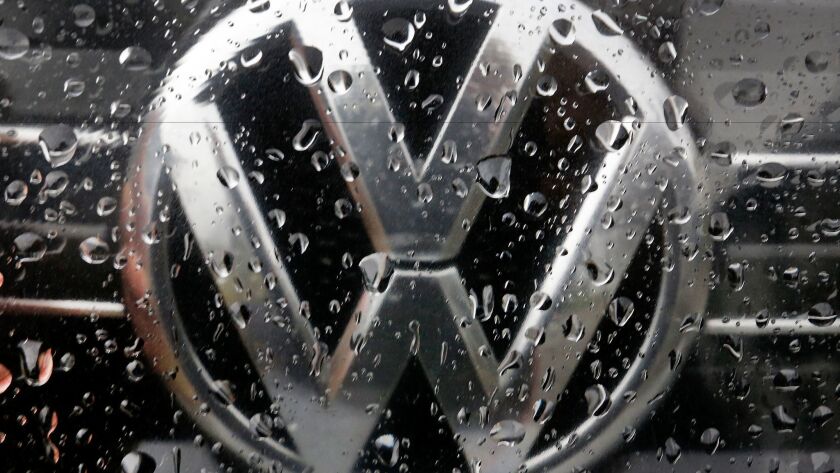 Volkswagen has agreed to pay at least $1.2 billion in buybacks and compensation to settle claims from U.S. owners of cars with larger diesel engines that the company rigged to cheat on emissions tests.
And the German automaker could pay even more — as much as $4 billion — if it can't repair many of the cars in a way that satisfies regulators.
The proposed settlement filed late Tuesday before Judge Charles R. Breyer in U.S. District Court in San Francisco covers owners of some 78,000 Audi, Volkswagen and Porsche cars with 3.0-liter diesel engines.
Volkswagen has already agreed on a $15-billion settlement with owners of some 500,000 smaller, 2.0-liter diesel engines.
Volkswagen has now settled most U.S. consumer claims as it tries to repair a tarnished reputation. "All of our customers with affected vehicles in the United States will have a resolution available to them," Hinrich J. Woebcken, head of Volkswagen Group of America, said in a statement.
The company still faces lawsuits from fewer than 5,000 owners of 2-liter diesels who opted out of the settlement, as well as some shareholder suits and numerous lawsuits filed by states for violating pollution laws.
VW also has settled a U.S. criminal investigation by agreeing to pay $4.3 billion, but a probe of employee behavior continues with seven people charged in the U.S. In all, VW will pay more than $20 billion to settle civil and criminal claims in the U.S. alone.
Also pending is whether VW can adequately fix some older 2.0-liter engines. If it can't, it will have to buy back all vehicles with the smaller diesel engines. A March 3 deadline is approaching.
Legal issues also remain in Europe. Former Chief Executive Martin Winterkorn and 36 others are under criminal investigation in Germany, where investors also are suing the company. Volkswagen shares plunged after the scandal broke in September 2015.
Under Tuesday's proposed settlement, owners of 20,000 older 3.0-liter models dating back to 2009-2012, which cannot be fixed to meet pollution standards, would be offered buybacks or trade-ins. In addition, they would receive compensation ranging from $7,755 to $13,880, according to a statement from owners' attorneys.
People who bought 58,000 newer cars from model years 2013-2016 would get compensation of $7,039 to $16,114. Volkswagen says those cars can be fixed so they comply with pollution limits.
VW's proposed repair must win approval from U.S. environmental authorities by an agreed deadline. If it does not, buybacks could push the cost as high as the $4.04 billion laid out in court documents.
The deal still needs court approval. Volkswagen said final approval would take at least until May.
Also Tuesday, parts supplier Robert Bosch agreed to pay $327.5 million to settle claims from consumers and dealers regarding 2.0-liter and 3.0-liter engines, without saying it was at fault. Civil plaintiffs say Bosch made the "defeat device" that enabled the cheating.
CEO Volkmar Denner said the company settled so it could focus on its business.
Volkswagen has admitted it equipped diesel engines with software that detected when the vehicle was undergoing pollution tests and then turned the emissions controls off during everyday driving. The result was cars that emitted some 40 times the U.S. limits of nitrogen oxides, a pollutant that can harm people's health. Some 11 million cars worldwide have the deceptive software.
Despite the hit to its reputation, VW surpassed Toyota last year to become the world's largest carmaker by sales. VW sold 10.3 million vehicles in 2016; Toyota sold 10.2 million.
---