Volkswagen's former CEO is being investigated over emissions scandal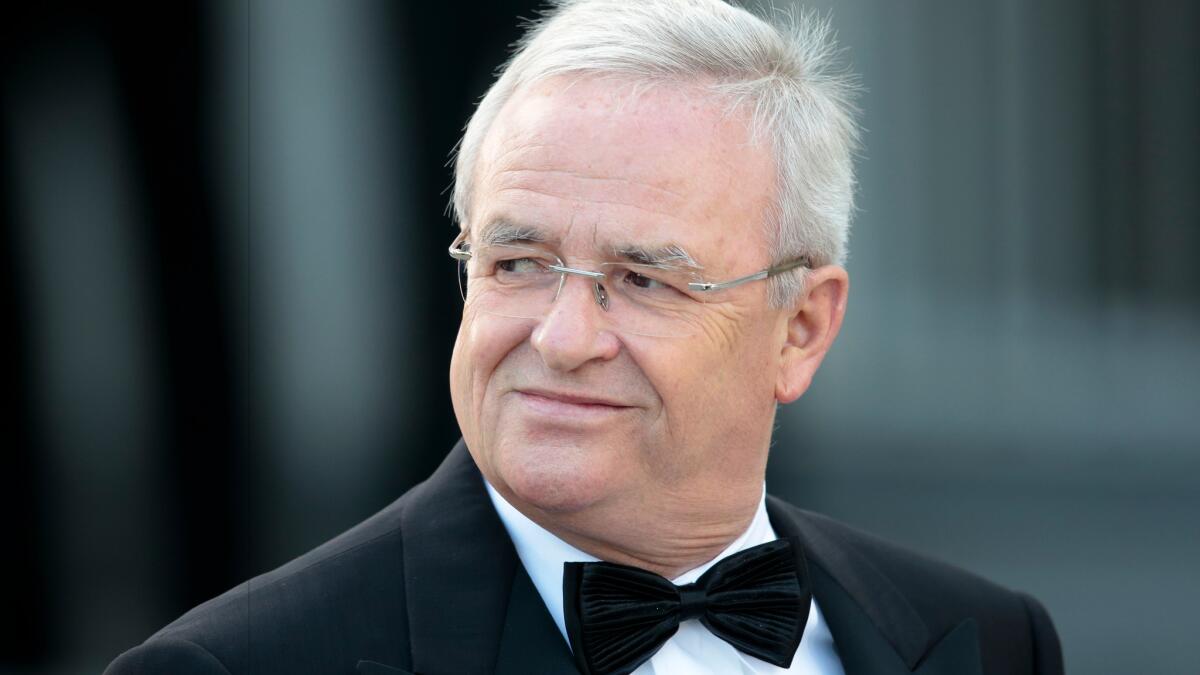 German prosecutors are investigating former Volkswagen CEO Martin Winterkorn and an unnamed executive over allegations they didn't inform investors soon enough about the company's scandal over cars rigged to cheat on U.S. diesel emissions tests.
The Braunschweig prosecutor's spokesman, Matthias Diekman, said in a statement Monday that the investigation was opened at the behest of Germany's Federal Financial Supervisory Authority, the country's financial watchdog.
German stock market law requires publicly traded companies to alert investors as soon as they have unforeseen developments that could affect a decision to buy or sell the stock. Prosecutors said that Volkswagen made that notification Sept. 22 and that there was evidence that the disclosure obligation should have been fulfilled earlier.
Volkswagen said that it had the issue reviewed by outside lawyers who found "no clear or serious violations of duty" and that the prosecutor's statement contained "no new facts or findings over possible violations" by the two executives. The German automaker had already said in response to an investor lawsuit that it met its disclosure obligation.
See the most-read stories in Business this hour >>
VW said the review showed no reason not to recommend that shareholders vote to approve management's work for 2015 at the annual meeting Wednesday.
Volkswagen has said Winterkorn was sent a memo May 23, 2014, about emissions irregularities uncovered by an environmental group, but the company was not sure he saw it, and said that top officials discussed the matter July 27, 2015.
The automaker said earlier that the issue was believed to be something that could be resolved through a settlement that would not impose heavy costs, and it still believed that to be the case in early September 2015.
On Sept. 18, the U.S. Environmental Protection Agency issued a violation notice, leading Volkswagen to assess the risks as more serious and issue its investor advisory four days later.
The prosecutors' news release said that the second employee is not Hans Dieter Poetsch, the current board of directors' chairman. Poetsch was chief financial officer under Winterkorn but has since left that post.
Winterkorn stepped down as the scandal came to light, saying he was doing so "in the interests of the company even though I am not aware of any wrongdoing on my part."
Volkswagen has admitted equipping cars with software that sensed when the car was on a test stand and turned off emission controls during everyday driving.
The company has apologized and commissioned a law firm to investigate. It is negotiating a settlement with U.S. authorities in federal court in San Francisco on how it would fix or buy back some 500,000 diesels sold in the United States. Some 11 million such cars were sold worldwide.
Volkswagen has set aside $18.3 billion from last year's earnings to deal with the costs of recalls and fixes.
MORE FROM BUSINESS
Stocks surge as investors grow hopeful about 'Brexit' vote
China's box office is booming, but will VR crash the party?