GM, Chrysler and Toyota see healthy boosts in April car sales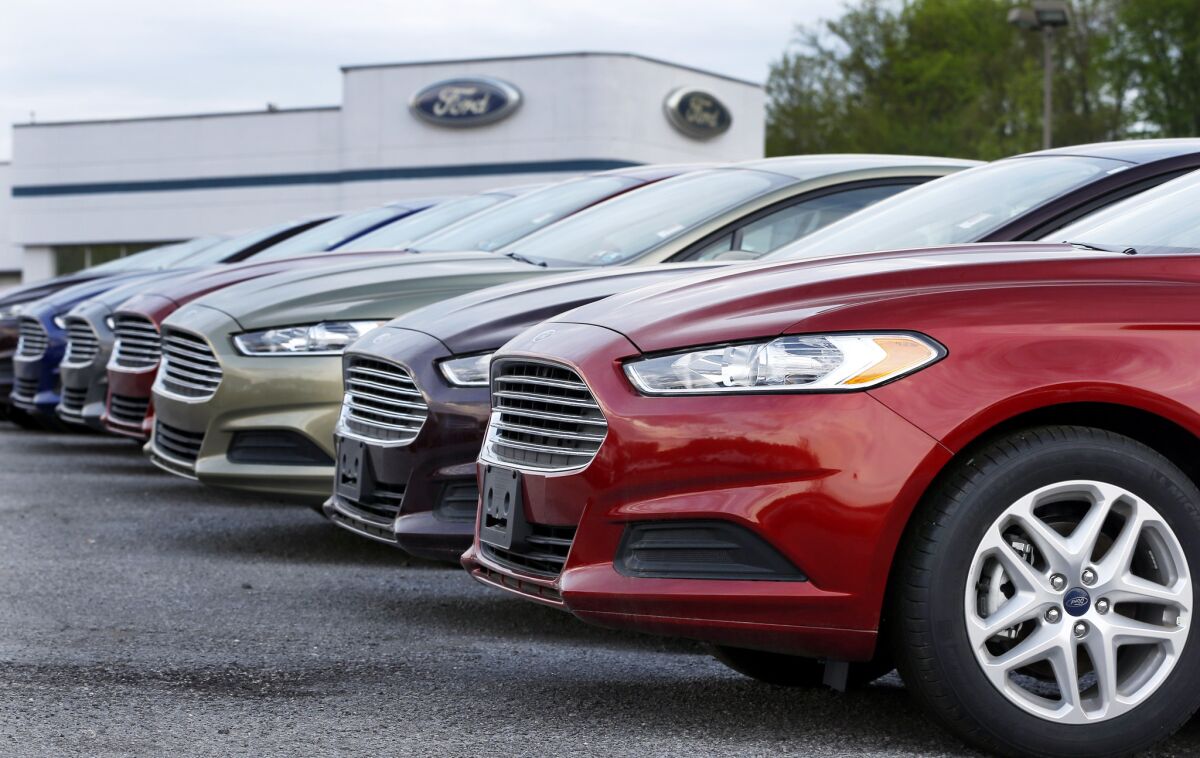 Car sales in the U.S. hit their highest monthly level since the mid-2000s for the month of April, as retailers moved an estimated 1.4 million vehicles.
Those strong monthly numbers suggest car sales for the year could hit 16.5 million, up as much as 10% over last year.
General Motors, despite its ongoing recall headaches, reported sales were up 7% over the same period a year ago, with a total of 254,076 vehicles sold. Sales to individual buyers were up 8%, while fleet sales rose 5%.
Chrysler saw a 14% increase in total April sales over the same month in 2013, to 178,652 units, for its best April since 2007. Ram pickup sales grew 17%, for the best April ever, and Jeep brand sales were higher for the month than any in the line's history -- up 52% over the same period in 2013.
Toyota said its U.S. sales for April rose 13.3%, to 199,660 vehicles, with especially strong activity in its truck division.
Ford reported sales of 211,126 vehicles in April, a drop of 1% from a year ago, with declines in car sales offset by strong performance by its F-series pickup division.
Nissan claimed an April record as well, selling a record 94,764 vehicles for the month, an increase of 18.5% over last year, with strong rises in sales of its Altima, Sentra and Versa models. The company's LEAF saw a sales bump of 33% for the year so far.
Volkswagen of America reported 30,831 units moved for the month, a drop of 8.4% from April a year ago. The company said its high-mileage TDI models accounted for 30% of total Volkswagen sales -- almost half of them from the Passat line.
Korean carmarker Hyundai also reported its best April ever, moving 66,107 vehicles for the period, a 4.4% gain over the same period in 2013.
"These are the best monthly numbers since before the recession started," said Edmunds.com senior analyst Jessica Caldwell, whose company reported that the previous high was April 2006, when monthly vehicle sales for April topped 1.44 million.
Caldwell said the increases were due to improved weather and lower interest rates.
"The year started off rocky, because of the bad weather," Caldwell said. "In March and April, people were actually able to get to dealerships and buy cars."
Lower interest rates meant more people leasing, with that kind of transaction accounting for as much as 28% of new car sales for the month -- up from 26% at this time last year and from 16% five years ago.
"It's driven by low interest rates – which is what most car shoppers are shopping on," Caldwell said. "The monthly cost of buying a car is the key number that's driving a lot of sales."
---