Tesla Motors posts a bigger loss, and two key executives plan to leave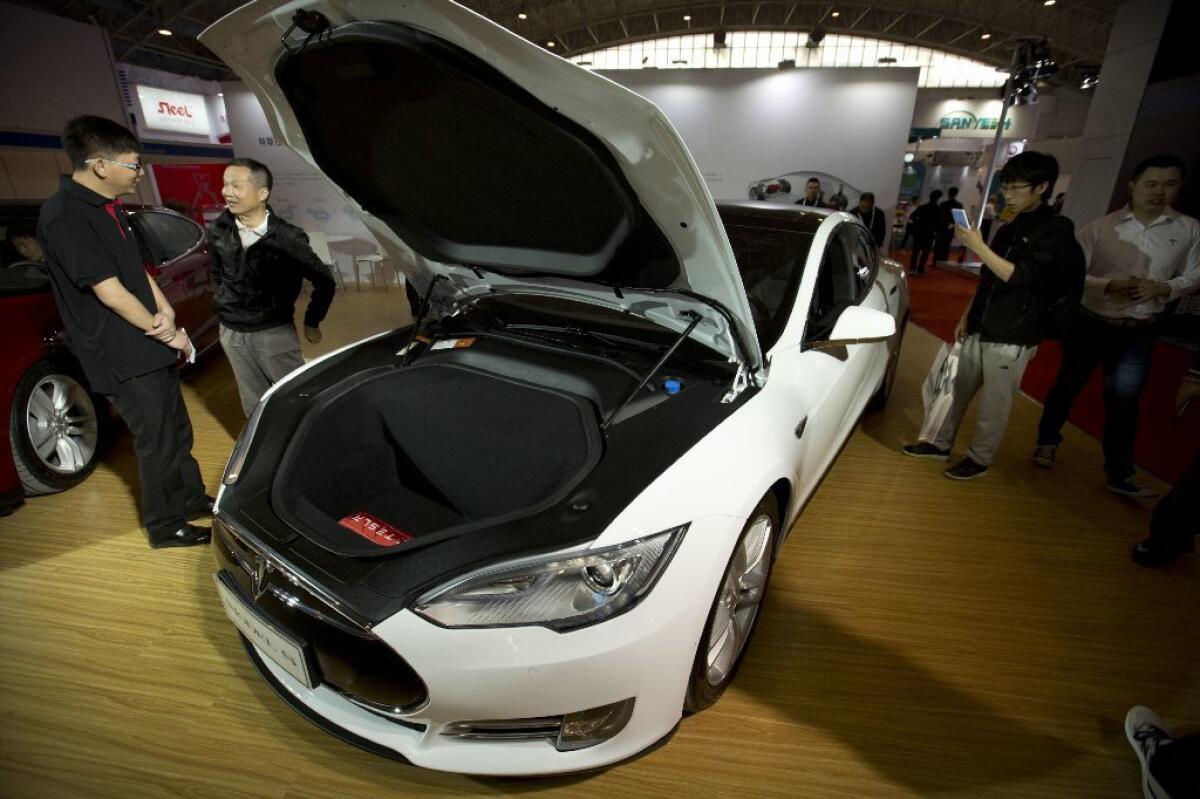 Tesla Motors Inc. reported a larger first-quarter loss compared with a year ago Wednesday, but the report nearly was overshadowed by the planned departure of two of the company's key manufacturing executives.
The electric car maker also said it has ramped up production of its new Model X sport utility vehicle, whose prior delays contributed to the financial losses.
Tesla's first-quarter loss using standard generally accepted accounting rules was $282.3 million, compared with a loss of $154.2 million a year earlier.
Sales rose 22% to $1.15 billion from $940 million.
Tesla prefers to focus on its non-GAAP financial results, which are adjusted for employee stock compensation, leasing factors and other items, and those results were slightly better than analysts had expected.
The automaker's non-GAAP loss in the quarter that ended March 31 was $75.3 million, or 57 cents a share. Analysts polled by FactSet Research Systems Inc. had forecast a loss of 60 cents a share.
Earlier in the day, Tesla confirmed that Greg Reichow, its vice president of production, and Josh Ensign, vice president of manufacturing, were leaving the Palo Alto company.
Those departures, coming just as Tesla is gearing up production of the Model X and planning manufacturing for its upcoming Model 3, unsettled investors and drove Tesla's stock price down sharply during regular trading. Its shares fell $9.76, or 4.2%, to close at $222.56. But after Tesla announced its results, its stock jumped 5% to $234.20 in late trading.
In addition to the Model X, Tesla builds its mainstay Model S sedan. A month ago it unveiled the Model 3, a lower-cost sedan that's expected to arrive in late 2017 with a base price of $35,000.
Reichow and his team "deserve a lot of credit for building an all-new manufacturing organization from the ground up and for making Model S and Model X a reality," Tesla Chief Executive Elon Musk said.
"We're confident that with the strength of the team, high-quality manufacturing at Tesla will continue," he said.
Tesla said Reichow was taking a leave of absence "so that he can have a well-earned break" and would remain at the company "as long as necessary until his successor is on board."
Musk later told analysts on a conference call that "Tesla is going to be hellbent on becoming the best manufacturer on Earth," especially to meet its production goals with the upcoming Model 3.
"Thus far I think we've done a good job on design and technology of our products," he said. "The key thing we need to achieve in the future is to also be the leader in manufacturing."
Tesla said its first-quarter production totaled 15,510 vehicles, which trailed expectations, because of parts shortages and other production glitches with the Model X. The shipments include 12,851 Model S vehicles and 2,659 Model X vehicles.
MORE ON TESLA
Column: Tesla brought down by 'hubris'? Who could have expected that?
Despite Tesla frenzy, electric car sales are far from robust
Government subsidies may be gone before most buyers can get a Tesla Model 3