Column: A judge calls foul on Allergan's attempt to hide its drug patents behind an Indian tribe's sovereignty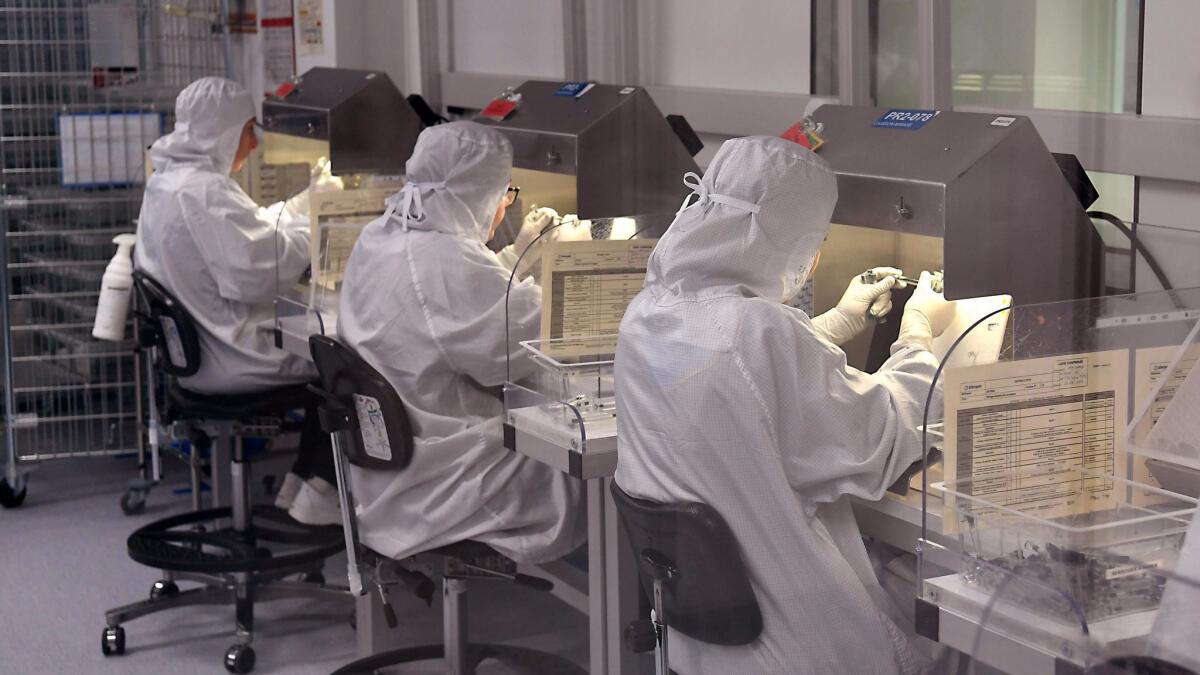 In the annals of cynical corporate subterfuges, it would be hard to top the effort by the drugmaker Allergan to fend off a patent challenge by selling its drug rights to a rural New York Indian tribe.
That's saying a lot, given the creativity of corporate lawyers searching for ways to subvert the law. But a federal judge in Texas this week called foul on Allergan's stunt. "In reality," observed Judge William Bryson of Marshall, Texas, Allergan tried to "purchase — or perhaps more precisely, to rent — the Tribe's sovereign immunity" purely in order to defeat the patent challenge.
"Sovereign immunity," Bryson continued, "should not be treated as a monetizable commodity that can be purchased by private entities … to evade their legal responsibilities." He compared Allergan's maneuver to abusive tax shelters, which are designed to look legitimate on the surface, but are shams to the core.
The Court has serious concerns about the legitimacy of the tactic that Allergan and the Tribe have employed.
— U.S. Circuit Judge William Bryson
For technical reasons, the significance of Bryson's words is unclear. That's because he actually ruled that Allergan's patents on its dry-eye drug Restasis are invalid; the patent challenge at which the tribal stunt was aimed is a separate proceeding. Bryson didn't invalidate the tribal deal because that wasn't at issue in the case before him, but he expressed "serious reservations" about whether the deal should be treated as valid. That could function as a guidepost for the U.S. Patent Office, which will have to rule on the transaction's validity. Legal authorities say Bryson's opinion should be taken as a red light by other companies thinking about using the same maneuver.
The St. Regis Mohawk Tribe, which acted as Allergan's patent front, isn't showing any regrets thus far. As recently as Wednesday, the tribe sued Microsoft and Amazon on behalf of a small technology company called SRC Labs, which claims that the big companies are infringing its patents on data processing technologies. SRC's goal in assigning its patents to the tribe was to head off a counter-challenge from Microsoft and Amazon.
The tribe also has defended its role in fronting for patent owners as a blow for inventors' rights, "protecting them from patent trolls and infringers." In justifying its creation of its grandiosely-labeled "Office of Technology, Research and Patents," the tribe acknowledged that it has not, and will not, invest a dime in the business. "The Tribe will not be at risk to lose any of its own money," it says. If a challenger happens to win an infringement case against a patent, the tribe says, it will be fully indemnified by the original patent holders. That sounds like another hint that these deals should be regarded with suspicion.
The Allergan arrangement shows why. Formerly based in Irvine and now treated as an Irish firm thanks to a tax-avoidance deal, Allergan was desperate to protect its monopoly rights to Restasis, its second-biggest product after Botox, from generic competitors Teva Pharmaceuticals and Mylan. Those companies were trying to get the Restasis patents ruled invalid on grounds that the patented formulation wasn't anything new.
Bryson ruled in their favor this week by tossing the Restasis patents, but another legal test still remains. If Mylan and Teva succeed, that could result in lower prices for American consumers as Restasis turns from a monopoly brand owned by Allergan into a generic drug.
Business can challenge patents in two main ways — in court, or before the U.S. patent office via a so-called Inter Partes Review. Allergan contends that the latter can't be filed against a sovereign entity such as, oh, an Indian tribe.
Accordingly, the drug maker sold its Restasis patents to the St. Regis Mohawk Tribe, which promptly granted the company an exclusive license to those same patents and obligingly filed a motion to dismiss the Inter Partes Review. In return, the tribe was paid $13.75 million up front and the promise of $15 million a year in royalties. One wonders if the tribe could have held out for more, since Restasis sales come to $1.5 billion a year, according to Allergan.
In announcing the deal, Allergan executives exuded all the sincerity of made men singing the praises of their capo di tutti capi. Allergan claimed it was approached by the tribe with "a sophisticated opportunity to strengthen the defense of our Restasis intellectual property," and praised the "thoughtful and enterprising approach" of the native Americans, whose home base is in the rural hinterlands a few miles south of the St. Lawrence River and Canadian border, "to achieve their goals of self-reliance and help them address the most urgent needs in their community."
To Bryson, the deal smelled more as if the deal's real motivation was to "attempt to avoid the IPR proceedings" currently before the patent office "by invoking the Tribe's sovereign immunity."
What Allergan is after, he found, is "the right to continue to enjoy the considerable benefits of the U.S. patent system without accepting the limits that Congress has placed on those benefits." If successful, he said, "Allergan's tactic … could spell the end" of the IPR program, which was an important component of patent reform in 2011.
"The Court has serious concerns about the legitimacy of the tactic that Allergan and the Tribe have employed," Bryson continued, noting that transactions that have no real economic substance but are chiefly designed to game the law, such as abusive tax shelters, are vulnerable to being invalidated. In this case, he said, although the tribe seems to have nominal rights to the Restasis patents, the substantial rights remain with Allergan, with the tribe merely getting a stream of royalties.
Keep up to date with Michael Hiltzik. Follow @hiltzikm on Twitter, see his Facebook page, or email michael.hiltzik@latimes.com.