Column: Cities should respond to Amazon's squeeze play by saying no to subsidies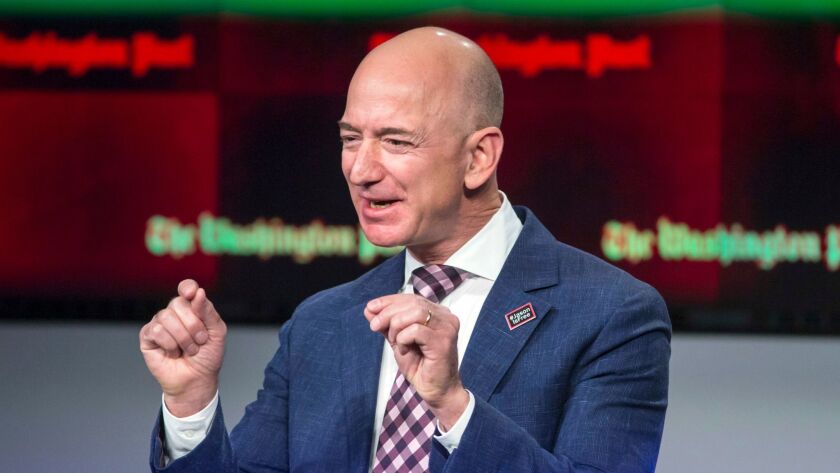 Amazon released its short list of contenders for its second-headquarters project on Thursday, and the news was bad. Whether it was worse for the hundreds of communities left out of the running or for the 20 so-called finalists is an open question.
Judging from the willingness of some remaining contenders to endow one of the world's richest companies with billions in handouts, we're going with the latter.
As we've been reporting since September, when the Seattle-based online retailer and tech giant announced plans to locate a $5-billion, 50,000-employee complex as its second headquarters somewhere in North America, offering tax abatements and other benefits to Amazon is exactly the wrong approach for civic leaders.
Amazon is going to create a lot of costs. So you're going to subsidize something that's going to make the new urban crisis ... worse.
— Urban expert Richard Florida
A project of this magnitude will impose untold burdens on the chosen host community and its residents that can be alleviated only with billions of dollars in civic investments. But that money won't be available to a community that hands it over to Amazon as a come-on.
Some communities have resisted offering incentives. Toronto, for instance, landed on the short list despite offering no handouts, according to Richard Florida, a respected urban development expert at the University of Toronto who serves on the board of Toronto Global, a civic agency devoted to economic development.
As my colleagues James F. Peltz and Alejandra Reyes-Velarde reported, Amazon said Thursday that it had narrowed 238 proposals from communities in the United States, Canada and Mexico down to 20 finalists, including Los Angeles as the only West Coast contestant.
The other cities are Atlanta; Austin, Texas; Boston; Chicago; Dallas; Denver; Indianapolis; Miami; New York; Philadelphia; Toronto; Washington; Pittsburgh; Raleigh, N.C.; Nashville; Newark, N.J.; and Columbus, Ohio. The company also listed northern Virginia and Maryland's Montgomery County — both near Washington, D.C. — as potential sites. The Los Angeles proposal was a regional bid submitted via the Los Angeles Economic Development Corp., though it included three specific sites within the city limits along with six others in the area.
All presumably meet company specifications that include good transportation infrastructure, the presence of first-class research universities, an international airport and a political and social culture that supports "a diverse population" and an "overall high quality of life." But in its request for proposals, the company also asked for descriptions and calculations of available or proposed incentives.
That's where the rubber meets the road, in terms of features that are under the near-term control of civic leaders. (One can't build an international airport or world-class university from scratch.) It's there that communities fell all over each other to attract the project, offering tax abatements and other handouts by the millions, even billions.
The unveiling of the short list is certain to spur yet another round of offers. Indeed, communities on the list already have started to put together offers they think might be tie-breakers. Maryland Gov. Larry Hogan said just after the names were announced Thursday that he would ask the state Legislature next week to assemble a $5-billion package of tax breaks and transportation projects for Amazon. That would be the biggest such deal in state history, but only the second-biggest being offered anywhere — Newark and New Jersey has put together a deal worth $7 billion.
"I can tell you that the state has never put together an incentive package like this before," Hogan said in October, when the plans first came under discussion. "It's going to be mind-boggling for the folks at Amazon." He said this as though it were a good thing.
Experts in public incentives warn that the communities are being taken for a ride. "We've always said that incentives will be marginal to irrelevant," says Greg LeRoy, the executive director of Good Jobs First, which tracks corporate handouts. Amazon's short list suggests the company had a very good idea of where it wanted to go even before it launched the competition. Incentives could be no more than icing on the cake. The 19 U.S. finalists are located within 15 large metropolitan areas encompassing 28% of the U.S. population, LeRoy calculates. They include nine of the 10 biggest metros (excluding only Houston). Toronto is the only contestant outside the U.S.
"This is not a 'narrowing,' " LeRoy says. "Calling it a short list is nonsensical. It's another bite at the PR apple to squeeze the true ultimate finalists — if Amazon already hasn't figured out where they're going."
Tax incentives are just as unlikely to play a major role in Amazon's decision as they are in most corporate site location decisions, LeRoy says, for the simple reason that they're too small to outweigh the other factors that go into such projects. "All state and local taxes combined come to 1.8% of the cost structure of the average company," he observes. "A tiny variation in the big variables that make up the other 98.2% dwarf anything you can do with that 1.8%."
Florida says this process carries risks for the bidding communities and for Amazon alike. The communities are being asked for incentives that won't make a difference in the final outcome — "clueless cities … forking over huge incentive dollars," he called them in a tweet.
Florida proposes that the 20 finalists make a pact to forswear any incentives. He says mayors of progressive communities on the Amazon short list should take the lead, including Los Angeles Mayor Eric Garcetti. The LAEDC didn't publicly offer tax or economic subsidies in its bid package, although Gov. Jerry Brown hinted that state-level tax breaks might be available to help California cities with their bids. These might include subsidies such as the California Competes tax credit, a negotiated incentive distributed out of Sacramento. LAEDC spokesman Lawren Markle said Amazon asked bidders to keep their proposals confidential—a condition that could only advantage Amazon in playing the bidders off against each other.
"This is a litmus test for Democratic mayors," Florida told me. "If they give away the store to the most valuable company in the world and the richest man in the world, that tells us something about the state of progressivism in America. Toronto said no, and we have a conservative mayor."
The risk to Amazon is that the company will be seen as a robber baron. "Pitting communities against each other in a bidding war to see who can cough up the most financial incentives is not good for Amazon's brand," Florida observed last fall in the Financial Times. "Even the winning city is likely to feel taken, when its people realize that they have given away the store in tax and financial incentives."
Nevertheless, Amazon and other big American corporations have become hooked on incentives. Good Jobs First calculates that Amazon has collected more than $1 billion via more than 100 state and local deals since 2012, when the company set up an internal operation to maximize incentives. Some of these deals are secret. But plainly, the incentives the company could exact from communities bidding for its second headquarters would swamp everything it has collected so far.
Some political leaders have begun to question the wisdom of big corporate handouts, especially in the face of social and economic problems burdening an ever-shrinking public purse.
"It's a tough pill to swallow," Maryland House Speaker Michael E. Busch said of Gov. Hogan's proposed deal. "The question is whether we get the return on the dollar for the investment the governor is talking about. … It's hard to talk about $5 billion when you're behind on school construction, behind on healthcare."
Supporters of tax incentives depict them as a sort of down payment on economic growth that will come from corporate relocations. But the benefits of that growth are seldom widely or fairly distributed. The gentrification triggered by an influx of well-paid professional workers tends to displace existing residents and businesses.
"Amazon is going to create a lot of costs," Florida says. "So you're going to subsidize something that's going to make the new urban crisis in Los Angeles, New York, Boston or Washington, D.C., worse. It's going to put enormous pressure on those housing markets with 50,000 new high-paid jobs, so they should not only say no to incentives but say to Amazon, 'If you want to come here, you're going to have to help us address these problems.' "
Keep up to date with Michael Hiltzik. Follow @hiltzikm on Twitter, see his Facebook page, or email michael.hiltzik@latimes.com.
Return to Michael Hiltzik's blog.
---
UPDATES:
1:35 p.m.: This post has been updated with details of the Los Angeles bid and comments from the LAEDC.
---