Column: A federal court gives defrauded Corinthian College students a victory over Betsy DeVos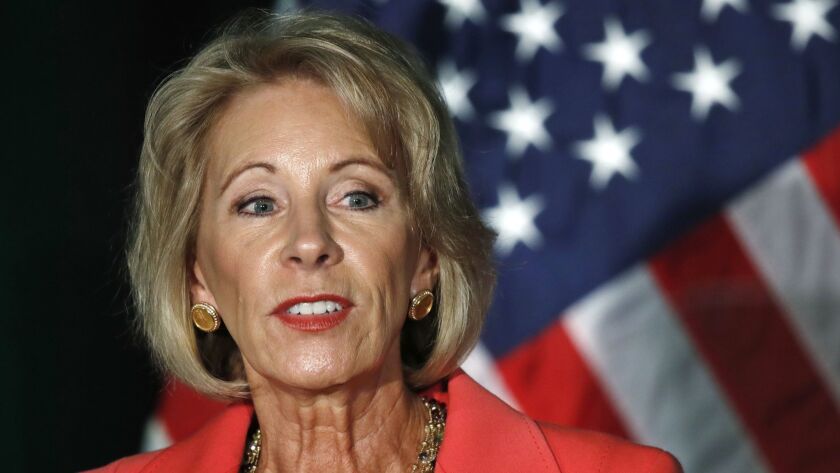 A federal magistrate has blocked the U.S. Department of Education from paring back a loan relief program for defrauded students at the failed Corinthian Colleges chain, finding that the agency invaded students' privacy in fashioning a new program.
The ruling Friday by Magistrate Sallie Kim of San Francisco is the latest blow to Education Secretary Betsy DeVos' policies on for-profit colleges, which are far more tolerant than those of the Obama administration. Kim ordered the agency to cease using its loan relief rules, but scheduled a hearing June 4 to consider further steps.
Under President Obama, the Education Department crafted a program of blanket forgiveness of federal student loans taken out by Corinthian students. Its rationale was that Corinthian, a chain of vocational schools that filed for bankruptcy in 2015, had systematically inflated job placement statistics for its graduates.
Under the previous rules, all one had to do was raise his or her hands to be entitled to free money.
— Education Secretary Betsy DeVos
Critics asserted that Corinthian and other institutions like it preyed on a vulnerable population of low-income students anxious to move into vocational fields by assuring them that they could finance their education with loans and pay them off from higher wages after graduation.
DeVos' critics, meanwhile, saw her cutback of loan relief for Corinthian students as part and parcel of a more indulgent approach to for-profit higher education firms. DeVos has installed former executives at for-profit institutions in the highest reaches of her agency.
Last August, for instance, she appointed Julian Schmoke Jr. as the department's chief enforcement officer overseeing investigations into for-profit education scams. Schmoke is a former dean at DeVry Education Group (now known as Adtalem); in 2016, DeVry agreed to a $100-million settlement of Federal Trade Commission charges that it misled students with bogus employment statistics, covering some activities that took place while Schmoke was employed at DeVry.
Up to October 2016, the Education Department granted loan forgiveness to nearly 27,000 former Corinthian students. The agency finalized a broader program that month to provide a streamlined claim system; that program was set to go into effect last July 1.
After taking office in 2017, DeVos stopped the loan forgiveness program cold. She put implementation of the streamlined program on hold. Through late December 2017, her agency failed to approve a single loan discharge for a Corinthian claimant; 99,000 applications are still pending. DeVos contended that the previous approach was too lenient: "Under the previous rules," she said, "all one had to do was raise his or her hands to be entitled to free money."
In December, DeVos announced a new system. The department would grant loan forgiveness on a sliding scale based on former students' earnings compared with those of graduates of comparable programs that passed government muster. Those who earned less than 50% of comparable wages got full relief. The rest got relief on a sliding scale. For example, those earning 50% to 59% of comparable wages won forgiveness of 50% of their outstanding loans, and those earning 90% or more received forgiveness of only 10%.
In announcing the new system, the department disclosed that it had reviewed 21,500 claims using the new rules, approving 12,900 and denying 8,600.
The problem identified by plaintiffs in the lawsuit considered by Kim was that the Education Department used Social Security records to determine the applicants' earnings by sending applicants' Social Security numbers and dates of birth to the Social Security Administration. The Social Security Administration, in return, sent the Education Department "aggregate" statistical data about earnings, which the latter used to decide how much debt to forgive in every individual case.
Both steps violated the federal Privacy Act, Kim ruled. She dismissed the Education Department's defense that its contacts with Social Security fell within permissible data sharing practices between government agencies as "a convoluted reading of the privacy act."
Kim's ruling leaves applicants for loan forgiveness in limbo, since it's unclear what rules the Education Department should use going forward. That issue, among others, will be aired at the June 4 hearing.
Keep up to date with Michael Hiltzik. Follow @hiltzikm on Twitter, see his Facebook page, or email michael.hiltzik@latimes.com.
---