Column: Drug executive: It's a 'moral requirement' to charge patients the highest price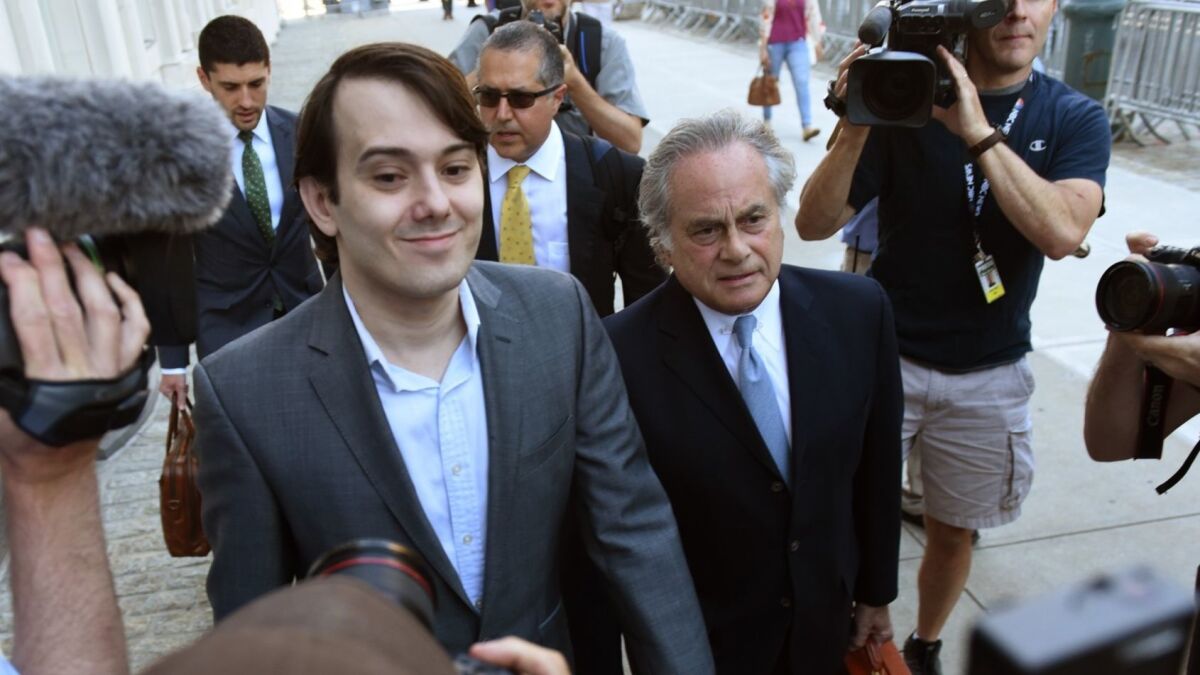 In the category of saying the quiet parts out loud, consider this statement by Nirmal Mulye, the chief executive of drug company Nostrum Laboratories: "I think it is a moral requirement to make money when you can ... to sell the product for the highest price."
Mulye was responding to questions posed by the Financial Times about his quadrupling the price of an essential antibiotic to $2,392 per bottle. The drug, nitrofurantoin, is used to treat urinary tract infections. It has been on the market since 1953 and is listed by the World Health Organization as an essential medicine for "basic healthcare systems."
In his interview with the Financial Times published Tuesday, Mulye defended Martin Shkreli, the former drug company CEO who became the face of the industry's profiteering in 2015 when he jacked up the price of a generic anti-parasitic drug needed by HIV patients by more than 5,000%. "I agree with Martin Shkreli that when he raised the price of his drug he was within his rights because he had to reward his shareholders," Mulye told the FT. (Shkreli is currently serving a prison term on fraud charges unrelated to the price hike.)
This is a capitalist economy....We have to make money when we can.
— Nirmal Mulye, CEO, Nostrum Laboratories
Mulye's remarks drew a rebuke from Scott Gottlieb, commissioner of the Food and Drug Administration. "There's no moral imperative to price gouge and take advantage of patients," Gottlieb tweeted after the FT interview appeared. He said his agency would "continue to promote competition so speculators and those with no regard to public health consequences can't take advantage of patients who need medicine."
As it happens, Mulye also had taken aim at the FDA, which he called "incompetent and corrupt." We sought a comment from the Kansas City, Mo., headquarters of Nostrum Laboratories, but the company said no further comment would be forthcoming until Wednesday at the earliest.
Mulye's remarks are unusual for a pharmaceutical company executive, most of whom have been keeping a low profile while high drug prices remain a topic of political debate. Those who have taken to a public stage typically have done so to announce price cuts, often in response to jawboning by President Trump — although those cuts have been largely symbolic.
Nostrum is one of only two current marketers in the U.S. of a liquid formulation of nitrofurantoin; Mulye said his firm increased its price in response to a similar hike by the other drug maker, Casper Pharma, which recently increased the price of its product, which it markets under the brand name Furadantin, to $2,800 a bottle.
"The point here is the only other choice is the brand at the higher price," Mulye told the FT. He observed that even after Nostrum's hike, its product is still cheaper than Casper's: "It is still a saving regardless of whether it is a big one or not."
Mulye said scarcity was the key factor in Nostrum's ability to raise the price of its drug. As the FT observed, supplies narrowed after the FDA implemented new rules this year tightening standards for impurities in brand-name and generic drugs. But nine firms, including Casper and Nostrum, hold active licenses from the FDA for manufacturing the drug, according to an agency database.
"This is a capitalist economy and if you can't make money you can't stay in business," Mulye said. "We have to make money when we can. The price of iPhones goes up, the price of cars goes up, hotel rooms are very expensive."
Gottlieb questioned Mulye's intimation that nitrofurantoin was experiencing a shortage. The drug does not appear on a roster of drug scarcities maintained by the FDA, he said in a tweet. "According to FDA's shortages database," Gottlieb wrote, "the drug in question — which is a liquid formulation of a widely available, and old and less frequently used antibiotic — is also NOT in shortage." He labeled Nostrum's price "excessive" and "detached from market principles."
Mulye's remarks seem likely to turbocharge the debate over drug pricing in the U.S., where many formulations are sold at multiples of their prices in other countries. A bottle of nitrofurantoin "slightly larger" than that on U.S. shelves, the FT reported, can be purchased in Britain for the equivalent of $582, less than one-fourth Nostrum's U.S. price.
Trump has tried to position himself as a foe of high pharmaceutical prices, but thus far healthcare experts say his policy prescriptions have fallen short of what's needed. Trump has boasted of goading big drug makers such as Pfizer and Merck into rolling back their most recent price increases, but for the most part the most high-profile rollbacks have been temporary or shot through with loopholes.
Keep up to date with Michael Hiltzik. Follow @hiltzikm on Twitter, see his Facebook page, or email michael.hiltzik@latimes.com.
---