Column: FDA says StemGenex marketing of unproven stem cell treatments is illegal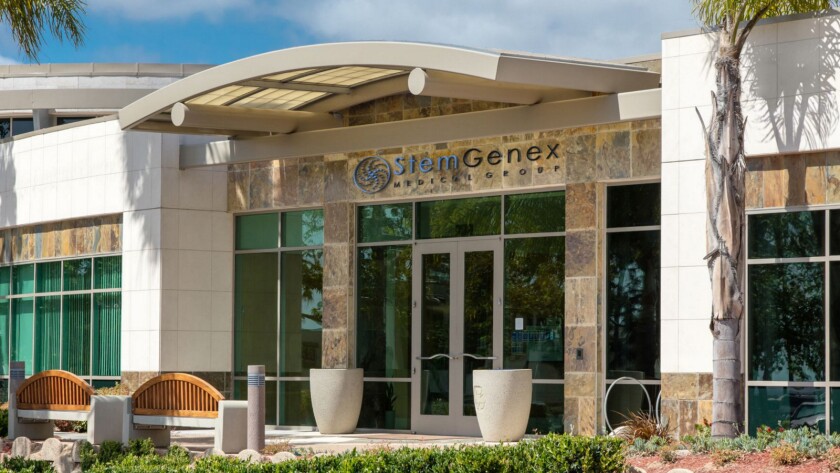 The Food and Drug Administration has come down hard on StemGenex, a La Jolla clinic pitching stem cell treatments for multiple sclerosis, diabetes, Parkinson's and other conditions.
In a warning letter made public Tuesday, the FDA says that StemGenex's marketing is illegal, and that its manufacturing procedures are "putting patients at risk." The agency also said that there's no evidence that StemGenex followed up or investigated "multiple complaints involving possible adverse effects" of its treatments experienced by patients.
The agency says that StemGenex could be subject to further action including "seizure, injunction, or prosecution" if it doesn't correct roughly 20 "objectionable conditions" or deviations from acceptable practice that its inspectors discovered during visits to the facility in January.
We continue to see bad actors exploit the scientific promise of this field to mislead vulnerable patients.
FDA Commissioner Scott Gottlieb
The FDA's action against StemGenex appears to be one of the more stringent in its developing campaign against clinics hawking stem cells as therapies for a host of medical problems, invariably without scientifically valid evidence to back them up. The headline on its announcement of the action, accusing StemGenex of "illegally marketing" an unapproved treatment, is unusually blunt.
StemGenex hasn't responded to our request for a comment.
The FDA's announcement also placed its action against StemGenex squarely within its campaign against clinics making bogus claims about stem cell therapies. "We continue to see bad actors exploit the scientific promise of this field to mislead vulnerable patients into believing they're being given safe, effective treatments," FDA Commissioner Scott Gottlieb said in the announcement, "when instead these stem cell producers are leveraging the field's hype to push unapproved, unproven, illegal, and potentially unsafe products."
In its warning letter, the FDA points to the way these treatments may move from being innocuous (albeit expensive) to being actually harmful — "use of these unapproved products may cause users to delay or discontinue medical treatments that have been found safe and effective."
We've reported on StemGenex numerous times. We've detailed how it charges roughly $15,000 per session — almost never covered by insurance — for treatments that lack any scientific basis. We've reported allegations that it told prospective customers it had a 90% success rate, a statistic for which it had no evidence. And we've reported on the proliferation of other clinics luring desperate patients with scientifically unsupportable claims based on the public impression that stem cells are some sort of miracle cure for almost anything that ails them.
Typically, these clinics liposuction fat cells from customers' body and purportedly extract stem cells from the tissue. They then inject the stem cell solutions back into the customers' bodies at the site of an injury, intravenously or through some other pathway.
The FDA's warning letter to StemGenex offers a detailed accounting of the inadequacies its inspectors found, including some that raise "potential safety concerns." Its overarching finding is that the processing of the fat cells is tantamount under the law to manufacturing a drug, and since StemGenex has no permit to manufacture a drug, its actions violate federal law.
But the agency also cited numerous conditions at the firm's premises that could give customers pause. Its inspectors found that the processing wasn't validated as sterile, meaning that it could lead to contamination by microbes; that it didn't institute controls "necessary to prevent contamination or mixups" — implying that some patients could receive injections of others' tissue; and that it didn't establish or follow written procedures for cleaning equipment between uses.
StemGenex responded to the FDA's findings after the January inspections, but the FDA doesn't sound satisfied. In some respects, the responses were too sketchy for the agency to "assess the adequacy of … corrective actions to date." The FDA rejected other StemGenex claims that it had responded adequately to the findings.
The agency said it expects further documentation of corrective steps within a couple of weeks. But there's reason to doubt that StemGenex can meet the deadline. "It would be a challenge for them to become entirely compliant in the short time they have to comply," Paul Knoepfler, a stem cell expert at UC Davis who has followed the burgeoning field of unapproved stem cell treatments closely, wrote on his laboratory blog. "They would have to not only change their laboratory practices, but more importantly stop using fat stem cells, which is the focus of their business model."
That points to the real problem the FDA is trying to address: the business model, which depends on credulous, desperate patients paying large sums for a treatment not known to work.
Keep up to date with Michael Hiltzik. Follow @hiltzikm on Twitter, see his Facebook page, or email michael.hiltzik@latimes.com.
---