Column: A billionaire shows his peers a better use of their wealth than buying crummy art
On this side, art dealer and former Goldman Sachs executive Robert Mnuchin, who just spent $91 million of a client's money on a stainless steel statuette of a rabbit.
On that side, billionaire private equity investor Robert F. Smith, who just announced to the graduating class of nearly 400 at the historically black Morehouse College that he would cover their student debt, at an estimated cost of $40 million.
If you're counting, the buyer of the Jeff Koons artwork could have made two gestures equivalent to Smith's, and had $11 million left over.
We reported on the art purchase last week. To recap, Mnuchin placed the winning bid of $91.1 million at a Christie's auction May 15 for the statuette crafted by Koons, an artist known for his appeal to a market driven by plutocratic philistines with, arguably, more money than taste. News of the action by Smith, who has been identified by Forbes as the nation's richest African American ($4.4 billion in net worth), came over the weekend.
Mnuchin, who is the father of Treasury Secretary Steven T. Mnuchin, has said he didn't buy the Koons statuette for his own collection. He hasn't revealed the buyer. Among the suspects is hedge fund billionaire Steven A. Cohen, an active participant in the high-end art market, who has been identified as the purchaser by ArtNet, but who hasn't confirmed its report. The seller was the estate of the late billionaire media mogul S.I. Newhouse.
Our suggestion that the May 15 auction — indeed, the multi-billion-dollar art market generally — justified proposals for putting a leash on big fortunes, such as Sen. Elizabeth Warren's idea for a wealth tax, produced a certain pushback from libertarians grousing about government "confiscation" and infringement of the freedom to waste one's wealth on a whim. Warren (D-Mass.) calls for a tax of 2% on net worth above $50 million and an additional 1% on net worth above $1 billion, which doesn't sound like much of a confiscatory burden. She also calls for enhancing government support for historically black colleges, such as Morehouse.
But the contrasting investments represented by the Smith and Mnuchin expenditures also point to some issues about billionaire philanthropy that warrant scrutiny.
It's proper to acknowledge that spending millions on art of dubious intrinsic value isn't incompatible with donating to worthy social causes. Cohen is credited with tens of millions of dollars in contributions to health and educational institutions, for example.
Other billionaires have made their mark with notable contributions for improved public access to art and cultural artifacts. Hedge fund promoter Stephen A. Schwarzman announced a $100-million donation to the New York Public Library in 2008, in return for which he got the system's landmark main building on 42nd Street rechristened in his name. Los Angeles billionaire Eli Broad has opened his art collection to public viewing via the Broad museum on Bunker Hill, to which admission is free. The Getty Museum also is free.
No one should begrudge these donors the honor of having their names associated with their largess. But no one should forget that some of their contribution is billed to the general public, via the tax deduction they receive for philanthropic donations. Unlike the federal income tax deductions for state and local taxes, charitable deductions weren't capped by the tax cut enacted by Republicans in December 2017, most of which went into the pockets of the 1%.
The issue with mega-donations that seldom gets discussed is whether some are worthier of the tax deduction than others. Consider contributions to university endowments. These are invariably treated as public boons (except perhaps when they come with ideological strings attached, as is the case with contributions from people like the Koch brothers).
Yet in many cases they only make the rich richer. In 2016, Nike founder Phil Knight announced a $400-million gift to Stanford University, which was then the nation's fifth-richest university; in 2018 it was ranked fourth, with an endowment of $24.8 billion.
As we wrote at the time, assuming that Knight paid the top marginal federal tax rate on his income, the donation then gave him a tax break worth $158 million — that's an invoice paid by the U.S. taxpayer. Then and now, however, public universities such as the University of California were being starved of resources.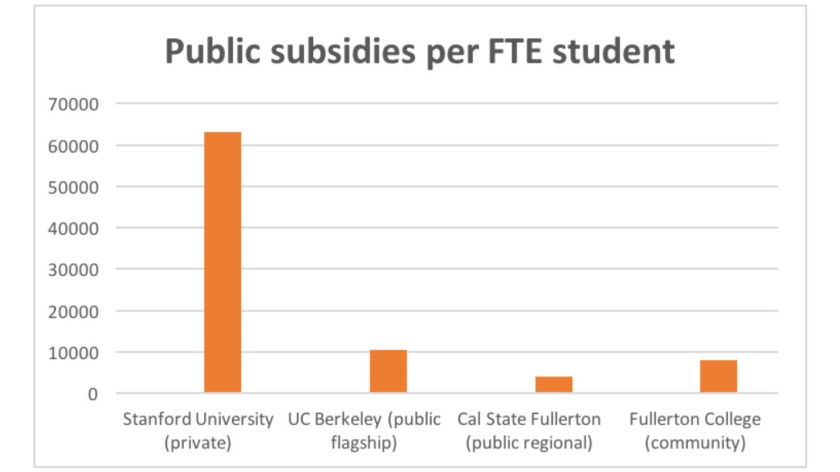 Other high-profile donations really look like billionaires' donations to themselves, albeit well-disguised. Economic commentator Felix Salmon blew the whistle in 2012 on hedge fund billionaire John Paulson's $100-million donation to the Central Park Conservancy, which nurtures a park just a few steps from his town house.
"If you wanted to give $100 million to charity while making the barest minimum impact on the world, you'd be hard pushed to improve on Paulson's performance," Salmon wrote. The donation got Paulson, one of a class of financiers whose image was sullied by the financial crisis, breathless praise from the New York Times.
What makes Robert F. Smith's philanthropic act appear to stand apart is that it seems selfless. Many of the 400 beneficiaries of his donation come from families that have struggled to pay the bills for their education.
Smith received nationwide acclaim for his act, which he announced at the Morehouse commencement May 19, where he was the commencement speaker, but it's not like he'll be taking a trophy home for his personal gallery like the buyer of the Koons statuette. The gift also seems to fit with Smith's general approach to philanthropy, which has focused on human rights, support for black cultural institutions, and healthcare and educational opportunities for minority Americans.
Smith is addressing a problem, the burden of student debt, that government seems unwilling or unable to fix. If Smith takes a tax deduction for his gift, it's in the nature of a charge to federal taxpayers for something they should be paying for anyway. If the U.S. had a sensible system of paying for higher education, he wouldn't have to spend $40 million helping a few hundred needy students, and he'd be able to devote that sum to some other endeavor. The evidence suggests that it wouldn't be on a polished figure of stainless steel.
Keep up to date with Michael Hiltzik. Follow @hiltzikm on Twitter, see his Facebook page, or email michael.hiltzik@latimes.com.
---
Your guide to our clean energy future
Get our Boiling Point newsletter for the latest on the power sector, water wars and more — and what they mean for California.
You may occasionally receive promotional content from the Los Angeles Times.