Column: Ex-CEO Geisha Williams steered PG&E into bankruptcy, but still got a big raise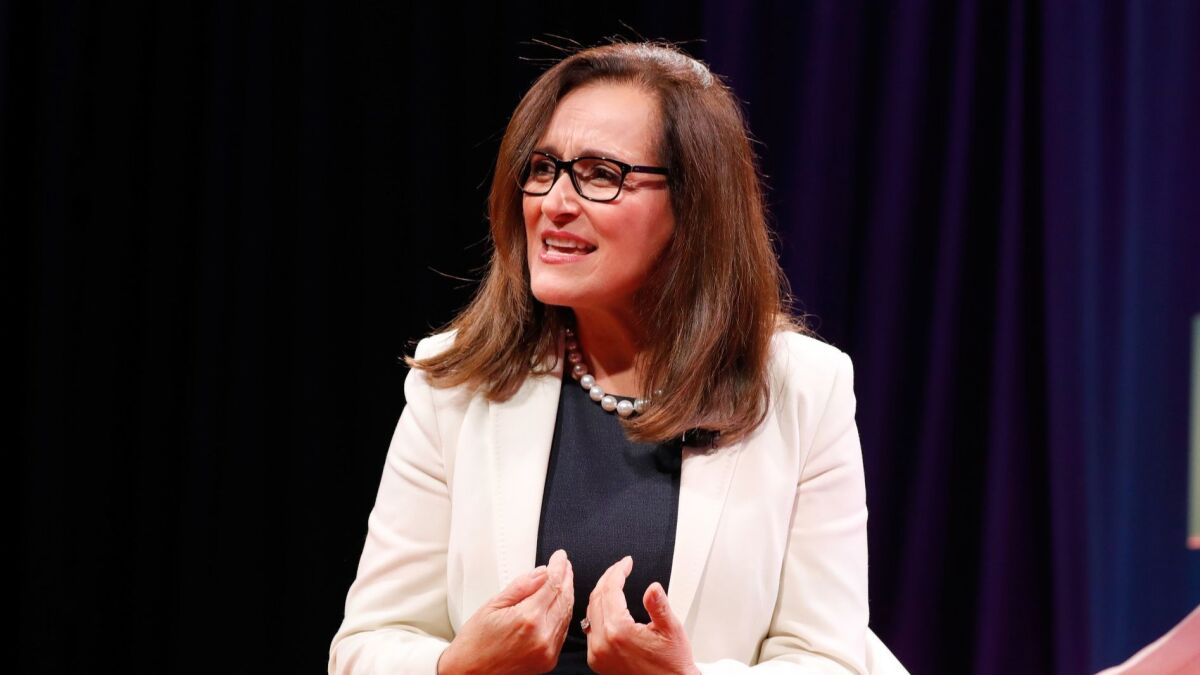 The mismatch between the accomplishments of American corporate CEOs and their pay is a long-running scandal.
But it will be hard to find a more telling example of the discrepancy than the story of Geisha J. Williams, who became the chief executive of Pacific Gas & Electric Corp. in March 2017 and resigned on Jan. 13.
That was two weeks before the company filed for bankruptcy, blaming its ills on the liability it faces for its role in a series of devastating wildfires.
But according to a corporate disclosure PG&E filed last week, Williams received a handsome raise for 2018 — 8.1% overall, and nearly 9% in base salary, outside of incentive pay. The utility said that almost all of Williams' compensation — about 90% of it — was "tied to corporate performance."
We are committed to taking strong actions that will help us re-earn the trust of all our stakeholders. This starts at the top.
— PG&E board
Really? PG&E lost $6.9 billion on revenue of $16.8 billion in 2018, compared with a profit of $1.7 billion on revenue of $17.1 billion the year before. Its shares closed out the year at $23.75, down more than 46.5% from their price when the year opened.
For comparison's sake, Williams' overall 2018 compensation of $9.3 million exceeded that of her nearest California counterpart, Pedro Pizarro of Edison International, who collected $7.4 million. Edison, which also was affected by wildfires, lost $423 million on revenue of $12.7 billion last year.
The general issue of CEO compensation is receiving its annual scrutiny these days because this is the period in which companies release their proxy statements, which specify executive pay.
But the issue is somewhat more fraught this year for a few reasons. One is that Democrats in Congress and on the presidential campaign trail are shining a spotlight on economic inequality, of which outsized CEO pay is a major cause. Another is the requirement that public companies report the ratio of their CEOs' pay to that of their median employee, which underscores the enormous gap in many corporations.
That leads us to the attack launched earlier this month by Abigail Disney, a philanthropist who is a grandniece of Walt Disney, on the $65.6-million compensation of Walt Disney Co. CEO Bob Iger for 2018. That pay was more than 1,400 times that of the median Disney employee, and 80% higher than in the last fiscal year, largely because of stock awards tied to his 2017 contract extension.
"By any objective measure," Abigail Disney tweeted, "a pay ratio [of] over a thousand is insane." Disney owns minimal shares in her namesake company and has no role in management.
Back to PG&E, most of its dismal performance is blamed on the wildfires. But it's proper to observe that Williams' responsibilities included fixing her company's wretched operational and safety performance. There's no evidence she made a dent there. In fact, the PG&E board implicitly agreed that she wasn't up to the task.
In its annual disclosure, the board said, "We are committed to taking strong actions that will help us re-earn the trust of all our stakeholders. This starts at the top." Williams and most of the board members were replaced, the company said, "with experienced people with the commitment and expertise necessary to redirect our safety culture and navigate one of the most complex corporate reorganizations ever."
In other words, Williams didn't have those qualities. She's been replaced as CEO by Bill Johnson, the former head of the Tennessee Valley Authority.
In a rational world, CEOs who turned in Williams' performance would have had a hard time surviving even as long as she did, or seen their compensation reduced sharply, especially if it were truly tied almost exclusively to corporate performance. But PG&E's compensation committee found some sly ways to circumvent the corporate performance metrics.
They reduced Williams' incentive stock awards by $100,000, to $6.4 million. But they also gave her $1.6 million in stock options, which she had not received in the past. (Those options may well expire worthless, given the potential trajectory of PG&E shares.)
It's proper to point out that Williams' compensation encompassed numerous perks, including a car and driver, a $51,000 security system for her home, health club and "executive health" services worth $5,453 and financial services subsidized to the tune of $7,980. These are consistent with what CEOs receive at other companies, but they should prompt shareholders to say: "Are you telling us that a CEO earning more than $9 million can't afford her own security system and financial advisor?"
What about that big annual loss? PG&E's compensation committee finessed it by declaring $8.8 billion in costs stemming from the wildfires to be "items impacting comparability," defined as "items that management does not consider part of the normal course of operations." That enabled them to magically turn a loss of $6.9 billion into an imaginary profit of $2.1 billion.
This sounds like a groundbreaking approach to corporate earnings reports: "We made a profit, except for those huge expenses that destroyed our profitability." Nice, except that the basis for PG&E's bankruptcy filing, as well as its lobbying in Sacramento for a wildfire-related bailout, is that wildfire-related costs are going to become a permanent part of its future — in other words, they are indeed "part of the normal course of operations."
But that's only one respect in which PG&E's management wants to have things both ways. It also wants to damn Geisha Williams as the wrong person for the job of CEO, but chose to praise her record by giving her a raise in 2018. How many of the company's other employees got a boost of more than 8%, one wonders, even if they actually did their job well?
Keep up to date with Michael Hiltzik. Follow @hiltzikm on Twitter, see his Facebook page, or email michael.hiltzik@latimes.com.
---