Disney heiress calls CEO Bob Iger's $65.6-million pay package 'insane'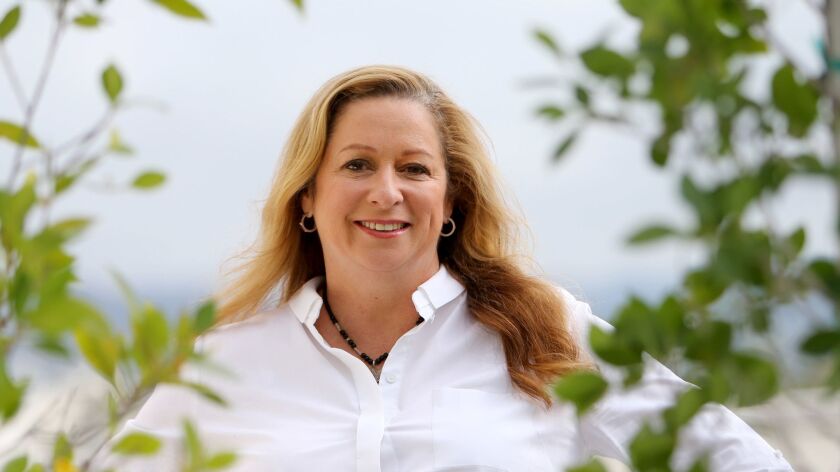 Walt Disney Co. Chief Executive Bob Iger's compensation has a major critic who shares the founder's name.
Philanthropist and documentarian Abigail Disney, who is grandniece of Walt Disney and granddaughter of co-founder Roy O. Disney, sharply rebuked Iger's most recent pay package as "insane," both at an event last week hosted by the publication Fast Company and in a thread of tweets she posted Sunday.
The heiress, who is not involved with Burbank-based Disney's business and owns a small number of shares, described Iger's compensation as an example of companies giving lavish rewards to top executives instead of improving the lot of lower-wage workers, including theme park workers.
The New York resident cited a recent Equilar study that said Iger's $65.6-million compensation in fiscal 2018 was more than 1,400 times that of the median Disney employee. Iger's pay jumped 80% in the most recent fiscal year, largely because of stock awards tied to his 2017 contract extension.
"Let me [be] very clear," she tweeted. "I like Bob Iger. I do NOT speak for my family but only for myself. Other than owning shares (not that many) I have no more say in what happens there than anyone else. But by any objective measure a pay ratio [of] over a thousand is insane."
A Disney spokesman disputed the notion that Disney overcompensates Iger at the expense of its workers.
The company said in a statement that it has made "historic investments" to benefit its employees by setting a starting hourly wage of $15 at Disneyland that is double the federal minimum wage, and by committing up to $150 million for an education initiative for hourly workers to earn a college or vocational degree free of charge.
"Mr. Iger's compensation is 90% performance-based and he has delivered exceptional value for shareholders," the statement added. "Disney's market capitalization has grown exponentially over the last decade, rising $75 billion in the last month alone."
Disney's stock soared to record heights this month after the company wowed analysts with a preview of its upcoming streaming service Disney+, for which it will charge $6.99 a month starting in November. The company recently completed its $71.3-billion purchase of 21st Century Fox in a move to bolster its streaming ambitions.
The stock price has increased to $132 a share from $24 a share when Iger became CEO in 2005, the company said. The shares declined 77 cents, or 0.6%, to $131.68 on Monday.
Nonetheless, Iger's compensation has been a flashpoint in recent years.
The company earlier this year cut $13.5 million from the executive's annual target pay package to $35 million, partly in response to investor blowback.
Shareholders narrowly approved the revised pay package in March, voting 57% in favor, a year after shareholders voted 52% against his compensation plan in a nonbinding resolution that was seen as a stern rebuke to the firm.
In December, the company increased the performance bar it must hit for Iger to collect more than $100 million in incentives he could earn as a result of the Fox acquisition.
Disney is investing heavily in expansions at its U.S. theme parks. Star Wars: Galaxy's Edge, an ambitious 14-acre project, will open at Disneyland in two stages this year. An identical planned attraction will also open at Walt Disney World in Orlando, Fla.
Abigail Disney has previously been outspoken about social justice issues and has been a supporter of the #MeToo movement. She and production company Killer Content launched the female-fronted entertainment firm Level Forward after a failed effort to buy the assets of Weinstein Co.
---
From the Emmys to the Oscars.
Get our revamped Envelope newsletter, sent twice a week, for exclusive awards season coverage, behind-the-scenes insights and columnist Glenn Whipp's commentary.
You may occasionally receive promotional content from the Los Angeles Times.