Column: Canceling 'Roseanne' may have been the easiest decision Disney ever made. Here's why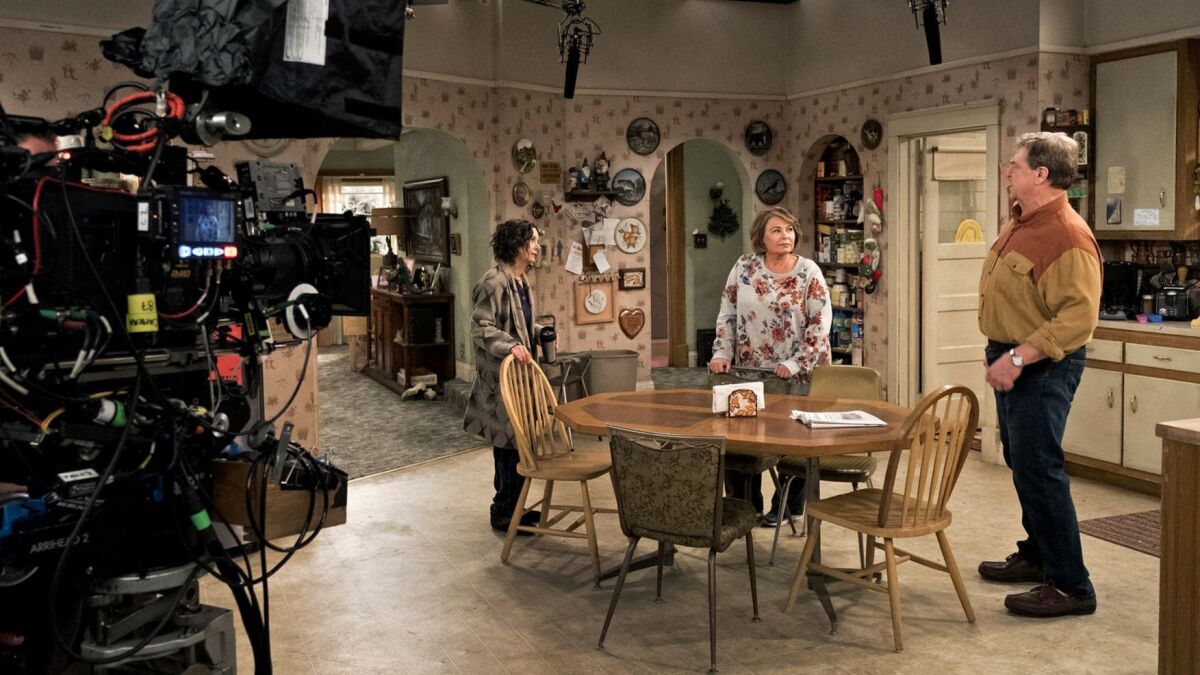 Among the hand-wringing over ABC's snap decision Tuesday to cancel "Roseanne," we're being asked to bow down to the courage shown by the executives who made the decision to ax what was the network's top-rated new show.
Disney Chairman Bob Iger, ABC Television Group President Ben Sherwood and ABC Entertainment President Channing Dungey all had to weigh the value of the "Roseanne" franchise against the despicable nature of Roseanne Barr's racist and anti-Semitic tweets. They came down on the side of doing what was right, it's said: Moral rectitude won out, easily.
It would probably be churlish to conclude that moral judgment had nothing to do with Tuesday's decision. But let's not fantasize that monetary calculations didn't enter into it. In business, money talks, and in few businesses does it talk as loudly as the entertainment business. In this case, it was undoubtedly screaming at the top of its lungs.
For the record, I have absolutely nothing to do with Roseanne's Twitter account.
— ABC executive Ben Sherwood, joking with Roseanne Barr two weeks ago
The fact is that Walt Disney Co., the parent of ABC, had a lot more to lose by keeping "Roseanne" on the air than it had earned in the rebooted show's just-concluded first season or any future season.
Let's do some math.
Disney, of course, is a preeminent entertainment conglomerate comprising theme parks, a film studio, cruise ships and, oh yes, television networks. Altogether, the company collected $55 billion in revenue in 2017, and recorded a profit of about $9 billion. The company's media network segment contributes a bit more than 40% of revenue and perhaps half of profits, according to Disney's most recent quarterly report.
But the broadcast network, ABC, is sort of the poor cousin in the media segment, accounting for less than one-third of the segment's revenue and about 20% of profit — and that's counting the contribution of "Roseanne." In the most recent quarter ended March 31, broadcasting was the second-smallest contributor to revenue of all Disney's operations, and by far the smallest contributor to profit, earning a scanty $343 million in operating profit.
How much did "Roseanne" account for? The new show's nine-episode first season — or its 10th, counting the original nine-season run that ended in 1997 — brought $45 million in ad revenue during its run from March 27 through May 22, according to an estimate by advertising data firm Kantar Media. That was expected to rise to $60 million for the 13 episodes ABC originally ordered for the next season, which has now been canceled, Kantar said.
That may not be a lot for Disney — about one-tenth of 1% of total annual revenue — but it's a lot for a half-hour broadcast comedy in today's media landscape. That may explain why Barr was given a starring role at ABC's "upfront" presentation to advertisers two weeks ago.
Barr came out on stage to open the session with a bit of cutesy byplay with Sherwood, some of it built around her predilection for provocative political tweeting: "Here's the guy who really writes most of my tweets … Ben Sherwood," she announced. He responded: "For the record, I have absolutely nothing to do with Roseanne's Twitter account," while standing under a giant mock-up of a tweet from Barr calling him "kind of a more handsome and rugged Ben Affleck."
It was all jolly good fun, until the dime dropped on the epic offensiveness of Barr's Twitter account.
So what was at stake for Disney? There is scarcely an entertainment market in which the company wouldn't be vulnerable to expressions of consumer outrage. On cable, its properties include ESPN and the wholesome Disney Channel. It owns eight broadcast channels, including high-rated channels in Los Angeles, New York and Chicago, and has affiliation agreements with 244 more. Commercial sponsors at every one could have become the target of consumer boycotts over Barr's tweets.
So, too, could film productions by Disney subsidiaries Pixar and Marvel Entertainment, and new entries in long-running franchises such as "Star Wars." (Disney paid $4 billion for the films' producer, Lucasfilms, in 2012.)
Indeed, the "Roseanne" show wasn't close to Disney's most lucrative new entertainment property. That trophy most likely belongs to "Black Panther," the Marvel production that has so far racked up nearly $1.4 billion in worldwide box office receipts, of which $699 million has come in the United States.
For a company riding the wave of black empowerment exemplified by the "Black Panther" storyline amid hopes of turning the film into a long-running franchise, hitching its wagon to a star who tweets that former Obama aide Valerie Jarrett, an African American, is the offspring of "Muslim brotherhood & planet of the apes" simply did not compute.
One more thing: Disney is angling to buy 21st Century Fox's film, cable and direct broadcast satellite divisions for $52.4 billion. Comcast has said it might stage a bidding war. Would Disney really want Barr hanging around its neck when this deal comes before government regulators?
Disney sources have been putting out the word that "advertisers were not a factor in the decision" to cancel the TV show, to quote CNN's Brian Stelter. If that's true, it's only because there were so many other factors that advertisers drifted well down the list. Let's not forget that once Barr's racist tweet became widely publicized, the prospect of collecting $60 million in ad sales for the next season evaporated like a puff of vapor.
"Roseanne" — the show and the star — looked big as recently as two days ago only in the context of broadcast television's shrinking entertainment footprint. In the context of Walt Disney Co.'s corporate interests, they were small potatoes indeed. The moment the first hints of an uproar over Barr's tweets emerged on Tuesday, her role in the company's present and future was over. If Disney Chairman Bob Iger spent more than 10 minutes pondering what to do, he was wasting his time. No decision could have been easier.
Keep up to date with Michael Hiltzik. Follow @hiltzikm on Twitter, see his Facebook page, or email michael.hiltzik@latimes.com.
Return to Michael Hiltzik's blog.
---
UPDATES:
4:15 p.m.: This column was updated with additional data from Kantar Media.
This column was originally published at 3:20 p.m.
Get our L.A. Goes Out newsletter, with the week's best events, to help you explore and experience our city.
You may occasionally receive promotional content from the Los Angeles Times.