Despite today's hijacking, fond memories of flying Ethiopian Airlines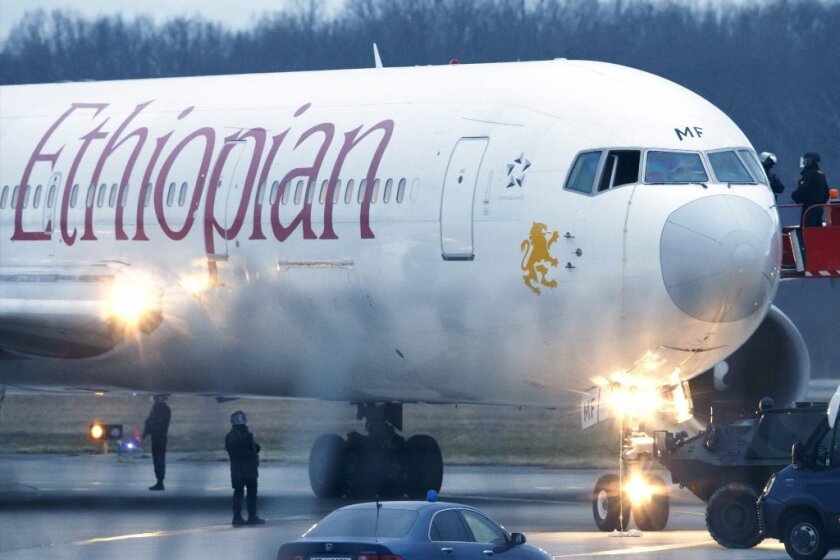 Today's hijacking to Geneva of a Rome-bound Ethiopian Airlines jetliner brought back memories for us--not of hijackings of the past, but of this exceptional airline, which we flew all over Africa, often in in rather singular conditions, during the 1980s and early 1990s.
To get the most urgent news out of the way first, today's incident was resolved without injuries to any of the 202 passengers and crew about the Boeing 767. Reports are that a co-pilot locked his colleague out of the cockpit when the pilot took a bathroom break after the plane departed Addis Ababa. The hijacker sought asylum in Switzerland. He surrendered upon landing and is now in custody.
Africa hands (we served The Times out of Nairobi, Kenya, from 1988 through 1992) think fondly of Ethiopia Airlines as the best African airline, by a wide margin--in fact, better than many Western carriers we can board at LAX. Its customer service reps and cabin crews were unfailingly pleasant and, more important, its fleet and maintenance standards met first-world standards.
RELATED: Camel meat and me: A culinary saga
Wherever you were flying in Africa, Ethiopian Air was the first choice; the only exception might be on a trip transiting between East and West Africa through Europe, when a flight on KLM, British Airways, or Swissair might be available. We're still in possession of the last few gilded tumblers from a set of six presented to Ethiopian's frequent fliers in 1991, in honor of its acquisition of Boeing 727s for its fleet.
The key to the aircraft's success was that, despite being a government-owned company, it hewed to capitalist standards of profit and loss. That was true during the regime of Marxist dictator Mengistu Haile Mariam, which ended in 1991, and during his rebel successor, Meles Zenawi, who died in 2012.
These governments plainly understood that a smoothly-functioning international airline was a magnet for desperately needed foreign exchange. That seems obvious, but it was a rule flagrantly violated by many other foreign regimes, whose leaders thought nothing of commandeering the national aircraft for personal travel, often on a whim. The worst and saddest case was Air Afrique, a West African carrier owned jointly by French airline UTA and a dozen Francophone countries, which was afflicted by rampant corruption and went bankrupt in 2002.
Ethiopian's efficiency was properly legendary. Its hub was the Ethiopian capital, Addis Ababa, a lovely, temperate city nestled among hills covered with evergreens--though during the Mengistu years the visas required to leave the airport transit lounge were hard to come by, especially for journalists. You might have thought that the efficiency of this hub was threatened in 1991, when rebels surrounded Addis, Mengistu fled the country and widespread disorder threatened.
But no: the day after Mengistu's ouster, my flight from Nairobi into Addis was delayed by less than 30 minutes. I remember thinking that a snowstorm in Denver would have wreaked more damage to the entire U.S. air travel system than the deposing of the Ethiopian dictator did to Ethiopian Airlines' flight schedule. It still would.
That said, flights on Ethiopian could be on the wild side. during the Ethiopian civil war, several came under rebel attack or hijack attempts. The most spectacular was a 1996 hijacking that ended when the plane ran out of fuel and ditched in the Indian Ocean off Comoros, well-documented by tourists on the beach. The crash took the lives of 123 of the 175 passengers and crew, including a friend, the veteran African photojournalist Mohamed Amin.
During one flight to Addis from Axum, an ancient northern city that claims proudly to have been the home of the Queen of Sheba, most of my fellow passengers boarded with live chickens in hand, presents for family members in the capital suffering through a food shortage in the disorderly post-ouster period. The trussed-up fowl were deposited unceremoniously in baggage closets and compartments like so many overcoats and pocketbooks. Every time a new passenger boarded and stowed his luggage on top of them, the entire plane echoed with deafening squawks.
Then there was Ethiopian's attenuated route map; a cross-continental flight out of Addis might make four stops or more before landing in West Africa, making for a seemingly endless, exhausting trip. The original route of the 1996 flight that ended in the waters off Comoros was Bombay-Addis-Nairobi-Brazzaville (Congo)-Lagos (Nigeria)-Abidjan (Cote d'Ivoire), which sounds typical.
Today's hijacking notwithstanding, Ethiopian is still a first-class airline. it claims to be turning record profits, although its financial results are unaudited, and it's the first African airline to fly the Boeing 787 Dreamliner. If you're looking for a sign that Africa's economy is joining the rest of the world, there it is.
---