IBM redefines failure as 'success,' gives underachieving CEO huge raise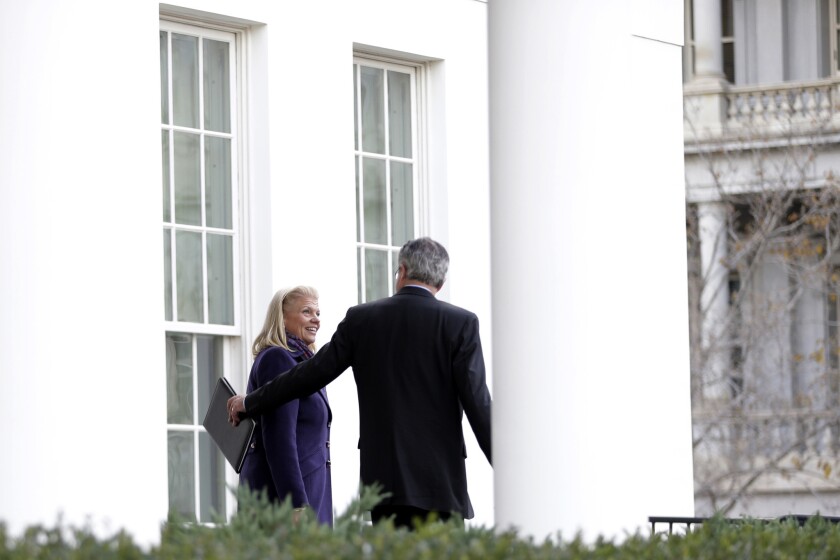 The IBM board of directors did a huge favor for mediocre CEOs the world over on Friday by announcing (quietly) that it has granted Chairman and Chief Executive Virginia Rometty a $3.6-million bonus for 2014 and a $13.3-million stock incentive award payable in 2018. She's also getting a 6.7% bump in her base salary, to $1.6 million from $1.5 million.
Here's the record for 2014 the board thought was good enough to warrant a raise for Rometty: IBM's revenue declined by nearly 6%, and net income by 27%. IBM shares began 2014 at a dividend-adjusted $183.12 and ended the year at $160.44, a decline of 12.4%. During that period, the Standard & Poor's 500 index rose 12.4%. (As we write on Monday, IBM has fallen further to $152.12.) IBM has been the worst performing stock on the Dow Jones Industrial Average for two years running.
If you're looking for an explanation of rising income inequality in America, Rometty's compensation is a good place to start. She's far from the most overpaid CEO in America -- IBM is still hugely profitable, after all. But her record hasn't been sterling by any measure, and many investors remain on the fence about whether Big Blue is in the right hands. Under the circumstances, and considering the rut in which most working-class wages have been stuck for years, most IBM shareholders, employees and members of the general public are sure to consider her raise inexplicable. Apologists for rising income inequality in America often say it reflects the pay of "superstar" artists, sports figures and CEOs. What about soaring pay for non-super CEOs?
Perhaps the IBM board knows something we don't know about Rometty's skills and IBM's performance. Perhaps we'll wake up soon and discover that they've been playing a deep game and the company is poised to blow everyone away. Some of Rometty's initiatives, including selling off unprofitable or unpromising businesses, have won praise from investors.
But company executives aren't hinting at a major turnaround soon. About a week ago, in a conference call to discuss the latest dismal results, the company forecast earnings per share for this year at $15.75 to $16.50, below Wall Street expectations. Late last year it abandoned its long-held ambition of hitting earnings of $20 a share in 2015.
In its corporate disclosure statement last week, IBM didn't go into any detail about why Rometty was due for a raise. During a conference call on Jan. 20, when the firm announced its dismal 2014 results, Chief Financial Officer Martin Schroeter made some noises about some company initiatives that will "generate some momentum." But the best he could project for other parts of the business was modest growth in some and "stabilization" elsewhere.
When was the last time you heard of a rank-and-file American worker getting a 6.7% raise and a rich incentive bonus based on the "momentum" of his or her work?
On the whole, IBM has been looking like a brained, floundering giant. Not all of this is the fault of Rometty, who took over as CEO in January 2012; almost all the businesses important to IBM are going through wrenching transitions, and the dollar's strengthening against the Euro isn't helping on the currency conversion side.
Still, if the goal of IBM's executive compensation system is to attract and reward leaders "who can drive a global enterprise to succeed in today's competitive marketplace," then the best one can say is that it's not yet clear that it's working in Rometty's case. The company has posted lower revenue for 11 quarters in a row.
IBM's executive compensation process, which covers Rometty and her four top lieutenants, appears designed to stay divorced from the real world. First, at least on the surface, it's the product of logrolling. The four members of the board's executive compensation committee are themselves all current or former corporate CEOs -- Andrew Liveris, chairman and CEO of Dow Chemical; W. James McNerney, chairman and CEO of Boeing; Alain Belda, retired chairman and CEO of Alcoa; and Sidney Taurel, retired chairman and CEO of Eli Lilly. Corporate CEOs are, as a species, known for a sense of entitlement that could make $17 million in raises, bonuses and "incentive compensation" seem like punishment. The process by which CEOs help set the pay for their fellow CEOs is perhaps the biggest flaw in the American way of executive compensation.
The compensation committee members all collect at least $250,000 a year for serving on the IBM board, but as of the company's last proxy statement in March 2014, only Taurel was an IBM shareholder (he owned 11,000 shares).
It's proper to ask who really drives the company's executive compensation system. Last year, IBM made much of the fact that Rometty and her senior team "recommended" forgoing their annual incentive payouts for 2013 "in view of the company's overall full year results," which encompasses a decline in revenue of 4.6% and a drop in earnings of 0.7%.
The board accepted the recommendation, but why did it wait for Rometty to make the offer -- couldn't the board dock her for poor performance on its own initiative? Still, the directors lauded Rometty for, among other things, having "returned significant value to shareholders through $14 billion in share buybacks and increased dividends" by $300 million. Neither of these steps, obviously, helps a big corporation to grow. And the share buyback, obviously, hasn't helped buoy IBM stock in the face of doubts about corporate strategy and performance.
We'll hear some explanation for Rometty's compensation when IBM releases its proxy statement this spring. The document will make interesting reading. One thing's for sure: It will take a corporate CEO to understand the rationale.
Keep up to date with the Economy Hub. Follow @hiltzikm on Twitter, see our Facebook page, or email mhiltzik@latimes.com.
---
Your guide to our clean energy future
Get our Boiling Point newsletter for the latest on the power sector, water wars and more — and what they mean for California.
You may occasionally receive promotional content from the Los Angeles Times.