Steven Spielberg's Amblin Partners is taking a bigger bet on TV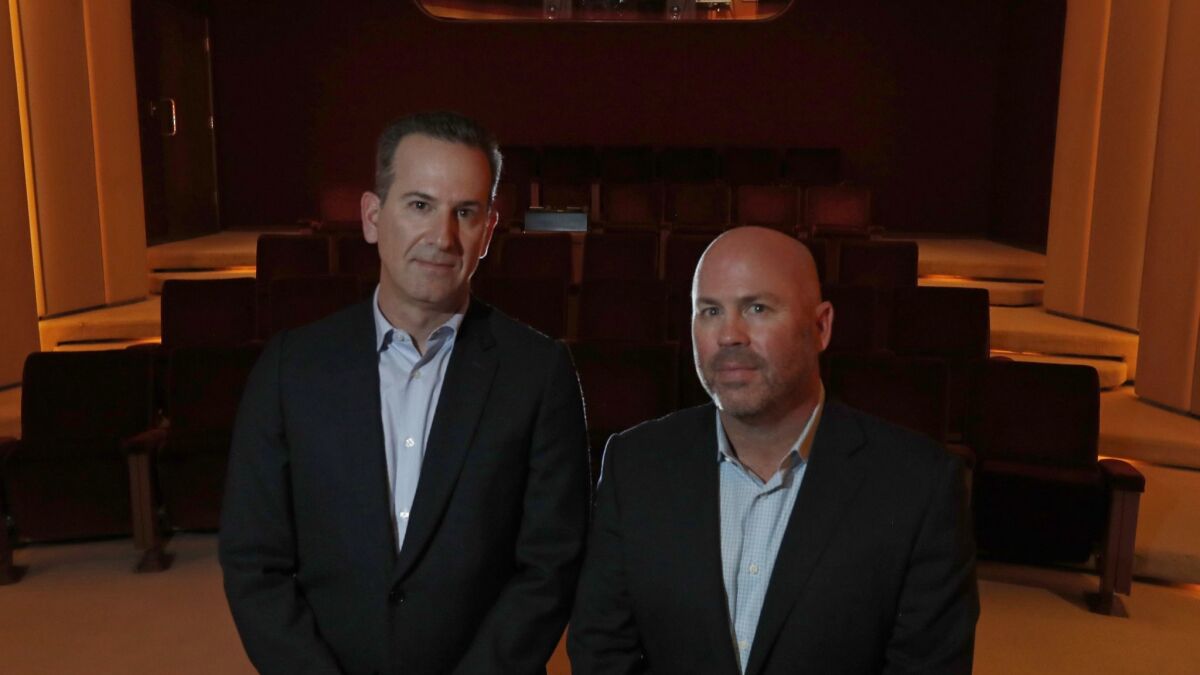 After acclaimed Japanese filmmaker Akira Kurosawa died 20 years ago, Steven Spielberg eulogized him as "the visual Shakespeare of our time."
So when Darryl Frank and Justin Falvey, co-presidents of Spielberg's television business, got the opportunity to make a TV show out of Kurosawa's 1950 masterpiece "Rashomon," they jumped at the chance.
They thought the central idea — in which a single mystery is retold over and over from subjective points of view — would resonate with audiences at a time when the truth feels increasingly malleable.
"It really shifts your perspective," Frank, 49, told The Times. "In this day and age, the idea of chasing the truth and finding out the objective reality was something that appealed to us all."
The planned 10-episode series, which is in early development, reflects the growing television ambitions of Universal City-based Amblin Partners. Spielberg has long been known as the force behind such Hollywood blockbuster movies as "E.T. the Extra-Terrestrial," "Jurassic Park" and best picture Oscar winner "Schindler's List." But in a sign of the growing influence of Netflix and other streamers, his company is expanding its foray into television production.
With "Rashomon" and other projects, Amblin is beginning to finance some of its own TV shows, a major departure from its traditional role as an independent producer for series funded by other studios. Amblin — known for respected shows including "The Americans" on FX and "The Haunting of Hill House" on Netflix — has set aside more than $50 million in equity and debt financing to fund televisions productions, according to people familiar with the firm's finances. The company plans to invest in up to three of its own shows a year.
By financing our own shows, we will have the ability to grow the business and better control the creative process to help us achieve our goals.
— Steven Spielberg
Early efforts include an original fantasy idea by Spielberg that the company is developing with Michael Bay's company Platinum Dunes. Another planned series is based on the nonfiction crime book "Judas" by Astrid Holleeder, produced with Atlas Entertainment.
By putting its own capital into television productions, Amblin is taking on more risk but also more opportunity for creative control and to generate more profits at a time when box office returns are increasingly unpredictable.
"There are limits both financially and creatively to only being producers for hire," Spielberg said in an emailed statement. "By financing our own shows, we will have the ability to grow the business and better control the creative process to help us achieve our goals."
Ramping up TV production is the latest move to boost the fortunes of Amblin Partners, which Spielberg formed three years ago in a relaunch of his struggling DreamWorks Studios.
Spielberg, along with Jeffrey Katzenberg and David Geffen, founded DreamWorks Studios in 1994 with hopes of creating the next major film company. The bold ambitions foundered and the studio was sold to Viacom Inc.'s Paramount Pictures in 2005. (DreamWorks Animation was spun off into a separate company run by Katzenberg.)
Spielberg split from Paramount in 2008 to set up DreamWorks Studios as an independent company. The studio was relaunched as Amblin Partners in 2015 and raised $400 million from Participant Media, India's Reliance Entertainment, Canadian distributor Entertainment One, Universal Pictures and China's Alibaba Pictures.
Since then, Amblin's films have produced mixed results, with box office disappointments such as last year's "Ghost in the Shell." It enjoyed some success this year with Spielberg's "Ready Player One" and Eli Roth's "The House With a Clock in Its Walls."
On the TV side, Frank and Falvey — who began working together more than 20 years ago at DreamWorks Television — are well-regarded executives with strong talent relationships. They came up with the idea to turn the Shirley Jackson novel "The Haunting of Hill House" into a 10-episode series, which debuted on Netflix in October to widespread critical praise.
Yet there have been setbacks, including NBC's behind-the-scenes musical "Smash," ABC's "The Whispers" and Fox's "Minority Report," which were canceled after brief runs.
"It's a little surprising they haven't done more, given the brain trust there and the talent that Steven Spielberg represents," said Tom Nunan, a former network and studio executive who lectures at the UCLA School of Theater, Film and Television.
Still, Nunan praised their endurance as industry players.
"They've weathered every evolution and disruption in TV in the past 25 years," he said. "It's highly unusual for a company to be as stable and have the same team as long as Darryl, Justin and Steven have run this company."
Amblin Partners declined to disclose financials, but a person close to the studio said the TV division is profitable. Amblin currently has 13 shows and TV documentaries in production or ordered by networks, its highest number to date, according to executives. The unit has a small staff of about a dozen people who work on the Universal lot where Spielberg made his name.
"The timing has been fortuitous that, with the advent of the streamers and Amblin Partners providing us some financial resources, we can finance a show and put a little more firepower and fuel into it," said Falvey, 51.
Projects include an upcoming reboot of Spielberg's 1980s sci-fi anthology series "Amazing Stories," which recently began filming in Atlanta. Amblin is producing a series, expected to debut next year, with NBC for Apple's streaming video offering. A long-in-the-works adaptation of the Microsoft video game series "Halo" for Showtime, which has hit several stumbling blocks over the years, is expected to go into production next year in Budapest, Hungary.
The company is also working with Warner Bros. to revive "Animaniacs" for Hulu. The irreverent 1990s cartoon was about three wacky sibling creatures who escape from the Burbank studio's water tower to create havoc.
During talks about rebooting "Animaniacs," Warner Bros. executives came to a meeting with old artwork from the original series that was pulled from storage. During the meeting, executives said, Spielberg flipped through the sketches, regaling the attendees with his memories of the ideas and sketches that didn't make the cut for the show.
"He literally remembered every single one," Frank said of Spielberg. "The look on his face was incredible."
Spielberg's involvement is a key draw for filmmakers. Joel Fields, executive producer of "The Americans," recalled sitting in the editing room for a first-season episode of the series, when Frank and Falvey called to deliver Spielberg's notes on a car chase sequence. The notes, he said, helped make the scene more cinematic and exciting.
"They would be a phenomenal producing team in their own right," Fields said. "The fact that they come with Spielberg makes it utterly unique."
For "Rashomon," Amblin is partnering with Mark Canton and David Hopwood from production company Atmosphere Entertainment and Leigh Ann Burton to produce. They plan to start looking for a writer in January and pitching networks with a script and series next year, with the aim of airing it in 2020.
"We're not just throwing things against the wall to see what sticks." Frank said. "We're trying to go out with our first few and make sure they're highly packaged and high quality."
Inside the business of entertainment
The Wide Shot brings you news, analysis and insights on everything from streaming wars to production — and what it all means for the future.
You may occasionally receive promotional content from the Los Angeles Times.