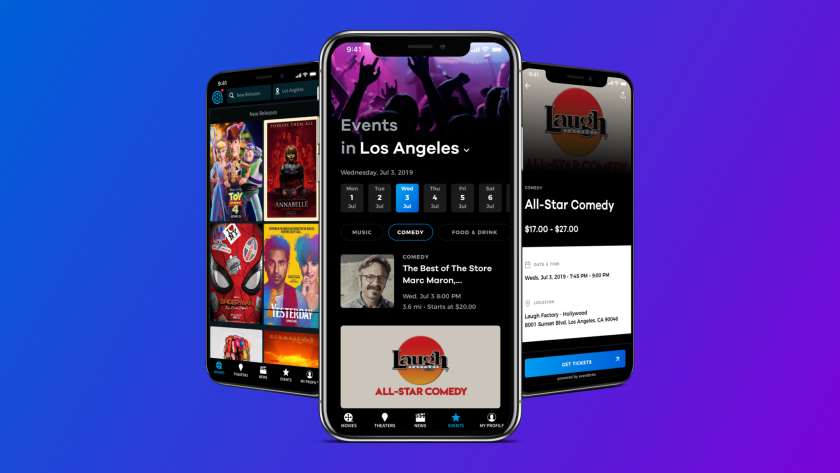 For Angelenos looking for activities on a Friday night, it can be difficult to sort through all the comedy shows, wine tastings and outdoor movie screenings happening in the city.
Atom Tickets, a Santa Monica-based movie ticket seller backed by major film studios, says it can help.
The 5-year-old firm, which has made inroads at theaters with technology that makes it easier to buy tickets and order concessions online, is expanding beyond the multiplex into local live events.
The company on Monday is launching a new initiative that lets its customers search for things to do, such as attend food festivals and concerts, through its ticketing app and website. Atom partnered with Eventbrite, an online event manager and ticket seller, to make such going-out options available on the Atom Tickets platform.
The program starts this week in three cities — Los Angeles, Boston and Atlanta — and Atom plans to roll it out in other markets during the coming months. Users who click on the "events" tab on the Atom app can sort goings-on by categories including comedy, arts and music. Featured activities include shows at the Comedy Store, wine tasting at Barnsdall Art Park and special screenings at Vista Theatre in Los Feliz.
"Movies are still our No. 1 business, but there are a lot of people who go to music and food festivals, or movies in the park or concerts," said Matthew Bakal, chairman and co-founder of Atom Tickets. "We want to say to consumers, 'If you're looking for what to do on your night out, come to Atom.'"
The move marks the latest expansion for Atom, which was founded in 2014 to compete directly with dominant ticket seller Fandango. Armed with funding from entertainment companies Lionsgate and Walt Disney Co., Atom embarked on its nationwide rollout in 2016 and has secured deals with exhibitors representing 26,000 screens in North America. Atom earlier this year scored a deal with Cinemark, the nation's third-largest circuit.
The company raised $60 million in funding last year in a round led by Fidelity Management & Research Co. to boost its aim of using social media and metrics to help theater owners fill seats and make moviegoing more convenient.
Its app helps users organize groups of friends to decide on showtimes, pay for tickets, and order their popcorn and soda ahead of time. It also uses data to deliver movie recommendations and offers occasional promotions on concessions and tickets.
With the addition of live events, the company could also use what it learns about consumer tastes to recommend local happenings to users, said Chris Brucia, Atom's head of product. For example, a person who frequents stand-up venues like the Laugh Factory may be interested in the latest Hollywood comedy, and vice versa.
"The more we know, the more we can leverage about what people like and don't like," Brucia said.
Though it's not as well known as Fandango, Atom has been growing at a fast clip. Atom Tickets has 6 million monthly active users, according to Bakal, more than double its customer base from a year ago.
Yet, Bakal acknowledges that the biggest challenge for Atom has been to gain "awareness" among moviegoers — in other words, getting people to actually try the app.
To that end, the company last week began giving away $10 Lyft ride vouchers to take customers to its new Cinemark locations. In another new line of business, Atom has also created a platform that helps theater owners create MoviePass-like subscription programs for their cinemas.
"We've got to keep innovating because there's a lot of other tech companies trying to keep people at home and on their couches," Bakal said. "We're adding features onto an already robust platform."
---