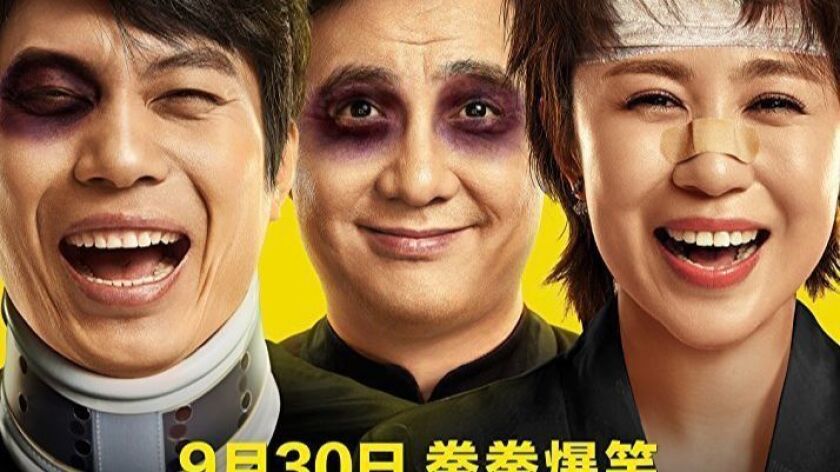 Reporting from Beijing —
Chinese sports comedy "Never Say Die" continued to rule China's box office through the first week of October, fueled by a weeklong autumn holiday that sends droves of restless citizens to the cinema.
The martial arts film raked in an additional $175.2 million in its second week of release in China, according to film consulting firm Artisan Gateway, bringing its total haul to $222.1 million in ticket sales.
"Never Say Die," which features a male boxer swapping bodies with a female reporter, is the latest release for Fun Age Pictures, a Beijing theater troupe-turned-movie producer. The film looks set to surpass its surprisingly successful 2015 debut, "Goodbye Mr. Loser."
The classic Hong Kong gangster flick "Chasing the Dragon," starring Andy Lau and Donnie Yen, added $45.9 million to its nine-day total of $60.3 million.
"The Foreigner," an action thriller starring Jackie Chan and Pierce Brosnan, pulled in $42.5 million during its first full week. The Chinese-British collaboration made third place, despite Chan's renown in China. The hard-edged film has earned $67.5 million since its debut on Sept. 30.
Chinese musical comedy "City of Rock" climbed to fourth place, earning $27.2 million. The film is comedian Da Peng's latest effort after his big-screen debut "A Hero or Not" in 2015. It took in $39.1 million after 10 days.
The latest patriotic Chinese film, "Sky Hunter," clung to fifth place with $25 million, grossing $38.1 million in 10 days.
Zhang is a special correspondent.
---