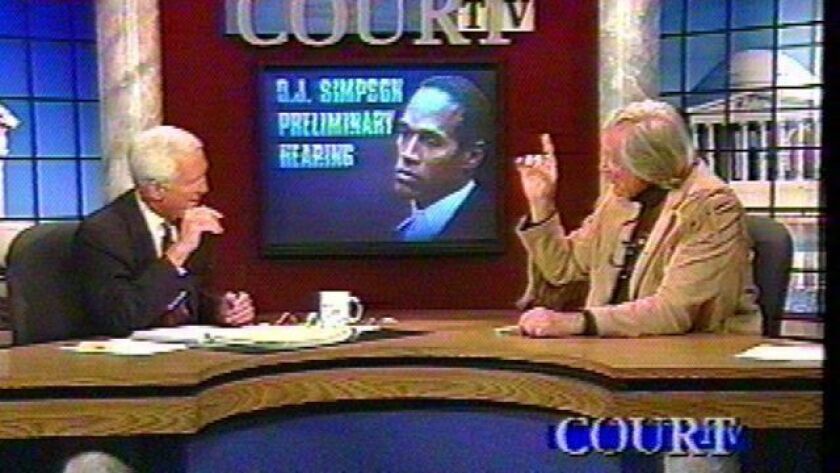 Court TV — the outlet that first brought live gavel-to-gavel coverage of sensational legal cases into the country's living rooms — is being revived.
Cincinnati-based TV station group owner E.W. Scripps Co. announced Monday that it has acquired the Court TV name and program library from Turner Broadcasting and will relaunch the outlet in May 2019. Like the original channel, the new Court TV is to provide live courtroom coverage and reporting on high-profile trials.
Terms of the acquisition were not disclosed. The new Court TV will be operated by Scripps' Katz Networks unit.
Turner discontinued Court TV in 2008 and converted the channel into the reality-based channel TruTV. But the popularity of true-crime programming has grown in recent years, which led Scripps to restore the service — especially as live TV cameras in courtrooms provide hours of continuous, inexpensive programming.
"Court TV was a top-20 cable network and at the height of its popularity when the network was taken off the air in 2008," Jonathan Katz, president and CEO of Katz Networks, said in a statement. "Today, while consumer interest in the real-life drama of true-crime programming is at an all-time high, there is no dedicated daily court coverage on television. We expect the new Court TV to fill that void on cable, satellite, over-the-air and over-the-top."
The new Court TV is to air on digital sub-channels of over–the-air TV stations covering about 50% of the U.S. Along with the Scripps stations, Court TV is to be carried by Tribune Media's TV outlets, including stations in Los Angeles, New York and Chicago. It's also to be available on cable and satellite systems in 25% of the U.S. and offered through over-the-top streaming services.
Court TV, which first launched in 1991, was one of the early breakout successes of the cable TV business as its coverage of the sensational trials of William Kennedy Smith and O.J. Simpson made it must viewing in the 1990s. The channel launched the careers of a number of network news correspondents and anchors including Savannah Guthrie and Cynthia McFadden of NBC and Dan Abrams and Terry Moran of ABC.
In addition to the Court TV name, Scripps has acquired the library of the network's programming, which includes 100,000 hours of courtroom coverage and analysis.
The new Court TV will be based in Atlanta with one of the original service's on-air personalities, Vinnie Politan, serving as lead anchor. John Alleva, an original Court TV producer, and Scott Tufts, a veteran of trial coverage for CNN, will serve as vice presidents and managing editors for the new service.
Twitter: @SteveBattaglio
---