David Glasser was the Weinstein Co.'s 'third brother.' Will his firing be enough to save the business?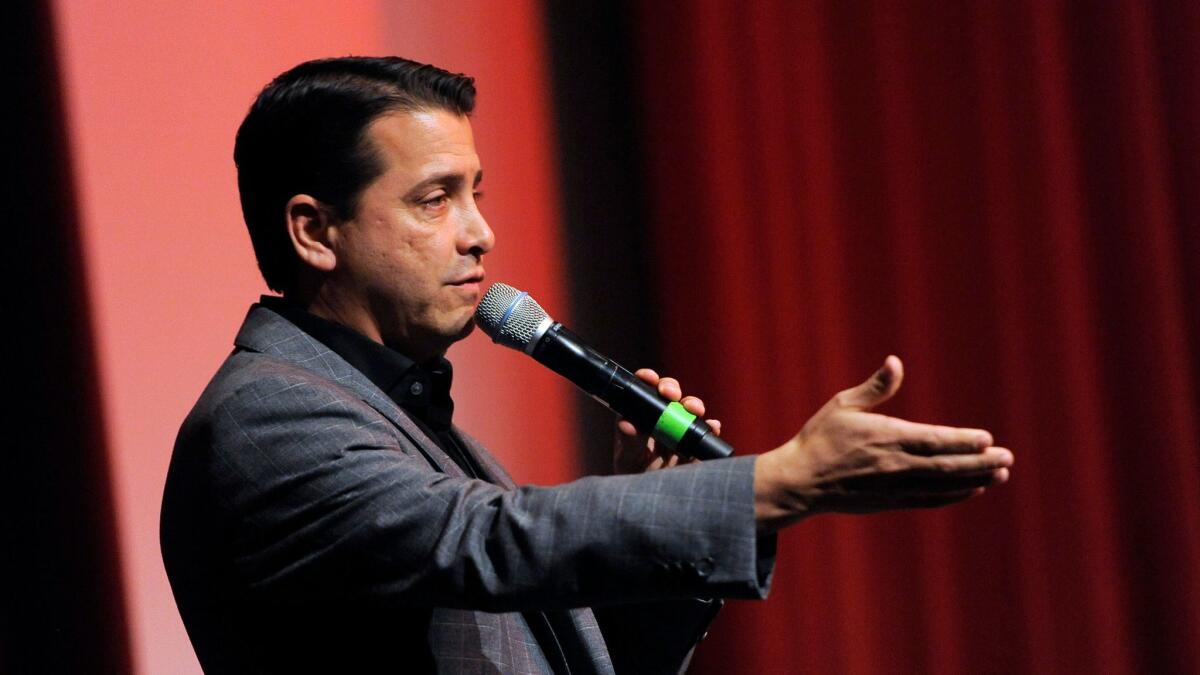 They called him "the third brother."
For years, Weinstein Co. President David Glasser served as right-hand man to Harvey Weinstein, working as a peacemaker between the volatile movie mogul and his brother and partner, Bob. He oversaw the company's operations and was key to the building of its television business.
That all abruptly ended Friday night, when Weinstein Co.'s board of directors fired him after a decade at the company, the latest bombshell for the New York studio that has been fighting to survive since Weinstein was accused of sexual harassment and assault by dozens of women. In a one-sentence statement, the board, which includes Bob Weinstein, said directors voted unanimously to terminate Glasser "for cause." They provided no details.
Glasser declined to comment.
The ouster comes days after Glasser came under fire from New York Atty. Gen. Eric Schneiderman, who sued Weinstein Co. and its co-founders as a result of an ongoing civil rights investigation that began four months ago. Schneiderman, in public statements, accused Weinstein Co.'s management of being complicit in Harvey Weinstein's behavior toward women. He singled out Glasser, accusing him of failing to respond to complaints to the company's human resources department.
"The COO David Glasser, who supervised the human resources department, did not stop this discrimination, harassment and abuse, even though he was in charge of handling dozens of shocking complaints," Schneiderman said at a news conference Monday after filing the complaint.
According to the suit, Weinstein Co.'s human resources director forwarded a female employee's complaint to Glasser in May 2015 and wrote in the email, "we need to discuss a settlement and NDA." A settlement with Weinstein was negotiated shortly afterward, the suit said.
The lawsuit has hobbled a potential $500-million deal to sell Weinstein Co. in what had been viewed as a Hail Mary play to save the company from bankruptcy. The business had been nearing a sale to a group of investors led by former Obama administration official Maria Contreras-Sweet, who promised to remake the studio as a female-friendly company. The deal was expected to be announced last week.
Glasser was one of the staunchest advocates for the deal, backed by billionaire Ron Burkle, even as it came under criticism by the attorney general, according to people close to the bidding process. After Schneiderman's suit, it became clear that no deal could continue with Glasser in place.
"You have Schneiderman and the attorney general's office with a giant guillotine sharpened against the neck of the board," said Eric Schiffer, head of the Patriarch Organization, a Beverly Hills-based private equity company, which is not involved in the deal. "And they have to do something to bring some level of credibility back."
Glasser, 46, had been trying to position himself to become chief executive of the new company after the sale, according to people familiar with the process who were not authorized to comment. According to one person, board members were angry with Glasser's handling of the attorney general's investigation and wanted to send a signal to potential buyers that he would not be part of any deal.
It is not clear if Glasser's firing will be enough to get the sale back on track. People close to the bidders were skeptical that deal-making could continue after the attorney general's suit, possibly hastening a Chapter 11 bankruptcy filing. A representative for Contreras-Sweet declined to comment.
Glasser's appointment was only one sticking point for Schneiderman, who also questioned whether the buyers and the company would take adequate steps to compensate Weinstein's accusers and protect future employees.
The allegations against Weinstein have led to civil lawsuits and criminal investigations against the producer and sparked a movement across the entertainment and media industry to expose sexual misconduct by powerful men. Weinstein, who was fired by the board Oct. 8, has denied all allegations of nonconsensual sex.
Glasser's firing is a dramatic setback for the former child actor, whose career in the movie business has been hampered over the years by lawsuits from people including screenwriters and producers such as Bill Condon and Chazz Palminteri.
According to public documents reviewed by The Times, multiple state and federal tax liens have been filed against Glasser over two decades totaling millions of dollars. The most recent was a $261,699 state tax lien filed in November in Los Angeles County. A $1.6-million federal tax lien was filed in Los Angeles County in May, public records show. A person close to Glasser said he at one point had more than $6 million in tax liens but has since reduced that down to $1.7 million.
Dozens of lawsuits have been filed against Glasser and his companies dating back more than two decades, long before he came to Weinstein Co.
One of the most unusual cases involved Roy Ageloff, who prosecutors said had connections to organized crime. Ageloff used Glasser's film company Cutting Edge Entertainment to launder money from a stock manipulation scheme, according to federal records.
Between 1997 and 1998, Ageloff invested about $3.5 million in illegal profits in movie projects, court records show. Ageloff, who planned to make his own movie with Glasser, pleaded guilty to racketeering in 2000.
Variety first reported on Glasser's ties to Ageloff.
After Ageloff's guilty plea, Glasser agreed to pay back $1.5 million into a trust. He told Deadline he was not aware of Ageloff's criminal ties at the time and chalked it up to youthful naivete. Glasser was not charged with a crime in the matter.
"I was probably 24, and me and some friends met this charismatic guy from Wall Street," he told Deadline. "We went to his offices, with hundreds of employees, plaques on the wall with everything he had taken public. We were young foreign sales guys, and here was this guy who wanted to invest in Hollywood. It was your dream come true overnight."
Many of the suits involving Glasser centered on Cutting Edge Entertainment, which was credited with financing films such as the crime dramas "Narc" and "One Eyed King."
Alec Baldwin sued Glasser in 2001, saying he wasn't paid fees owed for making the movie "The Devil and Daniel Webster," with a production budget of $27.6 million. Baldwin said Glasser and Cutting Edge failed to raise the promised financing. The case was later dropped.
"He's a charlatan."
— Steven Greenstein, film investor who accused David Glasser of failing to deliver on promises
In 1998, a Los Angeles Superior Court judge ordered Glasser and Cutting Edge to pay more than $100,000 to Steven Greenstein, a businessman who invested in the film "Fait Accompli." Greenstein, in an interview with The Times, accused Glasser of playing up his industry contacts to seem more like a major player, and of failing to deliver on promises.
"He's a charlatan," said Greenstein, who is now retired and lives in Thailand.
In a 2002 interview in Variety, Glasser denied reneging on deals. "Be guilty of being late," he told the Hollywood trade publication. "Don't be guilty of screwing someone."
Glasser's Cutting Edge Entertainment in 2002 teamed with German media company Splendid Medien to create a new film production company called Splendid Pictures, of which Glasser owned 20%.
But legal issues continued to dog him. Producer Carol Ann Gillson in 2003 sued Glasser, Cutting Edge and Splendid Pictures over $2 million she lent them to produce movies, in exchange for fees and producer credits. She eventually won a $5-million judgment, which Glasser satisfied in 2012, according to court documents.
In 2010, a man named Jeffrey Cooper sued Glasser and others — including Glasser's relatives — claiming he was misled into investing $500,000 in a new company called Hi-Def Entertainment. Cooper, in his complaint, said he met Glasser's father, music industry veteran Richard Glasser, on a plane flight to St. Maarten.
Richard Glasser told Cooper the startup would succeed with the help of his son David, who was then a top executive at Bob Yari's production company and could funnel projects to the new firm. But projects failed to come to fruition, and Cooper accused the company and executives of fraud and breach of contract. The case was eventually settled.
Cooper declined to comment for this story.
David Glasser joined Weinstein Co. in 2008 as head of international sales. He was named chief operating officer in 2011. He left the company briefly in 2015 to pursue other jobs in the entertainment industry, only to return about a month later with a three-year deal.
The terms of Glasser's separation were not disclosed. His father, Richard Glasser, remains as head of Weinstein Co.'s film and TV music business, which oversees all of the studio's movie and television soundtracks.
Times researcher Scott Wilson contributed to this report.
Inside the business of entertainment
The Wide Shot brings you news, analysis and insights on everything from streaming wars to production — and what it all means for the future.
You may occasionally receive promotional content from the Los Angeles Times.