New York attorney general blasts proposed Weinstein Co. sale and 'complicit' management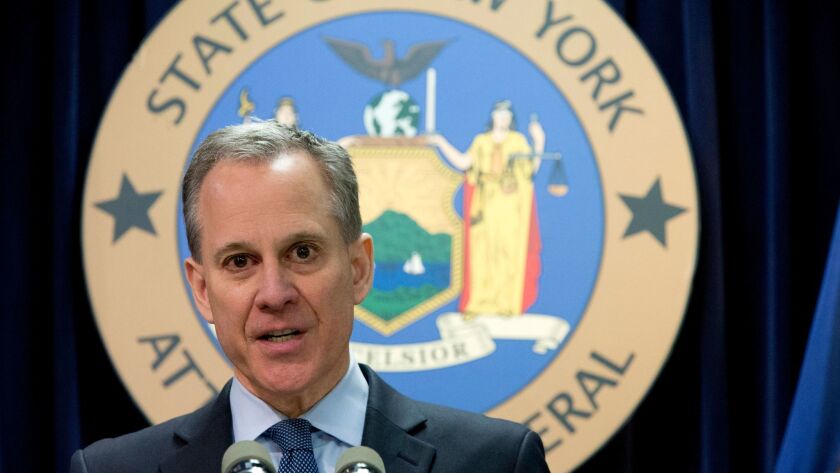 New York Atty. Gen. Eric Schneiderman on Monday blasted the proposed sale of Harvey Weinstein's studio to former Obama official Maria Contreras-Sweet, saying that the deal does not do enough to protect employees and compensate women who have accused Weinstein of sexual harassment and assault, and rewards company officials who had a responsibility to stop Weinstein.
Schneiderman made the comments the day after his office sued the Weinstein Co. and its co-founders, Harvey Weinstein and Bob Weinstein, for violating New York civil rights, human rights and business laws. The lawsuit, filed electronically in New York State Supreme Court in Manhattan, has threatened to destroy the planned sale to Contreras-Sweet, which is backed by billionaire Ron Burkle's Yucaipa Cos. and other investors.
The buyer has been in negotiations with the Weinstein Co. for weeks to secure a deal that would prevent the company from having to file for Chapter 11 bankruptcy and cut jobs. Contreras-Sweet, best known for running the U.S. Small Business Administration under President Obama from 2014 to 2017, has promised to set up a majority-female board and establish a fund to help women who have alleged abuse by Harvey Weinstein.
But Schneiderman's office has raised serious doubts about that plan, saying that the deal terms reviewed by his office did not live up to those promises because it would keep in place current executives, muzzle employees with nondisclosure agreements and fail to compensate victims. While the attorney general's suit does not directly seek to block the deal, the allegations against the company increase the likelihood that the talks will collapse, putting the Weinstein Co. closer to bankruptcy.
"Any deal to buy the company's assets [must] ensure, first, that any victims be adequately compensated, two, that employees will be protected moving forward, and three, that company executives who perpetuated or enabled the pervasive sexual misconduct at TWC will not be rewarded," Schneiderman said. "As of yesterday, there was no deal that met that standard."
The Weinstein Co. and representatives for Contreras-Sweet declined to comment on the attorney general's comments on Monday.
The timing of the lawsuit — the result of a four-month-long investigation that is ongoing — could hardly have been worse for the Weinstein Co. A deal was expected to be signed Sunday and announced this week, ending a months-long search for a savior after sexual harassment and assault allegations against Harvey Weinstein sent the New York-based studio spiraling toward a possible bankruptcy. Authorities in Los Angeles, New York and London have launched criminal investigations into the allegations against Harvey Weinstein. He has denied claims that he engaged in nonconsensual sex with women.
"We are disappointed that the New York Attorney General felt it necessary to file today's complaint," Weinstein Co.'s board of directors said in a statement on Sunday. "Many of the allegations relating to the board are inaccurate and the board looks forward to bringing the facts to light as part of its ongoing commitment to resolve this difficult situation in the most appropriate way."
Schneiderman's remarks contradict how the deal has been billed by people close to the process. A key part of the Contreras-Sweet proposal, according to people close to the deal who were not authorized to comment, is a fund of at least $50 million that would be set aside for victims. According to the proposal letter Contreras-Sweet sent the board in November, the deal would require the company to set up a mediation process and litigation fund to compensate alleged victims of Harvey Weinstein.
But Schneiderman said the terms of the deal reviewed by his office contained "no reference" to such a fund.
"Let me be clear, there was no reference to a victims compensation fund that was funded for the victims themselves," he said. "Instead we received several insurance policies and were told about a letter of credit. … The funds were not dedicated to the victims. They would have been eaten up by legal fees and other expenses."
Schneiderman's 38-page civil complaint said the Weinstein Co. board of directors and executives failed to protect employees or curb Harvey Weinstein's misconduct, despite widespread knowledge of his behavior and numerous complaints to the company's human resources department. The complaint describes groups of predominantly female employees known as members of Harvey Weinstein's "roster" or his "wing women," who were made to facilitate Weinstein's sexual conquests.
On one occasion, according to the complaint, an assistant to Harvey Weinstein wrote an email to the company's human resources department to complain about misconduct by Weinstein. However, the assistant, who had access to Weinstein's email account, later saw that her complaint had been forwarded to Weinstein.
In his remarks on Monday, Schneiderman accused board members and management of being "complicit" in Harvey Weinstein's abuses.
"It's clear to us that the company's management was complicit in this pattern of misconduct," Schneiderman said. "They knew this was happening. … They enabled it and covered it up."
He singled out President and Chief Operating Officer David Glasser, who was poised to be named CEO of the company after the sale.
"The COO David Glasser, who supervised the human resources department, did not stop this discrimination, harassment and abuse, even though he was in charge of handling dozens of shocking complaints," Schneiderman said.
Glasser did not respond to a request for comment.
The attorney general's lawsuit and criticism of the sale plan have put additional strain on efforts to save the company Harvey Weinstein and his brother, Bob, founded in 2005. A person close to the sale process, who was not authorized to comment publicly, said the Weinstein Co. and Contreras-Sweet are still in discussions about a deal as of Monday, though the attorney general's moves have greatly complicated the process.
If an agreement is not reached, it is likely the Weinstein Co. will have to declare bankruptcy, an outcome that the Weinstein Co. board and management have been scrambling to avoid for four months. Bids for the company's assets were due in December, and Contreras-Sweet's offer of $500 million, including $225 million in debt, was the only scenario that would've kept the studio out of bankruptcy courts.
Harvey Weinstein's lawyer Ben Brafman said in a statement that many of the allegations against Weinstein are "without merit" and that he is being used as a scapegoat.
"We believe that a fair investigation by Mr. Schneiderman will demonstrate that many of the allegations against Harvey Weinstein are without merit. While Mr. Weinstein's behavior was not without fault, there certainly was no criminality," Brafman said. "If the purpose of the inquiry is to encourage reform throughout the film industry, Mr. Weinstein will embrace the investigation. If the purpose however is to scapegoat Mr. Weinstein, he will vigorously defend himself."
---
Inside the business of entertainment
The Wide Shot brings you news, analysis and insights on everything from streaming wars to production — and what it all means for the future.
You may occasionally receive promotional content from the Los Angeles Times.